Church Tells Gentleman's Clubgoers 'Strip for Me' on Billboard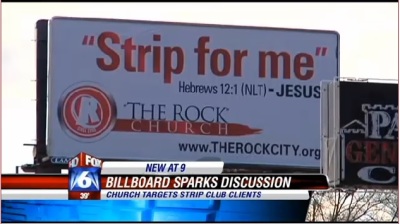 A church in Birmingham, Ala., has confronted patrons of a gentleman's club in the area with a massive billboard that boldly reads, "Strip for Me," but it's not asking what you think.
According to Pastor Mike McClure Jr., 29, of The Rock Church that paid to have the billboard placed next door to the Palace Gentleman's Club, the message piggybacks on the advice given to Christians in the New Living Translation of Hebrews 12:1.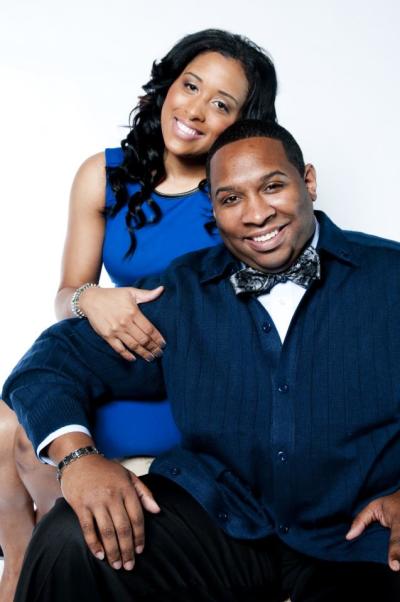 "Therefore, since we are surrounded by such a huge crowd of witnesses to the life of faith, let us strip off every weight that slows us down, especially the sin that so easily trips us up. And let us run with endurance the race God has set before us," says the scripture.
The weight Pastor McClure is hoping the patrons of the club will begin to "strip" from themselves is the desire to throw money at the club's exotic dancers that go by names like Asia, Sugar and Karamel at special events like "Grown Man Thursdays."
"We strategically picked the strip club because we want the brothers who are walking in ... to know God has a greater cause for your life," said McClure in an interview with FOX 6.
"The scripture says ... slow down, maybe your life is slow because of stuff you need to strip off. When you begin to strip watch how fast your life goes," he said.
The billboard, which is one of 10 placed by the church with various messages across the city, had been up less than 24 hours as of Tuesday morning but has already gained a lot of attention and not all of it has been positive.
"Ah man, our city is going absolutely bananas and it's not necessarily because of the [bill] board," said McClure in an interview with The Christian Post on Tuesday.
"Everybody is going up in arms like 'Wow! Strip for me? This is a church. I can't believe they are promoting this!" But if you look at the sign it says "Strip for Me – Jesus," explained McClure.
The unconventional 29-year-old pastor whose four-year-old church has approximately 6,000 members, said even other pastors in the area have tried to rebuke him for shaking things up in town with the attention-grabbing billboard.
"We're getting a lot of hate. A couple of pastors are trying to rebuke me but my backlash to them is Jesus and Nicodemus both were anointed and were both trying to save lives, they just went about it in two totally different ways so don't hate me if I choose Jesus ministry over Pharisee ministry," said McClure.
He is buoyed, however, by support from "boatloads of people" who believe that his decision to place the billboard near the strip club was inspired by God.
"Our city … we're one of the top 10 cities for murder in the country. If we don't stand up for God and we don't stand up now, who will?" asked McClure.
The young pastor said the idea came to him shortly after Birmingham had weathered recent murders of a teenage boy and five other black men under 30 who were killed "execution-style."
"Honestly? ... I just got tired," said McClure. "We called the billboard company and said 'show me every available billboard that you have.'"
He said he looked at several billboards and wasn't satisfied with the placements until representatives of the billboard company noted that they had an outstanding spot but they didn't think he would go for it.
That spot was right next to the gentleman's club. "The most popular strip club in the city," according to McClure.
"When I saw it, I said 'that's it!'" said McClure. "Everything in my flesh was saying, 'No, I'm not gonna do that,' but you know when it's a God moment," he added.
Throughout the interview with CP he thanked God for the opportunity to talk about Jesus and said the delivery of the Gospel can be more effective "… if more pastors would get out of the box and take the Gospel to the streets."
"'The Bible' series is blowing me away because we are seeing physically how Jesus was not at church, he was in the streets and in the streets he changed lives," he noted.
Meanwhile, the Palace Gentleman's Club whose land the billboard currently sits on is also "up in arms" about the billboard.
"… They have every right to cut the billboard down so they're trying to force us to take it down," said McClure. But like I told the owner [of the billboard company], 'this is bigger than us.' As of now it's still up," said McClure who noted that the sign appears to already be affecting business at the popular nightclub.
"… Last night (Monday) was a big night for the strip club, Monday nights is a huge night for the strip clubs. We rolled by and the parking lot was empty. So what does that prove?" asked McClure.
McClure says his church is planning a social media march on April 29 when all 10 billboards will strategically read "Jesus." He is asking everyone in the city to tweet "Jesus is" plus whatever he means to them.
As a part of this effort, the church also recently embarked on a $100,000 Act of Kindness campaign where they have asked members to do something kind and hand out a black card with only the name "Jesus" and a telephone number printed on it. "So we have members like yesterday, who was at McDonald's and paid for a couple's food and handed them a black card."
"They called the church crying saying, 'I don't know who did this, they just handed me a card with this number and it says Jesus.' What if the Christians stepped up more like this?" asked McClure.
CP reached out to the Palace Gentleman's Club for comment on Tuesday but there was no response via telephone.