#Churchtoo: Women Share Stories of Rape, Sexual Abuse, Leaving Church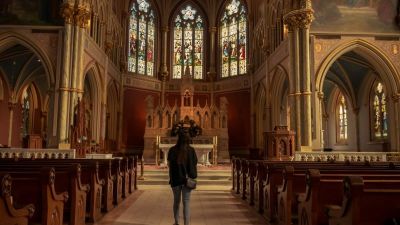 Hundreds of women have been revealing stories of rape, sexual abuse and harassment that they suffered inside church or at the hands of Christian men in leadership, using the #churchtoo hashtag to shed light on countless disturbing experiences.
While many Christian women, including notable figures such as Beth Moore and Kay Warren, shared their stories of abuse in October under the #MeToo hashtag, Twitter discussion under #churchtoo has given both believers and nonbelievers the chance to add to the revelations.
"Growing up in purity culture, I was taught that men were 'visual creatures' that couldn't help feeling aroused at the sight of slightly revealed ankles or knees, and that all men were imagining me naked 24/7," wrote a user by the name Sarah Lacour.
"The entire system shamed women for even existing," she added.
Rosemary Johnson said: "I CANNOT COUNT the number of times I've heard guys in church PUBLICLY admit to molestation, harassment, assault, etc, only to be praised for their bravery & honesty. No consequences. The church's legacy of protecting abusers is sickening."
"I was sexually & physically abused by a bf who was also a member of my church," another user with the handle @alittleotmark revealed.
"When I went to my church leaders for help the discouraged me from going to the police & encouraged me to give him another chance."
A user with the handle @HopeLoveJustice said: "I was abused, starting at age 2 by my father, a church elder & seminary teacher.
"I could not even find words or make sense of any of it until I was in my 30's," she added.
Female pastors also joined in the discussion, with Robin Anderson of Commonwealth Baptist Church in Virginia writing:
"I was sexually abused by a pastor. When reported, the social worker chose to protect the minister instead of my 7yo body. Bcs of that, the abuse continued for years. Kids deserve better."
Some revealed that the experiences of abuse have driven them away from religion.
"Which is why, although I believe in God, I no longer will believe in church or religion. I refuse to step inside another church or say to a priest 'Father bless me for I have sinned.' If I want that blessing, I'm going straight to God with the request. No middle man," Zada Leon stated.
User @andeemoriah shared: "Men in the church told me my clothing determined the level of respect I deserve. They groped & touched me for a literal decade."
User @iamdanaleigh recalled: "My first of three experiences with sexual harassment in the church was at 14 years old. My youth pastor pulled me aside to tell me not to wear sandals to church. He told me he had a foot fetish and my feet were turning him on. I was causing him to sin."
Kimberly Ann argued that the revelations should not come as a surprise to people:
"If #churchtoo shocks you, wake up. The sheer level of shame heaped on women just for being women inside the church is ground level basics in Christianity and a breeding ground to perpetuate abuse."
Moore, who is a popular Christian author and speaker, wrote earlier this week that no one should believe that Jesus Christ was a misogynist.
"If you want to know how Jesus felt about women & treated women, read the Gospels. Anything & anyone that does not reflect what you see in Jesus in black and white on those pages may wear a Christian label but never confuse that with Christlike," Moore, who is also the founder of Living Proof Ministries, stated.
"Jesus is no misogynist. Read & see," she added.