Citing 1,000+ Dead Christians, Experts to Call Attention to Nigeria's Pre-Genocide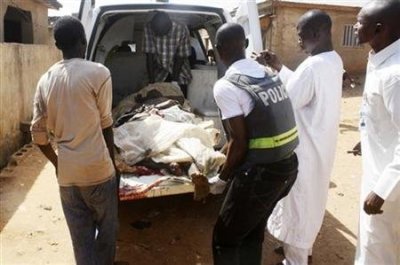 After the deaths of more than 1,000 Christians in brutal attacks on villages and churches in Northern Nigeria and that country's Middle Belt since 2012, regional experts will draw attention to the pre-genocide at a Congressional briefing in Washington, D.C., on Thursday.
The briefing will be the second biennial briefing by Justice for Jos, a project of Jubilee Campaign USA, in collaboration with the Washington Working Group on Nigeria. Experts will present an update on the terrorist insurgency of Boko Haram and recount firsthand testimony on recent events and local and international efforts to stanch the bloodshed. A report documenting the 2012 atrocities will also be presented.
"Representatives and spokespersons from the affected areas in Northern Nigeria and the Middle Belt will speak out at the Congressional briefing on Thursday in order to set the record straight as to who the victims are and why they are being victimized," said Ann Buwalda, executive director of the Jubilee Campaign USA, in a statement to The Christian Post on Monday.
Among the experts will be Edward Pwajok, attorney general, Plateau State, Nigeria; former federal congresswoman Martha Bodunrin, who buried 500 constituents after the Dogo Nahawa massacre of March 2010; and state congresswoman Rifkatu Samson, the only female member and sole Christian in Bauchi State House of Assembly, suspended for more than a year for speaking out on behalf of her Christian constituency.
According to Buwalda's group, violence by the Islamist sect Boko Haram in 2012 and 2013 has left more than 1,000 dead Christians and numerous destroyed or damaged churches in its wake.
On Monday, some 180 people reportedly died in a village after a clash between Nigeria's military and Boko Haram militants.
Although northern Nigeria accounts for more deaths of Christians in 2012 than the rest of the world combined, the Jubilee Campaign asserts that "a soft-pedal approach towards Nigerian Islamists by the U.S. Department of State is allowing Nigeria to be pushed to the brink of civil war in the wake of a pre-genocide."
"Although containing some improvement from last year, the Department of State's release on Friday of its annual human rights country condition report on Nigeria again contains statements so politically correct as to defy the facts about who the victims were in 2012 in Northern Nigeria and why they were victimized," said Buwalda.
"Equally disappointing was the press release by the U.S. Commission on International Religious Freedom issued on April 15, which continued the reprehensible moral equivalency of the Christian victim community to violent acts and killings by Muslim perpetrators," she added.