Nigerian Official Had Prior Knowledge of Church Bombing That Killed 20 Christians
Nigerian Official Had Prior Knowledge of Church Bombing That Killed 20 Christians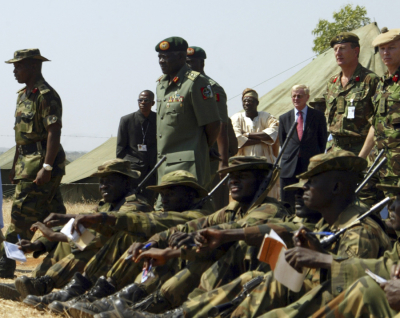 Nigerian military authorities say the commandant at a military college in Kaduna state had prior knowledge of the Nov. 25, 2012 bombing that killed 20 Christians at the institution's chapel.
Maj.-Gen. Mohammed Isa knew of Islamic extremist plans to attack the St. Andrews Chapel at the Command and Staff College in Jaji, near Kaduna City, but did nothing to prevent it, according to Army Lt.-Gen. Azubuike Ihejirika. At a press briefing earlier this month, the nation's Army chief said Isa did not report the planned bombing to Army leadership.
Isa, who was subsequently redeployed and then forced into retirement after a preliminary investigation, denies the charges.
Ihejirika said investigations are continuing to determine whether the Muslim military officer's silence about the planned bombing was an act of "negligence or a demonstration of his further involvement in the bombings."
Military authorities said an investigating panel reported that Iso had information about the suicide attack about 24 hours before it took place. It also recommended punishment for soldiers on duty when the suicide attack occurred.
Two Baptist pastors serving as chaplains at the church died along with 18 other Christian military officers, soldiers, and their families, when suicide bombers from the Islamic extremist group Boko Haram carried out a double-bomb attack on the chapel.
Boko Haram Members Arrested
Nigerian security officials say they have arrested two members of Boko Haram who were involved in the bombing, identified as Mohammed Idris and Ibrahim Mohammed.
Mohammed has reportedly admitted he was with two suicide bombers, identified as Tasiu and Mallam Lawal, as they went up to the gate of the military institution, where he bade them farewell before they detonated the explosives. The 18-year-old Boko Haram member also reportedly admitted that he procured the chemicals used in producing the improvised explosives devices that were planted in the two vehicles used in bombing the church.
Military spokeswoman Marilyn Ogar said Mohammed had also participated in several other attacks in Kaduna state, including the bombing of St. Rita's Catholic Church in Kaduna City.
"The suspect stated that Bashir Madalla sent Lawal, one of the suicide bombers, to Damaturu, Yobe state to retrieve military uniforms and weapons from the Boko Haram cell, and that Lawal wore the military uniform with the rank of a captain, which afforded him free access into the military formation in Jaji," she said.
Boko Haram Members on Trial
At the same time, six members of Boko Haram are on trial in Abuja in connection with two other church bombings.
Dozens of Christians were killed in the bombing of St. Theresa Catholic Church at Madalla, Niger state, on Christmas Day 2011, and in the July 10, 2011 bombing of All Christian Fellowship Mission at Suleja, also in Niger state near Abuja. On trial are Shuaibu Abubakar, Salisu Ahmed, Umar Babagana-Umar, Mohammed Ali, Musa Adam and Umar Ibrahim.
Witnesses have testified how the military recovered bomb production materials from them. Authorities also recovered mobile phone text messages to the terrorists from their leaders encouraging them to attack churches and other places, and promising them automatic entrance into paradise to be crowned and given 72 virgins each.
A senior military officer read the text messages, one of which states:
"Do a deed which Allah by his grace and mercy save you from the punishment of the grave and a dangerous bridge with the speed of light … Save you from the greatest fear and hell fire. 70 members of your family will marry you 72 virgins in paradise; give you a crown of respect which even the prophet will be impressed with."
The military officer also testified that another text message appears to include a code for arrangement and detonation of explosives on targeted churches and other public places. In addition, he told the court that the phones also had photos of the leaders of Boko Haram.
The Islamic extremist sect, whose name means "Western education is a sin," aims to impose a strict version of sharia (Islamic law) on the country.
Christians make up 51.3 percent of Nigeria's population of 158.2 million and live mainly in the south, while Muslims account for 45 percent and live mainly in the north. But those practicing indigenous religions may be as high as 10 percent of the total population, according to Operation World, so the percentages of Christians and Muslims may be less.