Clay Aiken and Tony Perkins on Face the Nation: Debate Heats Up on Gay Marriage
The president of the Family Research Council, Tony Perkins, has said that President Barack Obama's recently announced support for gay marriage will rally conservatives to Mitt Romney.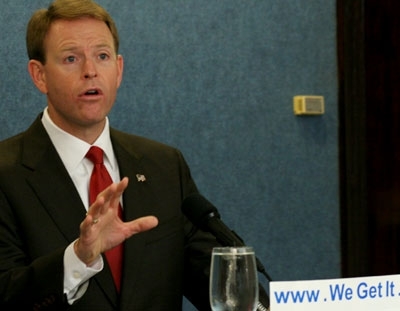 Perkins made the claim on CBS' "Face the Nation" on Sunday, saying, "I think that Barack Obama has helped fit that missing piece of intensity that Mitt Romney is going to need."
He also highlighted that the president's announcement could be extremely damaging to his re-election campaign in a number of swing states. Ten of those swing states have marriage amendments that ban gay marriage, Perkins pointed out, and it is likely Obama's announcement this week will have left them feeling further at odds with the president.
Perkins said, "I don't think the president did a political calculus to do this because if he did, he needs to go back to the calculator because it's a bad formula."
However, gay rights activist Clay Aiken played down the impact Obama's statement will have on voters. Aiken highlighted a new Gallup poll that found 60 percent of those polled would not consider Obama's support for gay marriage as something that would sway them in their voting. He said, "I think the people who say it will matter on either side of the equation, probably were not going to vote for Obama or were going to vote for President Obama anyway."
Aiken also pointed out the other end of the spectrum, where many gay men and women and those who support their agenda would now more passionately support Obama and fight for his re-election.
Obama, a Christian, noted in his interview with ABC earlier this week that his support for gay marriage "may be considered to put us (Obama and his wife) at odds with the views of others but when we think about our faith the thing at root that we think about is not only Christ sacrificing himself on our behalf but it's also the golden rule – treat others the way you'd want to be treated."
Following Obama's statement in support of gay marriage, Perkins said on Wednesday, "The President's announcement today that he supports legalizing same-sex marriage finally brings his words in sync with his actions. From opposing state marriage amendments to refusing to defend the federal Defense of Marriage Act (DOMA) to giving taxpayer funded marriage benefits to same-sex couples, the President has undermined the spirit if not the letter of the law."
"The President has provided a clear contrast between him and his challenger Mitt Romney. Romney, who has signed a pledge to support a marriage protection amendment to the U.S. Constitution, may have been handed the key to social conservative support by President Obama," the FRC president continued.
Maggie Gallagher, co-founder of the National Organization for Marriage (NOM) and director of the Culture War Victory Fund, echoed Perkins' statements.
"On the one hand, morally this is good because lying to the American people is always wrong. President Obama has come clean that he is for gay marriage," she said.
She added, "Politically, we welcome this. We think it's a huge mistake. President Obama is choosing the money over the voters the day after 61 percent of North Carolinians in a key swing state demonstrated they oppose gay marriage.
"We now have clear choice between Romney and Obama, and we look forward to demonstrating in November that it's a bad idea for a national candidate to support gay marriage. Marriage is a winning issue for the GOP."
Meanwhile Rev. Joel Hunter of the 15,000-member Northland church, who is often referred to as Obama's spiritual adviser, said he is disappointed with the president's use of the "Golden Rule" to explain his endorsement of gay marriage.
"The Golden Rule is in the Bible but it cannot be used to contradict God's marriage pattern reaffirmed by Jesus in Matthew 19:4-5," Hunter shared in an interview with The Christian Post. "Have you not read that He who created them from the beginning made them male and female, and said, 'For this reason a man shall leave his father and mother and the two shall become one flesh?'"