CNN Hosts Fan Flames Over 'Duck Dynasty' Controversy Amid NAACP Accusations That Phil Robertson's Comments Are 'Racist,' 'Homophobic'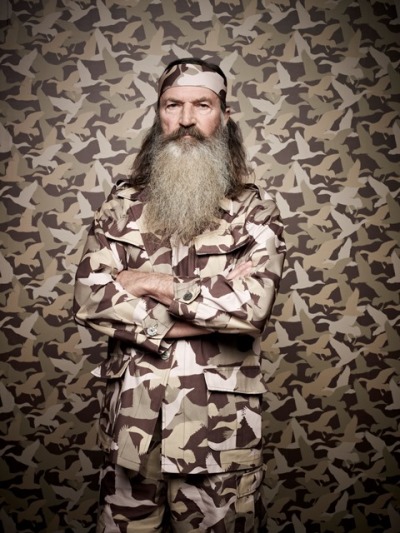 CNN hosts Brooke Baldwin, Piers Morgan and Anderson Cooper were stoking the fires on their respective shows Thursday night, amid accusations by the NAACP that "Duck Dynasty" patriarch Phil Robertson isn't only anti-gay, but that he must also be a racist.
Amid the media spin cycle surrounding A&E's decision to indefinitely suspend the senior duck commander from its highest-rated reality TV show because gay activist groups, such as GLAAD, have deemed his views on homosexuality to be far too controversial, the NAACP and Human Rights Campaign (HRC) also sent a joint letter to A&E on Wednesday, accusing Robertson of making "racist, homophobic and ill-informed remarks."
In his now controversial interview with GQ magazine for an article in its January edition, Robertson not only shared his thoughts about various sinful acts, including homosexuality, but he also spoke about his upbringing in Dixie, La., where his family was the racial minority in the community.
"I never, with my eyes, saw the mistreatment of any black person," Robertson told GQ. "Not once. Where we lived was all farmers. The blacks worked for the farmers. I hoed cotton with them. I'm with the blacks, because we're white trash. We're going across the field. They're singing and happy. I never heard one of them, one black person, say, 'I tell you what: These doggone white people'—not a word! Pre-entitlement, pre-welfare, you say: Were they happy? They were godly; they were happy; no one was singing the blues."
A portion of the NAACP-HRC joint letter states that: "As you may know, Phil attacked both African Americans and LGBT people in a recent GQ interview (January 2014) – saying that African Americans were happier under Jim Crow laws, and equating being gay with bestiality and promiscuity."
The letter continues: "These remarks go beyond being outlandishly inaccurate and offensive. They are dangerous and revisionist, appealing to those in our society who wish to repeat patterns of discrimination."
Brooke Baldwin and Piers Morgan were also aghast at comments Robertson made in 2010 during a speech he gave at Berean Bible Church in Pottstown, Pa., regarding the sinful nature of mankind and the free gift of salvation that is available to all of humanity through Jesus Christ.
"I wonder if the executives at A&E saw this video before they decided to air Duck Dynasty?" Baldwin asked her viewing audience.
In similar fashion amid gasps of shock and awe, Morgan claimed that TMZ "dug up" the series of YouTube videos that show Robertson preaching at the Pennsylvania church. The series of videos, however, are easily accessible on YouTube and had already garnered well over 150,000 views prior to the controversy.
Similarly, Anderson Cooper and his guest panel that included LGBT activist Dan Savage, commented that while Robertson's biblical beliefs and opinions about homosexuality were somewhat shocking, his comments about race, which they said hadn't garnered much attention, were more problematic.
"I looked at his comments today and most of the outrage seems to be about the comments he made about gay people. ... What he's saying is gay sex icks him out, and he doesn't think gay people deserve equal rights," Savage said. "Well, I'm grossed out by straight sex. ... However, I support the full civil equality of heterosexuals."
Savage continued: "I actually thought what he said about African Americans in the South under Jim Crow was so much more offensive. At a time when, if an African American looked funny at a white person they could be lynched, oddly enough, he never heard any of them complaining to him about their circumstances."
In his book, Si-Cology 1, Si, Phil's youngest brother, writes about race and says, "Hey, if you're a Christian, racism is out. God made mankind from dust and then He made woman. We don't even know what color Adam was."
Si continues: "When I was growing up in Dixie, La., there were probably only six or seven white kids in the entire town. Most of my friends were African American. If I had chores to do, I'd ask my friends to help me paint a fence, clean a barn, or cut the grass. Then I'd take them to the water hole and teach them how to swim."
"…When Daddy fell from an oil rig and broke his back, we didn't have very much money because he wasn't working. Momma told some of the ladies in the neighborhood that we weren't going to have Christmas that year because she didn't have any money to buy us presents. Well, the black families in town took up a donation and raised about $200 for us. We had a memorable Christmas because of their generosity. … The Bible tells us to love everyone, regardless of their race or religion."
During a 2012 speech at Harding University in Searcy, Ark., Willie Robertson, Phil's third of four sons, spoke to college students about one of the greatest moments in his and his wife, Korie's life: the moment they adopted their biracial son, Lil' Will, who is said to be the child who's most like his adopted father.
"I love all my children... We went into marriage knowing that we wanted to adopt," Willie said. "He's biracial, he doesn't look like us, and it was the most – probably – selfless thing that we had ever done. Lil' Will came into our lives... It's unbelieveable. That's what God did with us. He took us in. Jesus is His son, we are His adopted children. So I can look at my two sons that I have and literally see the New Testament unfolded right there, because I have the same love for him (Lil' Will).