'Duck Dynasty' Publisher Stands by Phil Robertson, Says He's Only Known Star to Treat Everyone With 'Utmost Respect'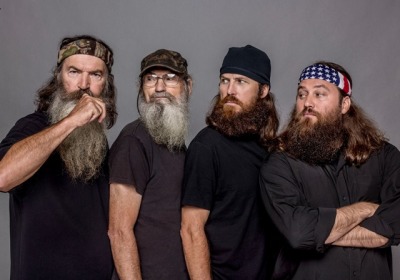 Even though A&E announced the network's indefinite suspension of "Duck Dynasty" patriarch Phil Robertson, publisher Howard Books is refusing to turn its back on the Robertsons, and says they only know the senior duck commander as always being respectful to others, regardless of his political leanings, sexual orientation or religious views.
"While Phil Robertson has always been known for his opinions, we do not condone his recent remarks, nor do they reflect the views of Howard Books or Simon & Schuster," Jonathan Merkh, vice president and publisher of Howard Books told The Christian Post in a statement on Thursday.
"In our experience publishing the Duck Commander books he has always treated one and all with the utmost respect regardless of political leaning, sexual orientation or religious views, and we believe that the Phil Robertson we know is more properly represented by this statement from his GQ interview: 'I would never treat anyone with disrespect just because they are different from me. We are all created by the Almighty and like Him, I love all of humanity. We would all be better off if we loved God and loved each other,'" Merkh added.
A&E Networks announced late Wednesday that it has suspended Phil from appearing in the mega-hit reality TV show "Duck Dynasty" after the conservative Christian shared his belief that homosexuality is a sin in the January issue of GQ magazine.
Howard Books is the publisher of Phil's book, Happy, Happy, Happy, as well as Miss Kay's Duck Commander Kitchen, The Duck Commander Devotional, and uncle Si's Si-Cology 1.
On May 6, 2014, Jase Robertson will share stories about his life and what he experienced growing up with an alcoholic father and how he came to faith in Jesus Christ in his book, Good Call: Reflections on Faith, Family, and Fowl.
Although Phil is now barred from appearing in the next taping of the reality show, it's unclear what the network will do with him in the fifth season of "Duck Dynasty," which is set to air on Jan. 15, 2014.
The network has not revealed if it will edit Phil out of the fifth season or leave him in the episodes, despite LGBT advocate groups, such as GLAAD, pressuring A&E to end its relationship with the "Duck Dynasty" cast due to their claims that Phil's comments about homosexuality were "vile" and "extreme."
In an October interview with The Christian Post, Miss Kay spoke about the spiritual warfare that every Christian must grapple with, even members of the Robertson family. Although they're known for exhibiting a strong Christian faith and for openly sharing their stories about overcoming the world and its deceptions, temptations and lies, Miss Kay said her family is not immune to attacks.
At that time, Miss Kay commented that the Robertsons' critics had already started to create non-existent controversies and rumors by falsely reporting in tabloid magazines that there's a rift developing in the family.
"There's a spiritual battle in our walk all the time. I noticed we made the tabloids now – 'the Robertson family feud,' which is a lie. We're not having a family feud," she affirmed.
In her book, Miss Kay said she abides by advice she once heard from Pastor Rick Warren of California's Saddleback Church.
"God has given all of us life stories and, through those stories, healing can happen. The famous preacher Rick Warren says, 'Never waste your hurts.' I believe that. I want my hurts to help others," she wrote.
Miss Kay also told CP that she regularly prays to God that: "If the fame or money or anything changes us and we forget, we forget where we came from and we forget the Lord, then I hope He takes it all away and we are left with nothing. And then we'll be better off, because I've seen it change a lot of people. And I pray daily that it will not happen to this family. And I appreciate America praying for us too."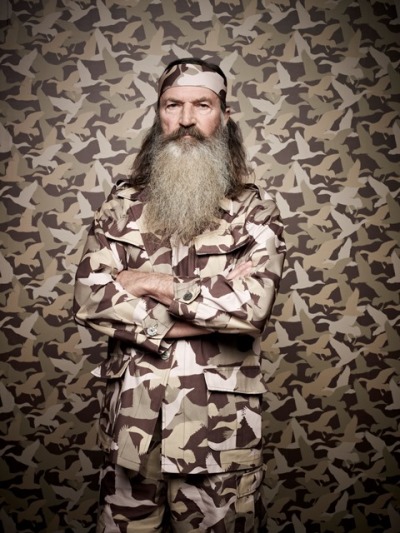 Phil told CP earlier this year that what's most important to the Robertsons' isn't fame or money, but "peace of mind and a relationship with God," which is a precedent they've set for their family.
Since the news about A&E's decision was released, hundreds of thousands of followers have come out in support of the family on Twitter and Facebook, and by creating online petitions.
CP reported Thursday that several Christian leaders and politicians have quickly stepped out to voice their support for Phil and his right to express traditional views about homosexuality.
Mike Huckabee, former governor of Arkansas and host of Fox News' "Huckabee," is promoting a "Stand with Phil and Support Free Speech" day for Monday, Dec. 23.
Similarly, CP also reported Thursday that the National Organization for Marriage has created a petition demanding that A&E reverse its decision.
There's also an I stand with Phil petition (#IStandWithPhil) that's calling for the duck commander's return to the hit reality show that regularly garners between 9 and 12 million viewers each week, and has been signed by nearly 110,000 people.
Likewise, Voice of the Voiceless, the only anti-defamation league for former homosexuals and people who have unwanted same-sex attraction, also created an online petition to support Phil.
Speaking about this issue, Christopher Doyle, co-founder and president of VoV told CP in a Thursday statement that: "It is completely hypocritical for GLAAD to publicly campaign for Congress to pass the Employment Non-Discrimination Act (ENDA), which would protect the LGBT community from being fired from their jobs because of their sexual identity, but encourage A&E to 'reexamine' their relationship with Phil Robertson because of his Christian identity."
He continued, "GLAAD demands that Christian employers be tolerant of one's sexual identity, regardless of whether it conflicts with their values and belief system, but believes A&E is completely justified in their suspension of Phil Robertson for his religious views on homosexuality."