Suspension of 'Duck Dynasty' Star Phil Robertson a Threat to Free Marketplace of Ideas?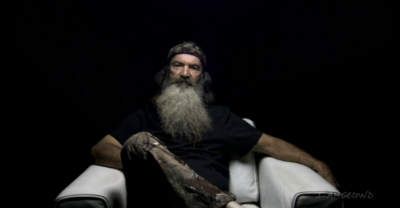 The Alliance Defending Freedom (ADF) condemned the suspension of "Duck Dynasty" star Phil Robertson by A&E Network as a threat to the free marketplace of ideas.
"This move is more evidence of the one-sided censorship of the cultural and political elites outraged by such a basic teaching," Doug Napier, ADF's senior vice president of Legal, said in an official statement. He attacked the suspension as a violation of America's culture of free speech.
A&E released a statement about the suspension, which clearly distanced the network's views from those of Robertson. "We are extremely disappointed to have read Phil Robertson's comments in GQ, which are based on his own personal beliefs and are not reflected in the series Duck Dynasty," the statement read.
In opposition to Robertson's comments, the network reinforced its support for the gay community. "His personal views in no way reflect those of A&E Networks, who have always been strong supporters and champions of the LGBT community." Due to this fundamental disagreement, "the network has placed Phil under hiatus from filming indefinitely."
Napier attacked this move as a threat to a free society. "America's long tradition of free and open discussion about important cultural issues is the cornerstone of a healthy society," he declared. "The self-appointed speech police rallying behind A&E don't believe in the free marketplace of ideas and have no tolerance for any beliefs other than their own," the ADF vice president added.
Robertson's comments to GQ, while offensive, merely attacked homosexual behavior as sin, quoting scripture as a defense. When asked "what, in your mind, is sinful?" Robertson responded, "start with homosexual behavior and just morph from there."
Paraphrasing Corinthians, Robertson declared, "Don't be deceived. Neither the adulterers, the idolaters, the male prostitutes, the homosexual offenders, the greedy, the drunkards, the slanderers, the swindlers – they won't inherit the kingdom of God. Don't deceive yourself. It's not right."
Robertson articulated Jesus' principle that judgment belongs to God. "We never, ever judge someone on who's going to heaven, hell. That's the Almighty's job. We just love 'em, give 'em the good news about Jesus — whether they're homosexuals, drunks, terrorists," he explained.
In a vulgar moment, Robertson went so far as to discuss sexual body parts, describing why he thinks a woman more attractive than a man. "She's got more to offer. I mean, come on, dudes! You know what I'm saying? But hey, sin: It's not logical, my man. It's just not logical."
The gay rights group GLAAD attacked Robertson's comments as anti-Christian. "Phil and his family claim to be Christian, but Phil's lies about an entire community fly in the face of what true Christians believe," GLAAD representative Wilson Cruz said. He attacked Robertson for pushing "vile and extreme stereotypes," and said that "someone with such public disdain for LGBT people and families" is "a stain on A&E."
ADF did not defend or agree with Robertson's comments, but nevertheless attacked A&E for suspending him. The senior vice president went so far as to say the network should be ashamed of itself. "A&E, as a media outlet, should understand better than most the free marketplace of ideas," Napier declared.
 "Alliance Defending Freedom exists to preserve and protect free speech and to stand against these types of meritless attacks upon freedom," Napier proclaimed.