Coffey Anderson urges Christian parents to support faith-based films, boycott 'trash content'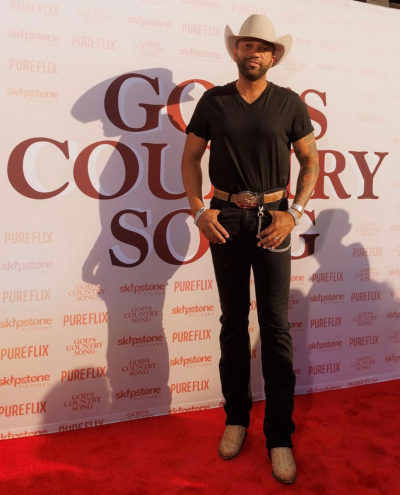 NASHVILLE — Country star Coffey Anderson is passionate about the spiritual formation of the next generation, and that's what drives him to lend his voice and talents to uplifting content, whether in music or film. 
In an interview with The Christian Post, the Texas native and father of three said he was motivated to star in the new PureFlix film "God's Country Song" because he wants more positive, clean content for his children to consume, particularly as Hollywood becomes increasingly dark. 
"I jumped into this project because I'm a dad that's a believer, and I want more content like this on their phones," he said. "I want more content like this on our television. So what better way to get them to watch it than have their daddy in it?"
"Christian parents need to support more films like this because Hollywood follows the money, no matter what," he added. "If we put our money in films like this, all of a sudden, they pivot and start writing it. All of a sudden they pivot in the music studio and start putting out family-friendly content. When you start boycotting places that do trash content or don't align with what we believe, they feel it. You can say a lot by not going; you will say a lot by not swiping."
"God's Country Song," which hit PureFlix earlier this month, follows Noah (Justin Gaston), a charming yet troubled country singer who is determined to make it big in the music scene. However, while on the road to success, he's informed he has a 5-year-old son, J.J., he didn't know existed. The boy's mother, who Noah barely remembers, has died, and he's tasked with raising the child alone. Struggling with a dependence on alcohol and a fractured relationship with his own father, Noah is faced with an ultimatum: Should he raise his child or leave his family behind to see his country music dream fulfilled? 
Anderson, whose family was featured on the 2020 Netflix reality show "Country Ever After," stars as Colt Young, a famous country artist who mentors and encourages Noah. He challenges Noah to avoid the pitfalls of pride and focus on his family: "Family's great," he says. "It reminds you of what's important." 
The film focuses on redemption and sacrifice and explores themes of mentorship and fatherhood, illustrating the impact these relationships can have on individuals who might not have had a father figure in their lives. 
And for Anderson, those themes were personal. He shared how his own father grew up without his parents but eventually chose to minister to his estranged father later in life. 
"My dad didn't know his daddy until later on," he said. "My dad was in his early 60s, and I was studying French in college when we went to Louisiana and we ministered to my granddad that left my dad. We led him to Christ, and we baptized him in rainwater that he usually bathed in."
"I was able to be there to watch my dad choose to minister to his daddy that left him. And then we ended up baptizing him that same day."
Anderson said he hopes that viewers, regardless of their own circumstances, will be encouraged by the film's message and serve as positive role models for the next generation: "I think whether you have a dad or not, you choose whether or not you want to be a good parent," he said. 
"Whether or not you have a dad or not, you can choose whether or not you're going to say, 'It's going to stop here. Not having a dad, leaving that gap in the home, is going to stop with me.' That's exactly what my dad did. So anybody that says, 'Well, I didn't have a dad, I didn't have an example' — go be one."
"God's Country Song" marks Anderson's first foray into film. He shot to fame through his YouTube channel, where he performed both original music and cover songs ranging from country to Christian. And with 15 original songs featured in the film, the "Mr. Red, White and Blue" singer contributes his artistic talents to the "God's Country Song" soundtrack.
Recently, he partnered with Kirk Cameron to help promote the actor's children's bookAs You Grow, which teaches the biblical truths of the fruit of the spirit. 
Whatever project he tackles, Anderson said his faith and commitment to producing meaningful content remain at the core of his work. He shared how he's driven by the belief that he will be accountable for the content he puts out into the world, knowing that he will ultimately answer to God. 
"My faith influences all of my projects because I think we have the Bible to answer to," he said. "I think we're going to stand before the Lord in judgment, and I think we have to be accountable for what we put out."
"God's Country Song" is now streaming on PureFlix.