'God works through disruption': College ministries find new ways to connect amid COVID-19 lockdowns
'God works through disruption': College ministries find new ways to connect amid COVID-19 lockdowns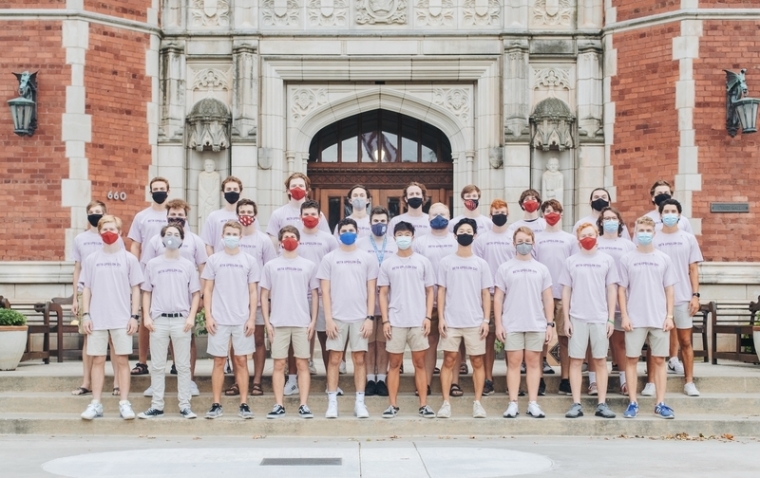 Beta Upsilon Chi
Brian Lee, president of Beta Upsilon Chi, the largest Christian social fraternity in the U.S. with 39 campuses in 17 states, told CP that the day-to day-life and operations of the chapter have changed drastically in light of the pandemic.
Rush events, interviews, and large chapter meetings have been entirely virtual, Lee said, acknowledging it's "a little strange" operating digitally. But to his surprise, Lee said fraternity numbers are "higher than we projected this fall." 
"Our preliminary numbers look better than we anticipated," he said. "The retention numbers of guys that were previously in the chapter are higher than normal. Our overall pledge numbers are slightly down but we expected them to be substantially down, so we've been encouraged."
"I think guys are hungry and desiring to be in community. I think guys want to be together after a year of isolation." 
On a weekly basis, small ΒΥΧ cell groups meet in local churches or other off-campus areas to "check in, encourage, and share life with each other and challenge each other to be the men that God's called them to be," while larger groups meet virtually.
"We'll have anywhere from 10 to 20 to 30 cell groups gathering and watching virtual chapter meetings together, and then before and after that meeting, they're hanging out doing their normal subgroup time," Lee said. 
"We're still able to facilitate discipleship; guys are still encouraged and challenged in the context of community."
The COVID-19 restrictions, he said, have provided an "opportunity for ministries to think how to do things differently."
"We're innovating, we're realizing 'OK, there are some things we can do virtually that we haven't tapped into before.' We certainly hope that we get to gather in larger groups again sooner than later. But I do think the pandemic has changed the way we're going to do ministry and we're going to gather in the future."
Still, Lee acknowledged that much like churches and other ministries, college campus ministries most likely won't return to the numbers they saw before the outbreak.
"Hopefully, the adjustments that we're making will mitigate some of that risk or create opportunities for other things, and we're planning for that," he said. "We really are just looking forward to being able to gather in person again sooner than later."
Studies show that the COVID-19 restrictions have resulted in increased loneliness, stress, anxiety, and depression, among high school and college students, in particular. In light of this, Lee stressed that college campus ministries "will become increasingly more needed and important and critical in the days ahead."
"As challenging as it is for ministries to do what they've historically done, the need to innovate and find creative ways to continue to reach students, I think, is more important now than it's probably ever been," he said.