'God works through disruption': College ministries find new ways to connect amid COVID-19 lockdowns
'God works through disruption': College ministries find new ways to connect amid COVID-19 lockdowns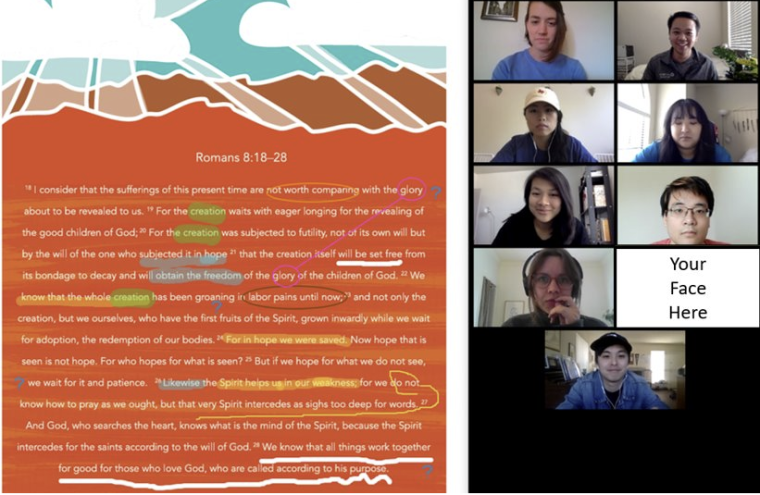 InterVarsity 
InterVarsity is a national campus ministry that serves over 30,000 students on 700 campuses. It's the U.S. arm of the International Fellowship of Evangelical Students, which reaches half a million students worldwide.
A key part of the ministry's mission is to help students build relationships on college campuses, both God and with each other.
"We try to help people connect with each other and form communities where they can explore things about God as well as care for each other," James Choung, vice president of Strategy & Innovation for InterVarsity, told CP.
"Historically, campuses have been a place where people can connect with other people and connect with God. Both of those things are helpful in keeping us whole and healthy mentally and spiritually.
"But right now, it's really hard to connect with anyone."
Yet, amid the pandemic, InterVarsity has been able to connect with students in "unprecedented" ways, Choung said, utilizing platforms such as Zoom, Facebook Live, Instagram and others. 
"The ability to reach out to students on campuses that we're not yet on has gone up astronomically," he said. "Of the contacts of incoming freshmen we have, they represent 421 campuses we're not yet on. It's a fascinating thing to be in the middle of. We're able to meet and maintain connections in new ways."
He shared the story of one InterVarsity upperclassman in Texas who reached out to an incoming freshman on social media. When the student received her message, she began crying and showed her mother, who also began crying, Choung said. 
"They had been praying that this student would be able to connect in a Christian community in her college, but with COVID, they didn't know how it was going to work," he said. "They were praying that someone would reach out and mentor her."
"The surprise contact that's happening through digital means seems like something that was orchestrated by God to help this person feel like God answered their prayers for a Christian community and for a Christian mentor. We're hearing these kinds of stories over and over again."
The mission of InterVarsity — to build relationships — has remained the same, Choung said, even if the context has changed immensely.
When COVID-19 lockdowns first went into effect in March, InterVarsity enacted a "three-phase way of going into innovation," which began with moving their five rhythms of ministry online, a process that took about three months. 
The second stage — the stage they're currently in — is simply "innovating and trying to conquer obstacles ahead of us," from welcoming incoming freshmen to focusing on social media and digital outreach, as well as online prayer meetings and devotionals for current InterVarsity members. 
"We feel a little bit like the church in the book of Acts, where we don't know what we're doing and we're trying to figure it out, and experiment and see where God leads us," he said with a chuckle. "We do think, however, it would be wise to think that the innovations that we're coming up with now are the things that are going to stick once we come back to campus." 
The third phase, he said, will be marked by when restrictions are fully lifted and students are allowed to fully engage in community once again. An InterVarsity staff member for 25 years, Choung said that for the first time, the immediate future of on-campus college ministry is unclear. 
"We're not sure what it looks like yet but I do think there will be pieces we carry forward, like having a stronger online presence and encouraging people to connect digitally," he said.
"It's going to be interesting but the Church never fails. That's the one thing we've seen in history. There's always hope even when it seems hopeless."