Colorado Flooding Forces Thousands to Evacuate; Storm Largest in Decades
Colorado Flooding Forces Thousands to Evacuate; Storm Largest in Decades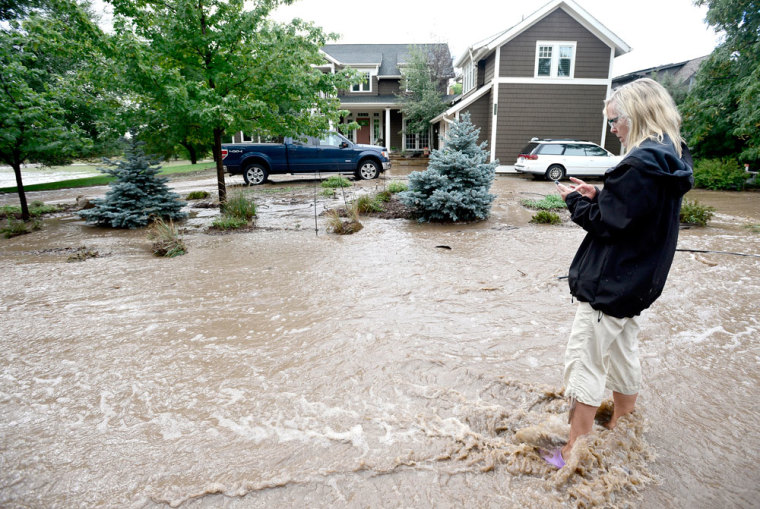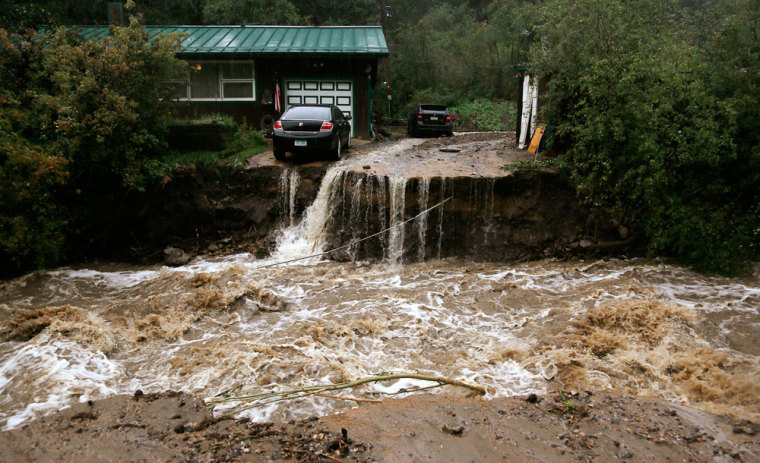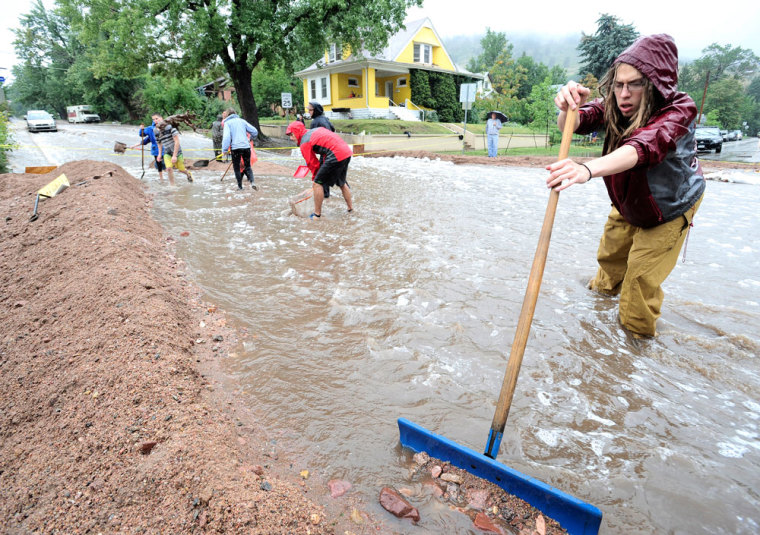 View Photos
Massive flooding throughout the state of Colorado is forcing thousands to flee their homes while the National Guard is trying to reach an entire town trapped by floodwater in what some has described as the "largest storm in the state's history."
"It's got to be the largest storm that I can imagine in the state's history," Colo. Gov. John Hickenlooper said at a news conference, Reuters reported, urging people to stay out of floodwater areas.
The massive storm, which forecasters say has caused the worst flooding in the state in over three decades, has turned roads into rivers, in some places reaching up to three feet deep. At least three people are believed to have died so far.
The state Office of Emergency Management said on Friday that as many as 19 counties remain under high threat of flooding, including Arapahoe, Weld, Park, Jefferson, Larimer, Clear Creek, Adams, Douglas, Broomfield, Gilpin, Denver, Boulder, Logan, Morgan, Washington, El Paso, Teller, Pueblo and Elbert.
The National Guard is meanwhile trying to evacuate the town of Lyons in Boulder County, home to about 1,600 people, which has reportedly been without water and power for 48 hours.
"These individuals are not only coming with just themselves, but with their suitcases and their precious household items along with their pets and everything, all getting loaded in the back of these vehicles," said First Lieutenant Skye Robinson, a spokesman for the Colorado National Guard.
The severe flooding was apparently borne out of late-summer storms that drenched 130 miles of land from Fort Collins near the Wyoming border through to Boulder, Denver and Colorado Springs.
"We're still expecting some flooding to occur, but not quite as bad as the last couple of days in terms of the amount of rain that we've been getting," said Kari Bowen, a meteorologist with the National Weather Service. She expressed hopes that rains will finally begin slowing down later on Friday, but assessments of the wide-scale damage are yet to start coming in.
CNN meteorologist Chad Myers predicted that it might take three days before the rain completely stops.
"This isn't over," Myers said, and noted that more rain is forecasted through Sunday in the region, which will only add to the 15 inches some parts have already received.
President Barack Obama has signed an emergency declaration which frees federal aid for the state and calls on the Federal Emergency Management Agency to coordinate disaster-relief efforts.
Lyons Fire Chief J.J. Hoffman admitted that residents are facing a "very large disaster."
"I encourage all of you – stay strong," Hoffman wrote on the fire department's Facebook page. "We will make it through this, we are here for you and doing the absolute best we can with the resources we have to get to each and every one of you!"
Colo. flooding leads to thousands more evacuations