Colorado Shooting at Batman 'Dark Knight' Screening Kills 12, Injures 38 (VIDEO FOOTAGE)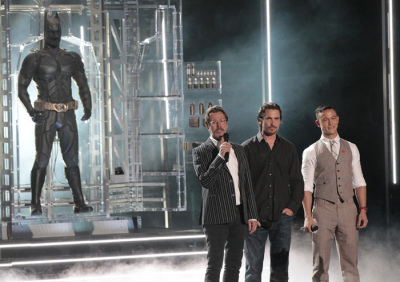 At least 12 people have been killed as a lone gunman opened fire at a midnight theater screening of new Batman blockbuster "The Dark Knight Rises" near Denver.
In total 38 other people were injured in the mass shooting, according to Aurora Police Chief Dan Oates. Ten are reported to have died at the scene, with others dying after being taken to nearby hospitals.
WHO IS JAMES HOLMES? FACT FILE ON COLORADO SHOOTER
A suspect has been apprehended by police in the parking lot outside the theater, which is the Century 16 Movie Theater at the Aurora Town Center. Aurora is a suburb area of Denver, which is less than 10 miles from the downtown area.
Witnesses have since come forward to describe the chaos and carnage, with one reporting to NBC station KUSA-Denver that a black-clad 6-foot-tall man wearing a riot helmet, goggles and bullet-proof vest was seen at the location. That witness survived when she and her boyfriend crawled on hands and knees out of an emergency exit as the shooter continued his rampage.
Police Chief Dan Oates has reported that the suspect was found with a gas mask and two firearms in his possession, and when police searched his vehicle nearby, ammunition was recovered.
At the moment police believe there was only one shooter in the incident, and have said there is no evidence to suggest there are any further suspects in the tragedy.
Witnesses have described that the shooting began during a shoot out scene in the popular Batman movie, which was only released for public viewing from midnight. Many in the theater reportedly believed the real gunshots were just part of the movie and did not immediately panic. Brenda Stuart, of 850 KOA radio, told Sky News that "a lot of people thought the gunshots were part of the movie."
Tear gas was also used by the shooter in the theater, and gun shots fired went through the wall and into the adjoining theater area.
The gunfire lasted for up to 20 minutes, according to some eyewitnesses, and the scene became one of horrific bloodshed, with bodies laying on the floor, and others bleeding running for their lives.
"I don't know whose little girl that was, but my heart goes out to them. ... A cop came walking through the front door ... holding a little girl in his arms and she wasn't moving, she wasn't moving," one young man told KUSA.
Other witnesses described some victims as being hit in the stomach with bullets, others in the cheek. One victim is believed to be as young as nine years old, according to one eye witness, Salina Jordan, who herself is 19 years old.
One 911 dispatcher, Cathy Canzanora, has told NBC News that at about 12:39 a.m. on Friday (2.39 a.m. ET) the emergency call center was suddenly flooded with calls from just about "everybody who had cellphones in the theater."
The dispatcher reported that she was unable to report specifically on what people were saying in the chaos, but it was made clear to them that there was a shooter at the theater, and they immediately dispatched police, ambulances and fire crews to the location.
Following the incident and detaining of the suspect, police also reported that the apprehended man made a statement to police saying there were possible explosives at his home in north Aurora. That sparked fresh panic and the suspect's apartment building was immediately evacuated and the apartment searched. It is unclear whether any explosives have since been found.
WHO IS JAMES HOLMES? FACT FILE ON COLORADO SHOOTER
"The Dark Knight Rises" stars Christian Bale and Anne Hathaway, and is the third movie in the Christopher Nolan trilogy in the Batman franchise. The movie was only released for general public viewing from midnight on Friday, and thousands attended special midnight screenings across the country, including the tragic location in Aurora, Colorado.
Video footage of the aftermath of the horrific shooting can be seen below:
Shooting in Aurora, CO Theater During 'Dark Knight Rises'
The Dark Knight Rises - Official Trailer #3 [HD]