Colorado Woman Who Cut Stranger's Baby From Womb Gets 100 Years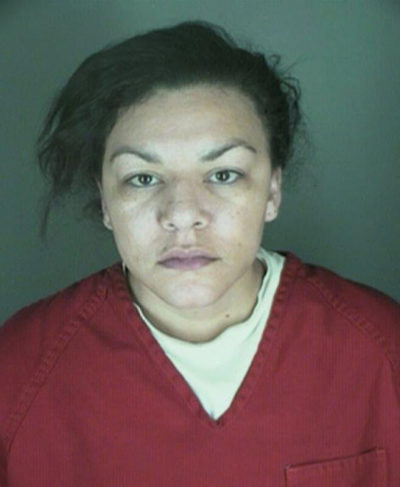 A Colorado woman who used kitchen knives to cut a baby from the womb of a woman she had lured to her home was sentenced Friday to 100 years in prison.
Dynel Lane, 35, did not testify in her defense during her trial, and Judge Maria Berkenkotter sentenced the former nurse's aide to 48 years for attempted murder and 32 years for unlawful termination of a pregnancy, The Associated Press reported. The remaining time on Lane's sentence was for assault charges in the attack on her victim, Michelle Wilkins.
Lane used a Craigslist ad offering free maternity clothes to lure Wilkins, who was seven months pregnant, to her home in 2015. Wilkins testified that her and Lane talked for almost an hour before Lane instigated the assault, when she hit, pushed and tried to choke Wilkins before using two kitchen knives to extract the woman's unborn baby from her womb.
Lane had faked a pregnancy before attacking Wilkins, posting online photos of her enlarged belly, and downloading ultrasound images from the internet, which she sent to David Ridley, the man whom she said was the father. Ridley lived with Lane and her two daughters and testified that she had claimed she was pregnant for over a year and was expecting a baby boy. The couple's friends even threw Lane a baby shower. Ridley, however, eventually became suspicious.
The day that Lane assaulted Wilkins, Ridley arrived home early to meet Lane for a doctor's appointment when he discovered the dead baby in a bathtub. Lane claimed she'd had a miscarriage and Ridley drove her and the baby to the hospital. Lane, however, told Ridley nothing about Wilkins who lay unconscious in her basement. Wilkins eventually regained consciousness and contacted authorities.
Lane's 19-month-old son suffered an accidental drowning in 2002, and relatives said that grief over losing the child likely influenced this incident.
Berkenkotter indicated that Lane's silence during her trial factored into the sentencing, saying, "people are hungry to hear from you, Miss Lane. Hungry, desperate to hear you express genuine remorse from the bottom of your heart."
Although Lane did not testify, her parents apologized in court to Wilkins and her family via a letter read by Lane's mother.
Wilkins addressed the court before the sentencing, asking Berkenkotter for the harshest sentence possible, as a photo of her deceased baby, whom she named Aurora, rested on an easel next to the witness stand.
"You left me there to die multiple times," Wilkins said, according to The Denver Post. "The only tears that you cried during the trial were those of your own self-pity."
Wilkins was satisfied with the judge's ruling. "Judge Berkenkotter was clearly listening to everything that we were saying."
Prosecutors were unable to charge Lane with murdering Wilkins' unborn baby because there was no evidence that she lived outside the womb, according to a coroner's findings. Lane's public defender, Katherine Herold, plans to appeal Berkenkotter's ruling.