Colton Dixon of 'American Idol' Gets Surprise Elimination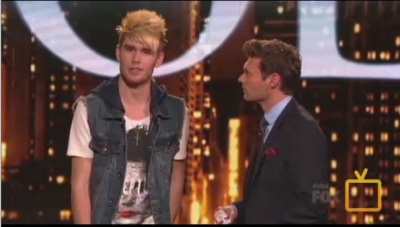 Thursday evening's episode of "American Idol" featured a shocking elimination, with the optimistic, positive contestant Colton Dixon getting the axe.
"I need to apologize. I wasn't myself last night, and I get it. I appreciate what you told me last night. I'll take that when I'm making a record, and I'll choose songs," Dixon told judges Jennifer Lopez, Steven Tyler and Randy Jackson.
"No more second chances, no more safety nets," Jackson reminded viewers at the outset of Thursday evening's show.
Dixon, the 20-year-old Tennessean, specialized in playing the piano with astute melodic control. Although many found the elimination of this skinny-jeans-wearing, 80s-hair-singing youngster to be shocking, the Los Angeles Times claims his dismissal was "mildly surprising."
"I never found him terribly exciting. To use the current judge parlance, I never connected with him on an emotional level," wrote a critic for the LA Times.
Some critics argue that Dixon's entry into the bottom three was expected after his two performances Wednesday night, which included a rendition of Lady Gaga's "Bad Romance" and Earth Wind & Fire's "September."
The judges used their one granted "save" per season to bring back contestant Jessica Sanchez last week, and therefore from now on, they must eliminate one contestant every episode.
Thursday's episode also featured a tribute to Dick Clark, which included host Ryan Seacrest narrating while a myriad of Dick Clark clips popped up on the screen. This was contrasted with performances by Kris Allen and the musical group LMFAO, who performed "Sorry for the Party Rockin" while they danced with a giant zebra.
Newsday described such performances as "disappointing" and "typical of 'Idol,'" saying the always classy Dick Clark would have opted for a far more dynamic act than LMFAO.