Community Outraged at Indiana Church Sign Reading 'Stop Sexual Harassment, Wear Clothes'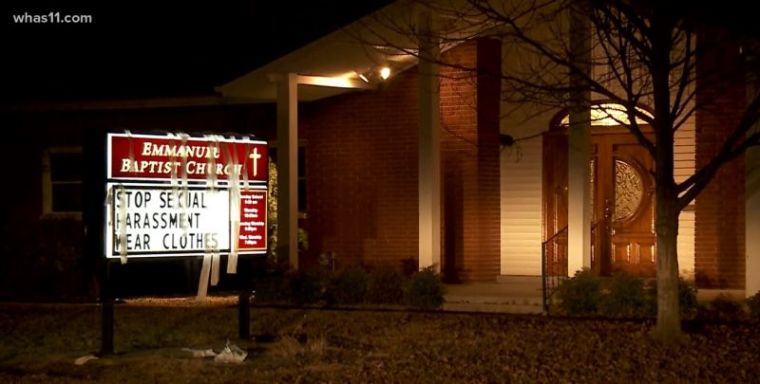 A controversial sign outside a Baptist church in Indiana advising people to stop sexual harassment by "wearing clothes" has been taken down following intense criticism by members of the community.
The sign in question outside Emmanuel Baptist Church in Jeffersonville read "Stop Sexual Harassment Wear Clothes," but ABC-affiliate WHAS-TV reported on Sunday that it has been taken down.
"Pretty much any female regardless of shape, size, color, race, what they look like, what they dress like, have been a victim of some type of sexual harassment in the past," said Opal Lavon, a Jeffersonville resident. "So it's just completely inappropriate and out of line for anybody or any entity to put that message out there."
Allyson Condra, another resident, told WLKY that as a mother of two daughters, she was "infuriated."
"As a female myself, this infuriated me. As a human being, this infuriated me," she said.
Melissa Scully added: "This brought tears to my eyes, and, I'm sorry, but being a resident in this town of mine that I love, I don't accept this and I do not see that anyone should accept this."
A pastor with the church, who wasn't named, reportedly told WHAS11 that he didn't approve of the message, and doesn't know who put up the sign, claiming someone might have been trying to place the church in a bad light.
The Christian Post reached out for comments from Emmanuel Baptist Church, but the phone number listed for the church has been discontinued.
Sexual assault and harassment is one of the main issues the Church in America continues tackling, with hundreds in November sharing stories of rape, abuse and various forms of harassment that they suffered inside church or at the hands of Christian men in leadership  under the #churchtoo hashtag.
Notable Christian women who opened up about their experiences included author Beth Moore, as well as Kay Warren, co-founder of Saddleback church in California.
Moore joined hundreds of other evangelical women in calling out sexual and psychological abuse in December under the #SilenceIsNotSpiritual initiative.
The campaign praised churches who have stood up to support survivors of violence, but argued that more needs to be done.
"We will not retreat from the pain in our midst. Women of all faiths, races, cultures and backgrounds are bravely breaking their silence, yet many in communities of faith do not match their bravery with action. Instead, feeling the problem is too pervasive, they have acquiesced, leaving whole churches and communities paralyzed," the campaign has said.
"But doing nothing is not acceptable. Silence is not spiritual. And action is not optional."