Time's Person of the Year: 'The Silence Breakers,' Women Exposing Sex Abuse in Hollywood, Society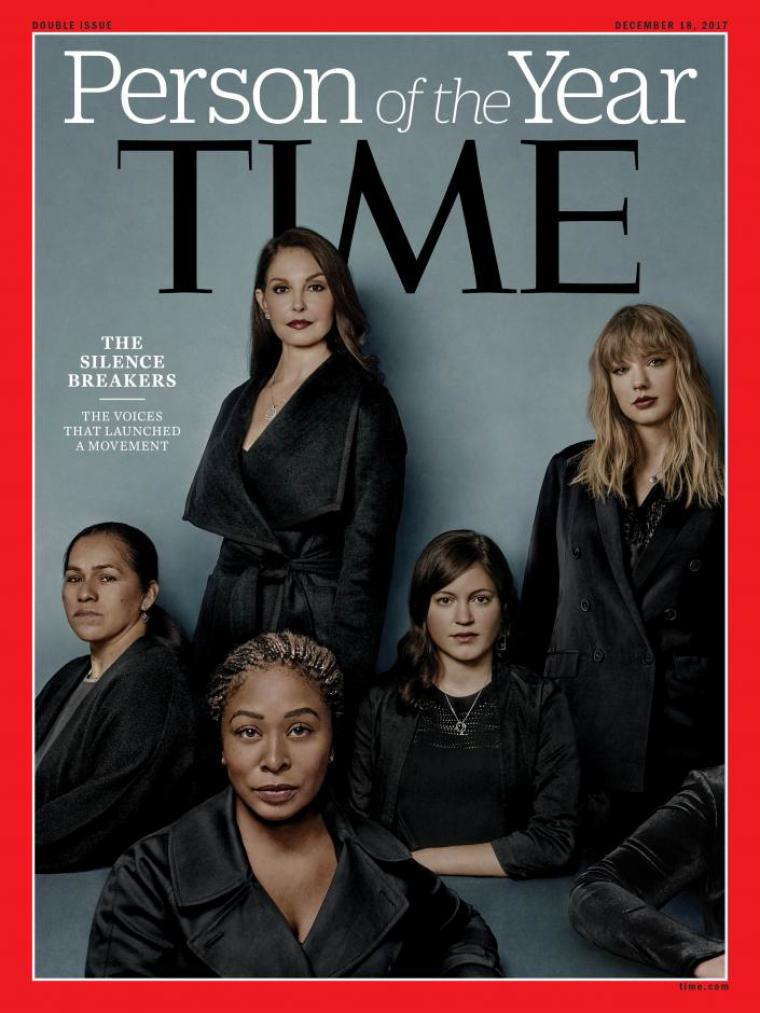 Time magazine has named "the silence breakers" its 2017 person of the year, referring to the wide range of women and victims who have been revealing decades-long horrific sexual abuse in Hollywood and all throughout society.
Time explained in its feature piece on Wednesday that the movement to expose abuse "doesn't have a leader, or a single, unifying tenet."
It pointed out that the social media hashtag #MeToo, adapted by others in different languages as well, has helped millions around the world come forward with their stories and the experiences they have suffered through.
"This reckoning appears to have sprung up overnight. But it has actually been simmering for years, decades, centuries. Women have had it with bosses and co-workers who not only cross boundaries but don't even seem to know that boundaries exist," Time said.
"They've had it with the fear of retaliation, of being blackballed, of being fired from a job they can't afford to lose. They've had it with the code of going along to get along. They've had it with men who use their power to take what they want from women."
Time positioned that silence breakers have "started a revolution of refusal, gathering strength by the day, and in the past two months alone, their collective anger has spurred immediate and shocking results: nearly every day, CEOs have been fired, moguls toppled, icons disgraced. In some cases, criminal charges have been brought."
The magazine profiled American actress Ashley Judd as one of the first to speak out against Harvey Weinstein, one of Hollywood's top producers behind several commercially and critically acclaimed films.
As Judd has explained, Weinstein, the head of Miramax studio, invited her to a Beverly Hills hotel in 1997 as her career was about to take off, and attempted to coerce her into bed.
Judd said that she managed to escape, and started talking about Weinstein's predatory attempts immediately after.
"Literally, I exited that hotel room at the Peninsula Hotel in 1997 and came straight downstairs to the lobby, where my dad was waiting for me, because he happened to be in Los Angeles from Kentucky, visiting me on the set," she recalled.
"And he could tell by my face — to use his words — that something devastating had happened to me. I told him. I told everyone."
Although a screenwriter friend of hers attested that Weinstein's behavior was an open secret in Hollywood, the producer continued expanding his movie empire for decades, until finally in October 2017 a number of other women spoke out against the sexual abuse, harassment, and even rape they allegedly suffered at his hands.
Weinstein has denied ever having nonconsensual sex with his accusers, but he has been subsequently fired from The Weinstein Company, and has been shunned from the industry at large.
Time shared in its piece the stories of dozens of other women whose voices have helped shed light on the massive extent of the sex abuse problem, joining the chorus of those speaking out online and elsewhere.
Big-name Christian leaders have also shared their stories, including popular evangelist and author Beth Moore.
"A well meaning mentor told me at 25 that people couldn't handle hearing about sexual abuse and it would sink my ministry. It didn't. #MeToo," Moore recalled in a tweet in October.
Kay Warren, co-founder of Saddleback Church in Lake Forest, California, and wife of megachurch pastor Rick Warren, also stated, "A pedophile molested me when I was a little girl. It's taken decades to heal. #MeToo."
The #churchtoo hashtag in November in turn focused specifically on the stories of rape, sexual abuse and harassment women have suffered inside church or at the hands of Christian men in leadership.
Some shared accounts of how their abusers were protected by churches, driving them away from religion.
Female pastors, such as Robin Anderson of Commonwealth Baptist Church in Virginia, wrote:
"I was sexually abused by a pastor. When reported, the social worker chose to protect the minister instead of my 7yo body. Bcs of that, the abuse continued for years. Kids deserve better."
The Time article concluded with the words of NBC News host and political commentator Megyn Kelly, who posed to women, "What if we did complain?"
"What if we didn't whine, but we spoke our truth in our strongest voices and insisted that those around us did better? What if that worked to change reality right now?" she asked.