Congo Releases 72 Adopted Children to Families in US, Europe After 2-Year Wait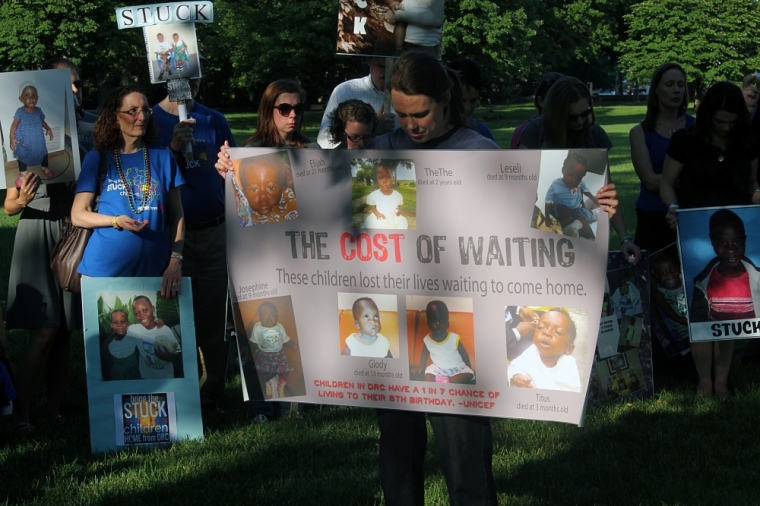 It appears to be a storybook ending for 72 adopted children after the Democratic Republic of the Congo finally granted them permission to live with their adoptive families in Europe and North America after the children were forced to wait two years for clearance to leave the country.
After the Congolese government suspended the issuance of exit permits to internationally adopted children in September 2013, effectively freezing international adoptions in the country, approximately 1,000 adoptive families became trapped within Congo's adoption system and have been anxiously waiting to finally take their adopted children home to live as happy families.
Last Monday, the Congolese government announced that it approved 72 adopted children for exit letters. The announcement marks the first action the government has taken since September 2013 to help alleviate the stress for some of these adoptive families.
Of the 72 children, 69 have completed paperwork, while three others were granted exit permits because of serious medical conditions.
While 14 children are coming to live with their families in the United States, others are going to reside with their adoptive families in Italy, Canada, Germany, France, Netherlands, Belgium and Switzerland.
Although 72 children were granted exit permits, hundreds of families remain caught within Congo's frozen international adoption system, many of them with completed paperwork. Among those still waiting for their adopted children to come home are over 400 families from the U.S.
"This is such a bittersweet time," Jennifer Sands, who was united with her 12-year-old adopted son Isaac at Dulles International Airport in Virginia on Wednesday, told AP. "We are so happy and blessed, but my heart is broken that the others don't have the same reunion right now."
Kelly Dempsey, counsel and director of outreach and advocacy for Both Ends Burning, told The Christian Post that the government's suspension of exit permits was only supposed to last for about a year. She asserted that the fact that the freeze has continued this long indicates that the government does not have the best interest of the children in mind.
"Congo suspended the issuance of exit letters stating their concerns for the wellbeing of adopted children," Dempsey stated in an email. "Over the last two years, the reason for the suspension has changed and it is clear that the wellbeing of the children is not the top priority given that more than 12 adopted children have died waiting."
Dempsey explained that the latest report from the U.S. Department of State suggests that the Congolese government could be trying to force families to wait until pending new adoption laws are passed in order for them to be able to complete the adoption.
"It is still not clear whether DRC intends to subject all of these completed adoptions to new laws," Dempsey wrote in an email. "To do so would be a travesty of justice. These children have families waiting for them and all of these families have complied with the laws of DRC and are entitled to have their adoptions honored."
Dempsey explained that the new adoption legislation is intended to provide better safeguards in the adoption process. However, she argues that the adoptive families who have been waiting years for their adopted children to be allowed to leave the country should not be forced to wait for a new law to be passed or be subject to those new rules.
"It is unjust to change the rules after the adoption is completed and force families to begin anew. There is no good reason why the families should be forced to wait for new laws," Dempsey contends. "The children should be immediately released. DRC can do as it pleases with respect to new laws, but it is wrong to make the waiting children and families continue to suffer while the legislation is enacted and implemented."
The desire for some families to get their adopted children home is so great that many are resorting to human trafficking in order to get their children out of the country. An investigative report by Reuters in October found that as many as 80 adopted children have been smuggled out of Congo in the last two years.
"The State Department issued a warning stating that any families that try to 'circumvent' the exit permit suspension could have severe implications."
In April 2014, 170 members of Congress signed a letter to top officials in the Congolese government calling for them to issue exit permits to the already adopted children coming to the U.S.
On July 31, a follow up
Free Religious Freedom Updates
Join thousands of others to get the FREEDOM POST newsletter for free, sent twice a week from The Christian Post.