Congressional Leaders Demand HHS Investigate Planned Parenthood's Cover Up of Sex Crimes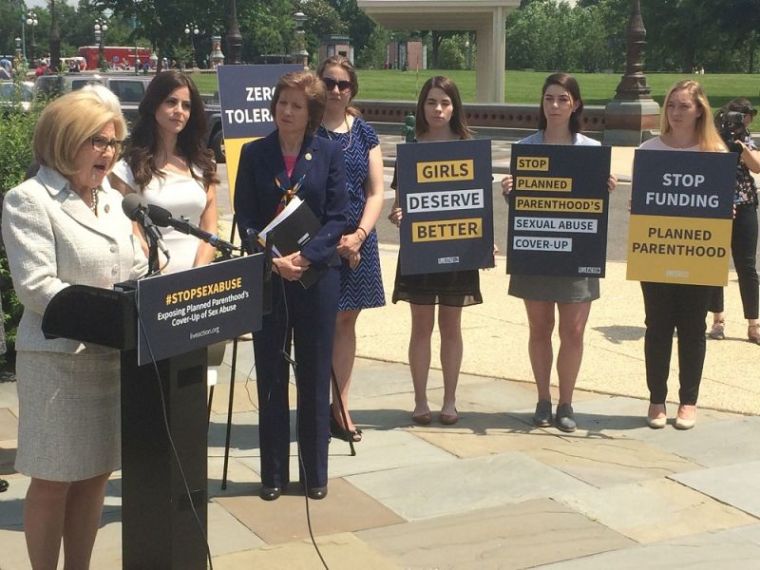 WASHINGTON — Fifty-six members of Congress are urging the Department of Health and Human Services to investigate Planned Parenthood for covering up and not reporting the sexual abuse and trafficking of minors.  
Speaking at a news conference outside the U.S. Capitol on Thursday, several pro-life activists and members of Congress spoke about a newly released report by Live Action titled, "Aiding Abusers: Planned Parenthood's Coverup of Child Sexual Abuse," that they say details Planned Parenthood's long history of complicity with sexual exploitation.
"When a child is the victim of sexual abuse by a family member or the victim of a pimp who has forced her into a life of sex slavery, she deserves to be protected, not to be victimized again by an abortion facility that willingly turns a blind eye to her torture," said Live Action President Lila Rose. "We are grateful that so many members of Congress are pushing to initiate an investigation into Planned Parenthood and help put an end to this horrific cycle of abuse."
Live Action has in recent years conducted several undercover investigations showing video footage of Planned Parenthood staff advising men they believed to be pimps on where they can take underage girls to obtain abortions without fearing being reported to authorities.
Rep. Vicki Hartzler, R-Mo., called Planned Parenthood's failures and readiness to perform an abortion on a young girl with no questions asked "unthinkable."
"The thought makes me shudder. It is alarming that an organization with a signature pattern of failure to report child sexual abuse continues to receive taxpayer money. We need to investigate how widespread Planned Parenthood's complicity truly is; this abuse needs to stop," she said.
In 2014, the pro-life group Life Dynamics compiled a list of 60 court cases that dealt with girls as young as 10 being taken to Planned Parenthood and other clinics by their abusers to receive abortions and birth-control.
The group also accused Planned Parenthood of "operating a nationwide pedophile protection racket."
Similarly, during the Center for Medical Progress' investigation into abortion clinic practices in harvesting babies' tissue and organs, one undercover video taken at a Planned Parenthood workshop in Michigan showed an abortion provider arguing against helping young victims of rape and sexual assault by asserting that because clinic workers are not state employees they should not be required to report known cases of child abuse to authorities.
Several other members of Congress who spoke Thursday praised President Trump for his recent move to strip Title X funds from going to clinics that perform abortions, which will move tens of millions in federal tax dollars from Planned Parenthood to community health clinics that provide health care services. They called for the administration to continue on with the policy by fully defunding the nation's largest abortion business.
Rose added: "The fact that Planned Parenthood has for decades participated in the ongoing abuse of children proves that its priority is selling abortions, not caring for the most vulnerable of girls. Planned Parenthood's culture of cover-up must end, the cycle of abuse of innocent children must end, and Planned Parenthood's half a billion dollars in annual federal funding must end. Taxpayers cannot be forced to subsidize these abuses of children."
A letter from 56 members of Congress to HHS Secretary Alex M. Azar II explains that the findings in the report suggests that abusers feel comfortable taking their victims to Planned Parenthood because they know the staff will not ask questions.
"We are therefore requesting an investigation into Title X recipients, particularly Planned Parenthood, to determine how widespread this failure is and if there are other instances where Planned Parenthood failed in its duty to report suspected child abuse to local authorities and to HHS," the letter reads.
Laura J. Lederer, president of Global Centurion, an anti-trafficking organization, noted that abortions and the sex trade are "inextricably linked."  
She recently conducted a study called "The Health Consequences of Sex Trafficking in the United States," in which the findings revealed that approximately 30 percent the trafficking victims surveyed reported multiple abortions. Traffickers would routinely threaten their lives and beat them if they became pregnant, Lederer said.
One survivor whose abuse was especially brutal at the hands of her trafficker "said that she had 17 abortions over the time she was trafficked, all of them at the same clinic," Lederer recounted.
"We should all be able to agree that abortion and human trafficking assists the trafficker, facilitates the trafficking, and we need to put an end immediately to this terrible practice."
"I think what it takes is making the harm visible," she added, when asked by The Christian Post during a Q&A what it will take for the American public to realize what is going on and for greater action to be taken against the abortion giant given their complicity.
"We have to help people understand what's going on behind closed doors. When you say the word 'trafficking' it goes right over people's heads, so we have to unpack the violence, the substance abuse, the beatings, the rapes" that occur, she said, praising Rose's work.
Rep. Glenn Grothman, R-Wis., chimed in, saying that the churches of America "have to step up to the plate."
"If the churches are silent, figure it is no big deal and don't want to say anything controversial, it will continue. If the churches step up to the plate it won't."
Rose is optimistic about what this report will yield.
"We see complete defunding of Planned Parenthood and that money redirected toward more worthy, non-abortion health care providers" coming, she told CP following the press conference.
"I think this evidence is one important marker to demand that, and the American people are increasingly demanding that. And I think [the Dept. of] Health and Human Services is hearing the demand and doing their part, and the administration will continue to do their part when they refuse to sign anymore budgets that include funding for Planned Parenthood or any abortion provider."