Conservative Princeton Professor Robert P. George and Others Offer to Take 1,000 Lashes for Saudi Blogger Raif Badawi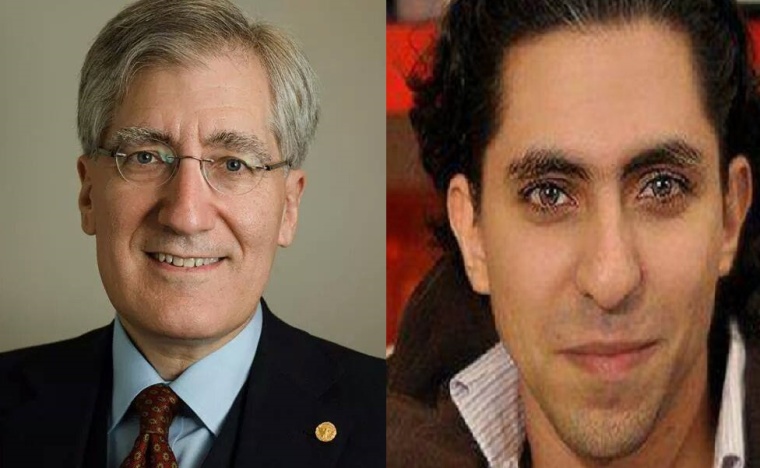 Conservative Princeton University professor and vice chairman of the U.S. Commission on International Religious Freedom Robert P. George, along with six other advocates, have offered to take 100 lashes each for Saudi Arabian blogger Raif Badawi who was sentenced to 1,000 lashes for insulting his country's clerics.
Badawi, who was sentenced to 10 years in prison and 1,000 lashes got his first 50 lashes by cane in a public square just over a week ago. A news release from Amnesty International explained that a second round of flogging for the blogger was postponed last Friday because his wounds from the first flogging hadn't healed.
"Not only does this postponement on health grounds expose the utter brutality of this punishment, it underlines its outrageous inhumanity. The notion that Raif Badawi must be allowed to heal so that he can suffer this cruel punishment again and again is macabre and outrageous. Flogging should not be carried out under any circumstances," said Said Boumedouha, Amnesty International's deputy director for the Middle East and North Africa Program in the release.
In an email to The Christian Post Wednesday, Professor George confirmed that he and other advocates have offered to take the lashes for Badawi.
"Together with six colleagues on the U.S. Commission on International Religious Freedom, I sent a letter to the Saudi Ambassador to the U.S. calling on the Saudi government to stop the horrific torture of Raif Badawi — an advocate of religious freedom and freedom of expression in the Saudi Kingdom," wrote George.
"If the Saudi government refuses, we each asked to take 100 of Mr. Badawi's lashes so that we could suffer with him. The seven of us include Republicans and Democrats, liberals and conservatives, Christians, Jews, and a Muslim," he added.
Offering to take Badawi's lashes along with George are: Mary Ann Glendon, member of the Board, Becket Fund for Religious Liberty; M. Zuhdi Jasser, president, American Islamic Forum for Democracy; Daniel Mark assistant professor, Department of Political Science, Villanova University; Hannah Rosenthal, CEO, Milwaukee Jewish Federation; Eric Schwartz, dean, Humphrey School of Public Affairs, University of Minnesota and Katrina Lantos Swett, president of Lantos Foundation for Human Rights & Justice.
"Compassion, a virtue honored in Islam as well as in Christianity, Judaism, and other faiths, is defined as 'suffering with another.' We are persons of different faiths, yet we are united in a sense of obligation to condemn and resist injustice and to suffer with its victims, if need be. We therefore make the following request. If your government will not remit the punishment of Raif Badawi, we respectfully ask that you permit each of us to take 100 of the lashes that would be given to him. We would rather share in his victimization than stand by and watch him being cruelly tortured. If your government does not see fit to stop this from happening, we are prepared to present ourselves to receive our share of Mr. Badawi's unjust punishment," note the group in the letter shared with CP.
According to Amnesty International's Boumedouha: "Flogging is prohibited under international law along with other forms of corporal punishment. His flogging appears to have been postponed for now but there is no way of knowing whether Saudi Arabia's authorities will fully comply with the doctor's advice. Raif Badawi is still at immediate risk."