Conservative Vatican Cardinal Strikes Back at Pope Francis for 'Unacceptable' Treatment After Firing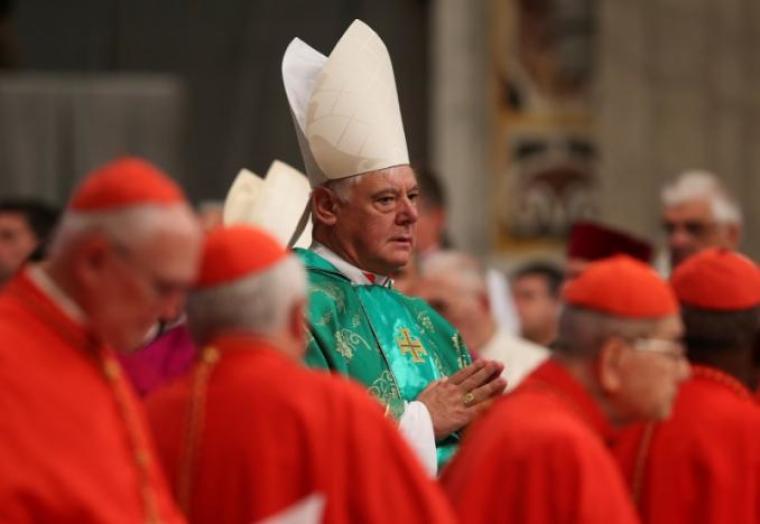 A conservative cardinal who was dismissed by Pope Francis in June has slammed the pontiff's treatment of him and other Vatican employees as "unacceptable."
Cardinal Gerhard Muller, 69, reportedly said in an interview with German newspaper Passauer Neue Presse as reported on Tuesday: "I cannot accept this way of doing things. As a bishop, [the Pope] cannot treat people in this way."
Muller, who led the Congregation for the Doctrine of the Faith before he found out on June 30 that his contract would not be renewed, said the Roman Catholic Church leader did not provide a reason for his decision.
"Just as he gave no reason for dismissing three highly competent members of the CDF a few months earlier," he said, speaking of other Vatican employees who've been dismissed by Francis.
"I have said this before — the Church's social teaching must also be applied to the way employees are treated here in the Vatican," Muller added.
Although the pontiff has not outlined any particular disagreements with Muller, CNN has reported that there were tensions concerning Francis' attempts to take up more liberal positions when it comes to Church doctrine, such as giving Holy Communion to divorced and remarried Catholics.
When asked earlier this year whether Francis is tolerant of different opinions in the Church, Muller said, "It's not so prudent to say my opinions."
He added, "Everyone has his own style. I cannot change it."
Muller has in the past said "it's not possible" for violators of Church doctrine on divorce, homosexuality or abortion to be welcomed completely back into the Church, declaring that to be the "Word of God."
The Rev. James Martin, an editor at large for the Catholic magazine America and a consulter to the Vatican's secretariat for communication, told The New York Times back then that Muller had been appointed by Francis' predecessor, Pope Benedict XVI.
"This gives the pope the chance to finally place his own man in a very important spot," Martin explained. "For many admirers of Benedict, Cardinal Müller was the last link to Benedict's way of doing things."
CNN's Vatican analyst, John Allen of Crux, noted that while Muller is no longer head of the CDF, he remains a Catholic cardinal.
"What's unusual here is that the criticism isn't coming from a low-level employee in the Vatican Museums," Allen said, "but a Cardinal who has become a public symbol of tensions around Pope Francis."
The Guardian reported in March that there's a "civil war" going on in the Vatican for the "soul of Catholicism," positioning that a number of conservative members of clergy are concerned about Francis.
Massimo Faggioli, a leading theologian and Vatican-watcher, said at the time: "It is true that some cardinals may regret their vote for him in the conclave, but I do not think they hope that he resigns. They know it would be very hard to find a popular pope like him."