Conservative Women Counter 'A Day Without a Woman' Protest With #WeShowUp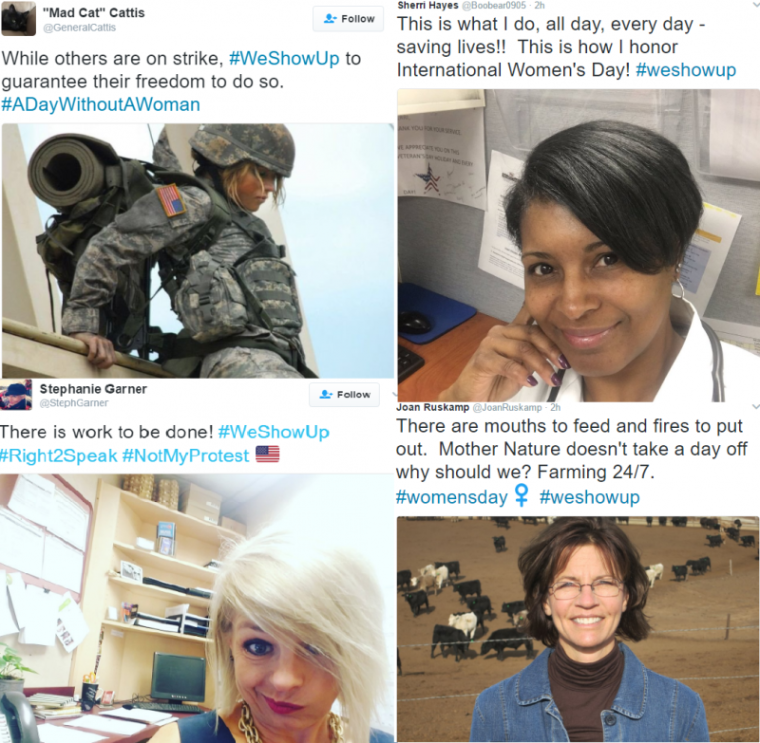 Conservative women across the country lifted their voices in a counter protest called #WeShowUp to celebrate "hard-working, difference-making women in America" Wednesday as organizers of the "A Day Without a Woman" strike called for women to take the day off.
In addition to taking the day off, organizers of "A Day Without a Woman" also urged women not to spend money to demonstrate their economic strength and show their political clout in a follow-up to January's Women's March.
Women in more than 50 countries were reported to be holding similar events to coincide with the U.N.-designated International Women's Day.
Right2Speak, a group of women who seek to serve as a "gracious counter-balance to the extremist voices attempting to represent women in the media" say, however, that liberal women do not speak for all women.
"We seek to counteract the angry, extreme liberal female voice in the mainstream media and on social media on matters of policy and personal freedoms. Their messages do not represent all women and their bullying tactics do not work on us — our story, our voice must be heard," the group said on their website.
Urging conservative women to participate in the counter protest, the group asked them to spread the message online that #WeShowUp.
"Sometimes society gets consumed with the chaos surrounding the current protest environment. But when you stop to pause, there is a real need to make sure our voices are heard, regardless of how loud the left tries to be," LeeAnn Johnson, Right2Speak Columbus, Ohio, regional spokeswoman noted in a release.
"We don't feel like the voices on the far left represent all women. We need to look at this whole women's issue in a broader perspective. We won't allow our voices to be drowned out, instead we will participate with grace and dignity. The heartland of America often gets ignored, and we're standing up so that our voice is heard," she said.
Toni Anne Dashiell, Right2Speak founder and Texas national committeewoman commented, "With disproportionate media attention going to the recent Women's March movement, there is a very important story that is not being told."
"This is the story of the women in America who have been cast to the side by the spectacle of the extreme far left. We believe all women have the right to speak, the right to participate and the right to express their values without being dismissed. We encourage each woman to use her gifts, her skills and the talent only she can bring to the table, to show up to make a difference in the world, because the world needs us. Women are the difference makers ― we are more because #WeShowUp," she added.
On Wednesday, #WeShowUp trended on Twitter as women snapped photos of themselves going to work with defiant messages to the "A Day Without a Woman" movement.
"I'm ready for a busy day of work in this amazing Free Country that promote and value women #weshowup," wrote Ann Thomas.
"To celebrate #InternationalWomensDay I put on my #biggirlpants and came to work, an hour early, b/c #weshowup," tweeted Meg.
"There are mouths to feed and fires to put out. Mother Nature doesn't take a day off why should we? Farming 24/7. #womensday #weshowup," added Joan Ruskamp.