Contrary to Media Hype, World's Largest Baptist University Still Holds That 'Good Old Baylor Line' Against 'Homosexual Acts'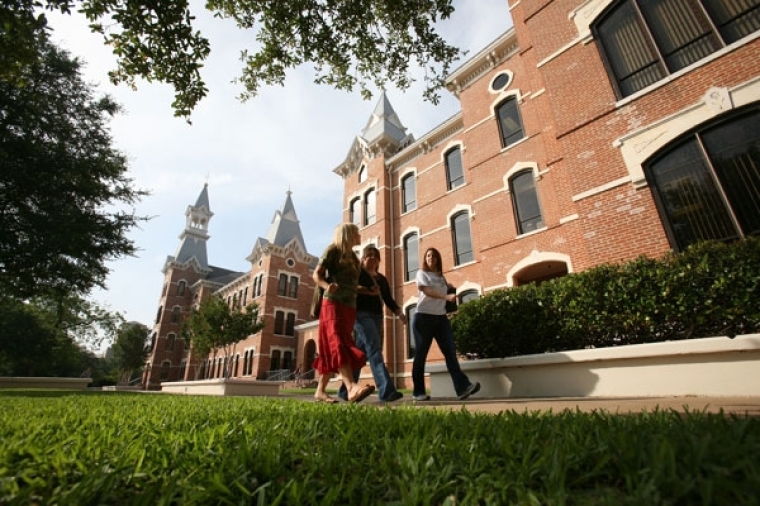 Although the world's largest Southern Baptist university, Baylor University in Waco, Texas, has removed reference to "homosexual acts" from it's sexual conduct policy, the school still stands strong in its opposition to homosexual behavior despite multiple headlines leading readers to believe the school has removed "a ban on homosexual acts."
After the Waco Tribune-Herald reported last Thursday that Baylor, the oldest Christian college in Texas, revised segments of its sexual conduct policy in May to no longer include specific reference to "homosexual acts" and other acts of sexual immorality, many news organizations including NBC News, Time, Houston Chronicle and Jezebel may have led readers to believe the school is caving to societal pressures on same-sex marriage.
NBCNews.com ran a Wednesday article with a headline that reads "Baylor University No Longer Bans Homosexual Acts," While Houston Chronicle points out in its headline that "Baylor University drops ban on 'homosexual acts.'" Jezebel's headline goes even further, stating "'Homosexual Acts' Are Now Allowed At Baylor University."
"After years of appeals from students, alumni and others, Baylor University revised its policy, dropping the ban on gay sex to 'state more plainly the expectations of the university,'" the Houston Chronicle article states.
Even though it is true that Baylor's Board of Regents removed the phrase "homosexual acts" from the school's sexual conduct policy on May 15, the school has also removed specific mentions of sexual abuse, sexual harassment, sexual assault, incest, fornication and adultery from the old policy, which was last revised in 2007.
"Baylor will be guided by the biblical understanding that human sexuality is a gift from God and that physical sexual intimacy is to be expressed in the context of marital fidelity," the new version of the policy states. "Thus, it is expected that Baylor students, faculty and staff will engage in behaviors consistent with this understanding of human sexuality."
Although the new policy makes no mention of "homosexual acts," to claim that indicates "homosexual acts" are now allowed at Baylor would be similar to saying incest, sexual abuse and adultery are allowed at the Baptist school as well, which is not true.
Despite the change, Baylor's statement on human sexuality still clearly opposes "homosexual behavior."
"Christian churches across the ages and around the world have affirmed purity in singleness and fidelity in marriage between a man and a woman as the biblical norm," the statement reads. "Temptations to deviate from this norm include both heterosexual sex outside of marriage and homosexual behavior. It is thus expected that Baylor students will not participate in advocacy groups which promote understandings of sexuality that are contrary to biblical teaching."
According to a university document on how the revised conduct policy will be applied, the policy will be "interpreted by the University in a manner consistent with the Baptist Faith and Message of 1963," which clearly defines marriage as being between one man and one woman.
"Marriage is the uniting of one man and one woman in covenant commitment for a lifetime," the family section of the Southern Baptist Convention's Baptist Faith and Message of 1963 states. "It is God's unique gift to provide for the man and the woman in marriage the framework for intimate companionship, the channel for sexual expression according to biblical standards, and the means for procreation of the human race."
According to a statement provided to The Christian Post by Baylor University spokeswoman Lori Fogleman, the policy's revision was part of an effort to make sure the policy complies with "legal and ethical mandates."
"Several years ago, an organized effort to review and keep current Baylor's policies began to ensure that the university has the necessary policies and processes in place to comply with the many legal and ethical mandates to which universities are subject as institutions," Fogleman explained. "A review of the sexual conduct policy had been contemplated over the last couple of years. These changes were made because we didn't believe the language reflected Baylor's caring community. We are pleased with the recent changes to the policy language and that it states more plainly the expectations of the university."
Steve Vernon, associate executive director of the Baptist General Convention of Texas, told Baptist Press in an email that he does not find Baylor's policy change concerning.
"The change is not a concern for me because of the phrase, 'guided by the biblical understanding that human sexuality is a gift from God and that physical sexual intimacy is to be expressed in the context of marital fidelity,'" Vernon explained. "Do we have to list all the aberrant sexual behaviors in every code of conduct for it to be clear? I think this broadened the application to the code of conduct so that it [is] not so narrowly defined as to allow behaviors not consistent with biblical teaching."
Trenton Garza, the student who introduced the resolution to change Baylor's sexual conduct policy in November 2013, told the Waco Tribune-Herald that the policy was designed to be more inclusive as to not single out gay or lesbian individuals. As the old policy also had reference to how sexual relations was intended for procreation, Garza pointed out that the policy also singled out heterosexuals who are not able to procreate.
Garza added that the policy does indicate any shift in the university's opposition toward same-sex relationships.
Baylor's old policy came under fire when WNBA basketball star Brittney Griner— the most dominant woman in college basketball when she played for the Lady Bears– wrote in her 2014 book, In My Skin, that it is hard for her to represent Baylor because of the shame the school made her feel as a homosexual on Baylor's campus.
Griner, who married fellow WNBA player Glory Johnson earlier this year, said it is hard to stand up and say "Baylor is Best!"
"I've spent too much of my life being made to feel like there's something wrong with me," The Washington Post quoted Griner as writing. "And no matter how much support I felt as a basketball player at Baylor, it still doesn't erase all the pain I felt there."