Coptic Bishop Tells ISIS Terrorists Who Killed 100 Egyptian Christians They Are 'Loved by God'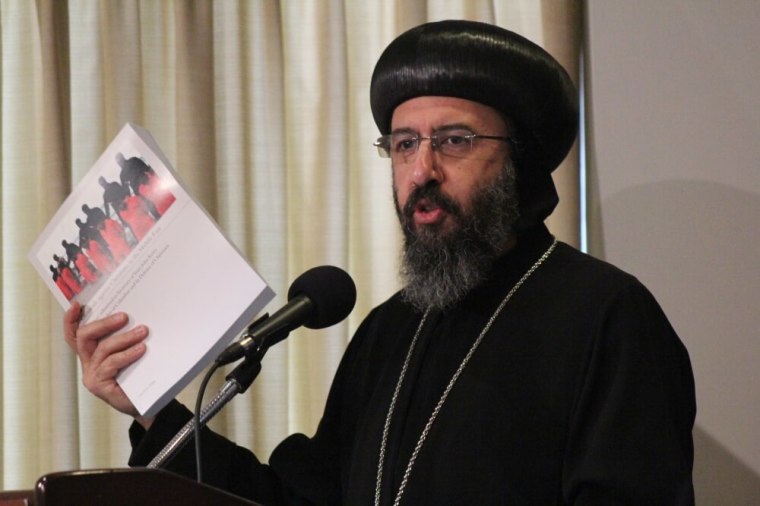 Bishop Angaelos, who is the head of the Coptic Church in Britain, told the Islamic State  terrorists who murdered over 100 Egyptian Christians over the last year that "you are loved by God, your Creator."
"You are loved by God, your Creator for He created you in His image and according to His likeness, and placed you on this Earth for much greater things," the bishop said, addressing the terrorists, while speaking to The Sunday Times.
"You are loved by me and by millions like me because I, and we, believe in transformation," Angaelos, who recently hosted the Coptic Pope Tawadros II, added.
Angaelos explained that the Christian message was "to look at our world as through the eyes of God."
The bishop said he knows his message might not be fully embraced, but "it may create at least a shadow of doubt in the minds of those intent on inflicting harm and pain."
At least 117 Coptic Christians have been murdered across Egypt since December, according to the Coptic Orthodox Church in Europe.
"This campaign (of terror against Christians in Egypt) began with the bombing of St Peter's Coptic Orthodox Church in Cairo in December 2016, and followed by Palm Sunday church bombings in Tanta and Alexandria, an attack on pilgrims visiting a monastery in Minya, and targeted attacks on individuals across Egypt," Bishop Angaelos noted in July.
Palm Sunday bombings killed 45 Christians.
Islamic State, also known as IS, ISIS, ISIL or Daesh, claimed responsibility for those attacks. IS also signaled while claiming responsibility that more attacks were coming: "The Crusaders and their apostate followers must be aware that the bill between us and them is very large, and they will be paying it like a river of blood from their sons, if God is willing."
Among the 29 killed in the Minya attack on May 26 were also children, including a 2-year-old girl.
The Christians were traveling in two buses and a small truck in Minya, which is home to a sizeable Christian minority, when they were attacked. Masked gunmen stopped the vehicles on a road leading to the monastery and opened fire.
One of the survivors of the massacre said IS extremists forced the women off the bus and ordered them to renounce their faith in Christ, but the Copts refused.
Sinai Province, the name of the local affiliate of IS in Egypt, is seeking to impose a hardline interpretation of Islam in the country.
The killing of Christians and efforts to instill terror in everyday life are part of the extremists' mission to unravel the entire country, according to experts.
Christians in Egypt have also said they have forgiven those responsible for the killing of members of their community.
"Historically in Egypt, after everyone of these attacks or similar attacks, of course there has been anger and public outcry, but there hasn't been retaliation or revenge," Angaelos told The Christian Post earlier. "That is one thing that we are very thankful for."
"As a Church, we really haven't blamed anybody. We are waiting for a formal investigation," Angaelos continued. "If IS has claimed responsibility it doesn't make it any more or less painful. Our pain is in the loss of people. Our pain is in a mindset and a conscience that can actually carry out this kind of act, whoever it is."