Coptic Widow on Palm Sunday Suicide Bomber That Killed Husband: I Forgive You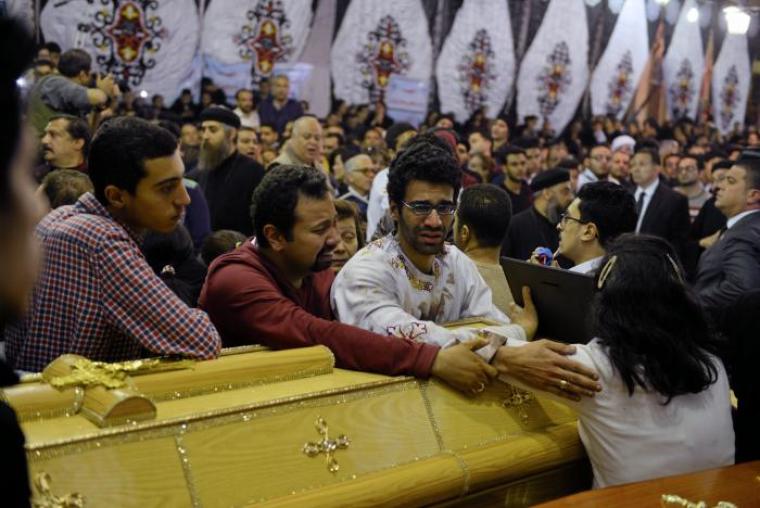 The widow of Naseem Faheem, the guard at St. Mark's Cathedral in Alexandria, Egypt, who was killed in a suicide bomb attack on Palm Sunday, said she is not angry with the suicide bomber, has forgiven him and prays that God would also forgive him.
"I'm not angry at the one who did this," said the widow, with children by her side, in an interview on Egypt's ONTV. "I'm telling him, 'May God forgive you, and we also forgive you. Believe me, we forgive you. You put my husband in a place I couldn't have dreamed of. Believe me, I am proud of him. And I wish I was there beside him.'"
Daily News Egypt reports that the television host Amr Adeeb was speechless for about 10 seconds after watching a colleague interview the Christian widow. "The Copts of Egypt are made of steel!" he said. "If it were my father, I could never say this. These people have so much forgiveness. But this is their faith and religious conviction. These people are made from a different substance."
The Palm Sunday bombings at two Coptic churches (St. Mark's Cathedral and a church in Tanta) left at least 45 people dead and more than 100 injured. Pope Tawadros was leading the mass in Alexandria when the blast occurred.
Last month, the human rights group Amnesty International had urged Egyptian authorities to offer "urgent protection" to Coptic Christians in North Sinai and provide essential services and accommodation to hundreds who are being forced to flee their homes after at least seven Christians were killed in a series of attacks weeks before the Palm Sunday bombings.
"This terrifying wave of attacks has seen Coptic Christians in North Sinai hunted down and murdered by armed groups. No one should face discrimination — let alone violent and deadly attacks — because of their religious beliefs," said Najia Bounaim, deputy director for campaigns at the group's regional office in Tunis. The attacks forced at least 100 families and 200 students to flee.
The Islamic State, also known as IS, ISIS, ISIL or Daesh, recently released a video threatening Christians in the country. IS is also believed to be behind the bombing of a chapel adjoining Cairo's St. Mark's Cathedral, the seat of the Coptic pope, in December. At least 28 people were killed.
The 23-year-old widow of Malak Ibrahim, one of the 21 Egyptian Christians who were beheaded by Islamic State terrorists in Libya in 2015, said she's proud and comforted by the fact that her husband refused to deny Christ and was praying to Jesus when he and the others were killed.
Bebawy Al Ham, a brother of another slain Egyptian, identified as Samuel, had a similar reaction. "We were very happy with what they said on the video: 'Jesus Christ have mercy on us.' When we found out they had been killed for being Christian, we were very comforted, because these were God's children and he took them… I pray for them (the killers) that God may open their hearts, and they may know the truth and know that what they do is wrong and then do the right thing," Bebawy said. "Jesus told us to forgive every sin and we forgive them and we hope that they can come to know Jesus."
Coptic Christians account for about 10 percent of Egypt's population of 82 million.