Cory Booker, Elizabeth Warren Quote Bible; Trump Court Pick Supporters 'Complicit in Evil'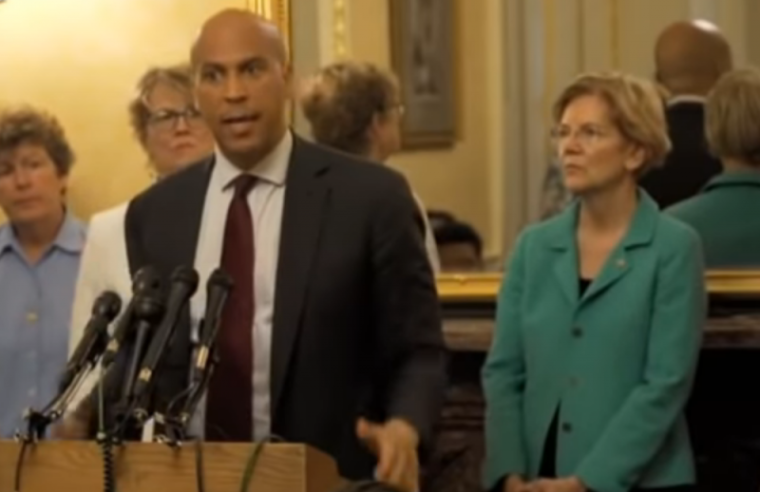 Democratic Senators Cory Booker of New Jersey and Elizabeth Warren of Massachusetts used Bible verses to call American supporters of President Donald Trump's Supreme Court nominee Judge Brett Kavanaugh "complicit in evil."
"I'm here to call on folk to understand that in the moral moment there is no, there is no neutral," Booker said at a Tuesday press conference on Capitol Hill.
"In a moral moment there is no bystanders. You are either complicit in the evil, you are either contributing to the wrong or you are fighting against it," he continued, calling for Kavanaugh's nomination to be opposed.
"There is a saying from the Abrahamic faiths in one of the Psalms that says 'Yea, though we walk through the valley of the shadow of death,'" he added, in reference to Psalm 23 in the Bible.
"We are walking through the valley of the shadow of death but that doesn't say 'though I sit in the valley of the shadow of death.' It doesn't say that 'I am watching on the sidelines of the valley of the shadow of death.' It says, 'I am walking through the valley of the shadow of death.' It says, 'I am taking agency that I am going to make it through this crisis,'" he said, offering his interpretation of the meaning of the text.
Warren also spoke at the press conference on Tuesday, alongside the Rev. Dr. William Barber and Sen. Bernie Sanders, and also used the Bible in her argument, Fox News noted.
"Corporations have won 62 percent of the cases they've been in whenever they are up against workers, shareholders, people who represent the public interest," she warned, speaking out against allowing conservatives to gain a firm majority in the Supreme Court.
She argued that such a scenario would violate Jesus Christ's words in Matthew 25 in the Bible, which read in part:
"For I was hungry and you gave me food, I was thirsty and you gave me drink, I was a stranger and you welcomed me, I was naked and you clothed me, I was sick and you visited me, I was in prison and you came to me."
Warren said that "it is not enough to have a good heart ... we are called to act," claiming that Kavanaugh's opponents are "on the moral side of history."
Much of the Democratic opposition to Kavanaugh has come from fears that a conservative-controlled Supreme Court could move to roll back the legalization of abortion in America, which they say will harm women's health.
Christian leaders in America in large have praised Kavanaugh and his credentials however, insisting that Americans can trust him to defend their rights and liberties.
Franklin Graham, the president of the Billy Graham Evangelistic Association, said about the opposition to Kavanaugh:
"Those on the progressive, socialist left are of course already enraged. Another conservative justice threatens their agendas and the direction they were trying to push this country."
"We need to thank God for this long awaited opportunity to change the makeup of the U.S. Supreme Court," Graham stated in July.
"And we need to be faithful to pray for Judge Kavanaugh and his family during the very intense confirmation process."
Greg Laurie, senior pastor at Harvest Christian Fellowship in Riverside and Irvine, California, added that millions of Americans will be praying for Kavanaugh.
Laurie called on God to "grant Judge Kavanaugh His wisdom to continue this proud legacy of defending our unalienable rights, and may God give him favor for a speedy and fair confirmation."
The Rev. Samuel Rodriguez, president of the National Hispanic Christian Leadership Conference, added: "I join millions of Americans in congratulating Judge Kavanaugh for his nomination, a well-respected jurist widely regarded for his intellect, temperament, as well as for his dedication to the Constitution."
Rodriguez said: "While certainly conservative, Judge Kavanaugh is well within the mainstream of American legal thought and theory."
Watch Booker's remarks below: