Could 'Lady Liberty' Actually Be a Man? That's What One Expert Believes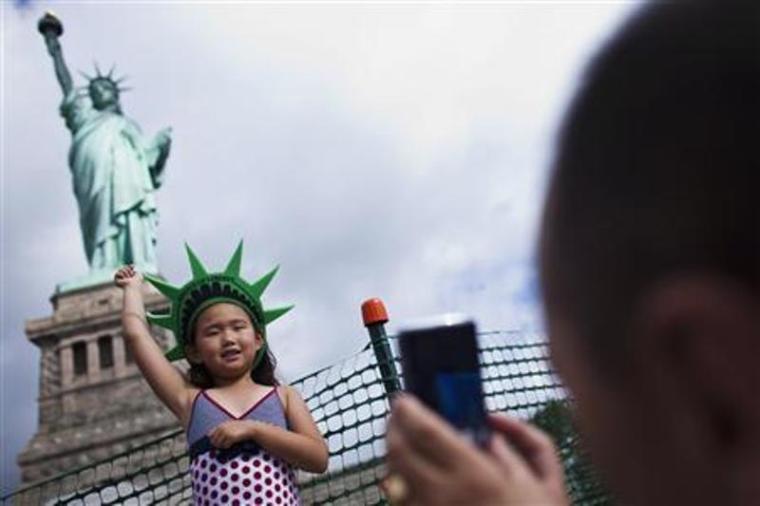 The Statue of Liberty has been standing in New York Harbor as a symbol of American freedom and ideals since 1886, but some are now saying "Lady Liberty" isn't a "lady" after all.
According to a new Discovery Family Channel special, "Secrets of America's Favorite Places," the statue was actually designed by French sculptor Frédéric Auguste Bartholdi to look like his brother instead of his mother, as is commonly believed.
But, in an interview on Fox News over the weekend, historian Edward Berenson said neither theory is true.
Instead, Berenson believes the inspiration behind Bartholdi's "Lady Liberty" is actually a Roman goddess of liberty because he was "steeped in" ancient history and knew it "inside and out."
"That was explicit," Berenson said, adding that he has studied the extensive collection of Bartholdi's letters, which are stored at the New York Public Library. "He was influenced by all these other goddesses of liberty that came out during the French Revolution."
"To me," he continued, "there's no way the Statue of Liberty is male."
If Bartholdi had designed the Statue of Liberty after his mother or brother, Berenson said his mom would have known about it, given how much he wrote her.
"He was a straight arrow, this guy," Berenson said. "This was not a tongue-and-cheek gift. This was really serious business. He loved the United States, he loved American liberty."
According to the historian, the French artist conceived of the statue "when his government was a kind of dictatorship."
"The Statue of Liberty was going to be a gift to commemorate the 100th anniversary of the American Revolution and he was going to do that by referring to really classical images of liberty, and those were always goddesses."