Could This Alleged Audio of Michael Brown's Shooting Be Key to Case?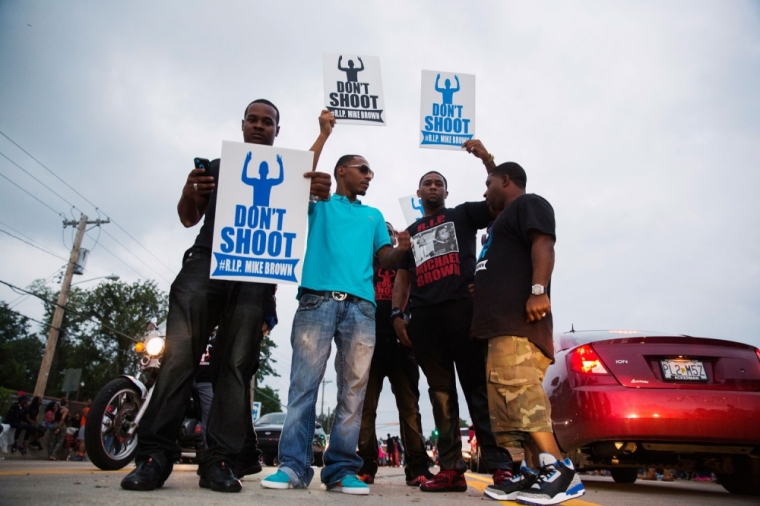 CNN released an audio file on Monday night of the alleged shots fired by officer Darren Wilson that killed unarmed teenager Michael Brown in Ferguson, Missouri.
The FBI have questioned a man who said the recording was recorded Aug. 9, the day Brown was fatally shot by the Ferguson police. In the audio a cluster of shots can be heard followed by a brief pause, and then another segment of gunfire.
CNN had the tape evaluated by forensic audio expert Paul Ginsberg, who said there was at least 10 shots; six in the first cluster and four in the second. The man, who does not want his identity revealed, was on a video chat with a friend in his home when the gunshot rang out, inadvertently recording the audio.
The man's attorney, Lopa Blumenthal, spoke with CNN's Don Lemon last night, and noted that the audio could be a breaking point in the case made against Wilson. "I was very concerned about that pause ... because it's not just the number of gunshots, it's how they're fired," Blumenthal said. "And that has a huge relevance on how this case might finally end up."
CNN could not verify the authenticity of the audio, but contacted the FBI to confirm they had interviewed the man who released the audio. Blumenthal said she learned of the audio through a mutual friend last week.
Brown and his friend Dorian Johnson were walking in the street on Aug. 9 when they were confronted by officer Wilson. Johnson claims Wilson attacked Brown and shot him to death as he tried to get away. Ferguson police claim that Brown attacked Wilson while the officer was inside his police car, then shot Brown to defend himself. Some eyewitnesses on the scene say Brown had his hands in the air before being fatally shot.
Reports have surfaced about Johnson's record, which include a 2011 theft charge and lying to police. Johnson also talked to Lemon on Monday, and did not see why one charge meant he wasn't credible, as some would make him out to be. "I see they bring up my past, my history, but it's not like it's a long rap sheet," Johnson explained. "This one incident shouldn't make me a bad person."