Counter Protesters Force Westboro Baptist Church Members to Flee Moore, Okla.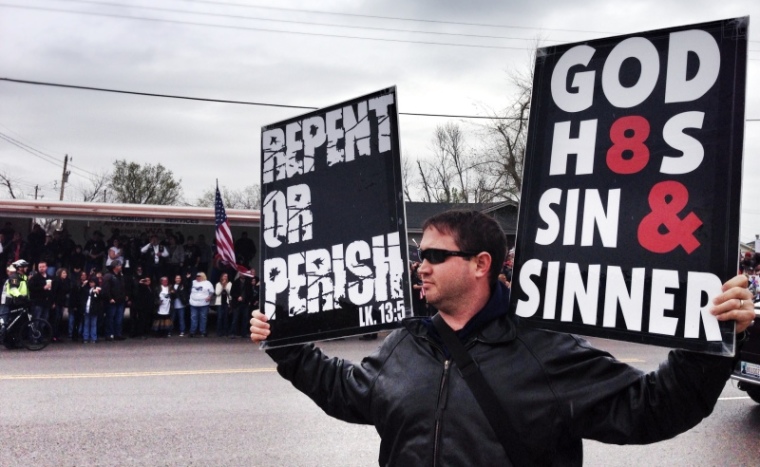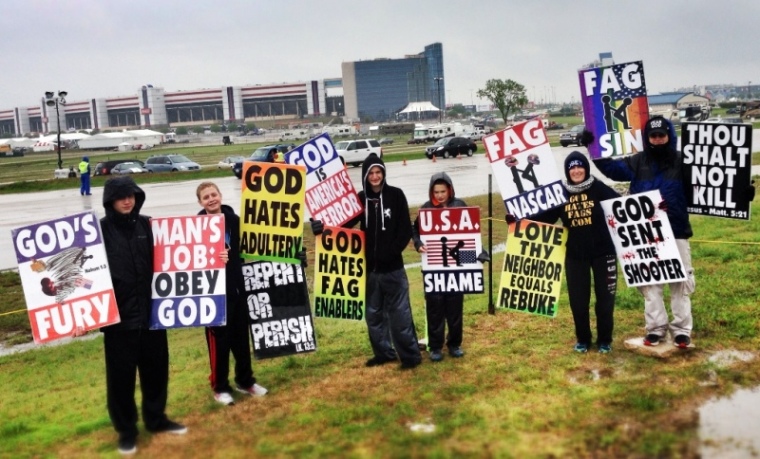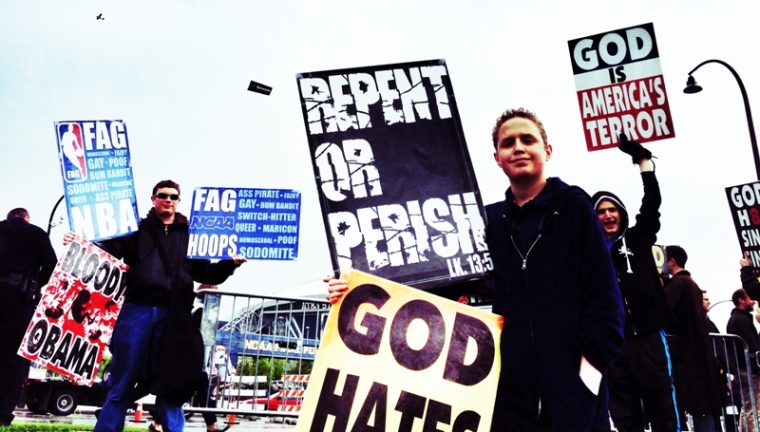 View Photos
DALLAS — Members of Westboro Baptist Church from Topeka, Kan., staged several protests in Oklahoma and Texas over the weekend where they faced counter protesters, including a group of 2,000 who rallied against them in Moore, Okla., Sunday.
Holding signs that read "God hates fags," "American is Doomed" and "God's Fury" citing Nahum 1:3, WBC claimed that a tornado that struck the town last May and left many residents homeless was punishment from God for abortion, homosexuality and "phony Christians" mocking the Creator.
Although WBC obtained a permit to picket outside Central Junior High for 30 minutes Sunday, they were quickly rushed back to their vehicles to leave the premises after 10 minutes of picketing when six men in the counter protest rushed toward them.
Members of WBC encountered fewer counter protesters in Texas, where members of a local atheist group spoke to them outside a Dallas-area Southern Baptist church. The atheists said they had a positive experience dialoguing with WBC, an organization they've been aligned with in the past when they were both protesting against a prayer rally in Houston.
"First I thanked them for bringing atheists and Christians together against a common enemy," Aron Ra told The Christian Post on Sunday. "I would also like them to know just how utterly pointless it is — what they're doing to their kids. It's surprising to me that they seem to hate the Christians more than they hate us."
Pastor Larry Davis of South Garland Baptist Church in Garland, told CP that as a member of the Texas Baptists and Southern Baptist Convention the congregation is opposed to homosexuality and abortion, but believed that WBC was staging a protest near the church because they provide divorce care classes and counseling for adults and children. The pastor also performs weddings for people who have been previously married.
"We don't want to interrupt them. They've got points to make and we probably don't have a lot of common ground, but they have the freedom to demonstrate," said Davis, who advised his congregants to be respectful and kind, but not to engage the WBC members. "I don't think they're here to dialogue with us."
He continued, "We're God-fearing people and we think we're doing what we need to do to serve the Lord and share the Gospel, and we obviously see it differently."
WBC announced last month their plans to picket outside several Dallas-Fort Worth area Catholic and Southern Baptist churches on issues related to divorce, homosexuality and alleged cover-ups of child molestation within the U.S. Catholic church.
Sam Phelps Roper, a member of WBC, told CP that by supporting divorce, the Southern Baptist churches that are providing divorce care classes are relinquishing their moral authority and denouncing the sovereignty of God.
"The pews of churches are filled with people who are proudly sinning; proud fornicators and adulterers who are members of these churches, and it's not some exception to the rule, it's how they roll. They change their sex partners as often as they change their undergarments," he said.
"If you made a vow before God, you are bound. The Lord Jesus Christ speaks to that and the Apostles speak to that. And all these arguments to get out of these fundamental matters are just playing games," he added. "If you're in a situation where you're dealing with an unbeliever, you certainly ought to try to dwell with your spouse, but if there's not a peaceful way to serve God, then you're not bound to do that. That doesn't mean you go out and get yourself a divorce, and go get yourself someone else to shack-up with."
Roper continued: "And because you start moving those landmarks, and you start allowing those kinds of things, you can say that you're against homosexuality and homosexuals marrying each other. But no, you've given up moral authority. Way beyond those particular sin questions is this: when people will no longer endure sound doctrine and the only thing they will accept is that God loves everyone and there's no consequence to their sin — that destroys the sovereignty of God."
Counter protester Christopher Childs, who served in the U.S. Army, told CP that he decided to follow WBC members from church-to-church Sunday because the group has "protested several of his fallen brothers," and he wanted to "show his respect and picket their picket."
Childs added that he's most offended by the group's staged protests at soldiers' and Marines' funerals, and was standing in opposition to WBC because members of the U.S. Armed Forces are defending their right to protest and picket.