CP Year in Review: Top 10 Most Read Abortion and Pro-Life Stories of 2013
4. Undercover Videos Expose Illegal Late-Term Abortion Practices in NY, DC [Article Date: April 29]
SUMMARY: Pro-life group Live Action has released two undercover videos as part of their project, titled "Inhuman: Undercover in America's Late-Term Abortion Industry," that exposes late-term abortion practices in clinics from across the country, starting with clinics in Bronx, N.Y., and Washington, D.C.
The first two videos show an 11-year veteran employee at Dr. Emily Women's Health Center in Bronx, N.Y., describing the abortion in detail, and then advising the patient, who is six months pregnant, to flush her baby down the toilet if she goes into labor at home while undergoing the two-day abortion procedure. FULL STORY
 3. Celebrities, Politicians Force Media to Look at Abortion 'House of Horrors' [Article Date: April 13]
SUMMARY: The twitterverse was abuzz Friday with celebrities, politicians and pro-life advocates using #Gosnell on Twitter and Facebook to shame the national media for refusing to cover the trial of abortionist Kermit Gosnell and his "House of Horrors," the West Philadelphia Women's Medical Society abortion clinic.
Pro-life advocates Bryan Kemper, the youth director of Priests for Life, and Andy Moore of AbortionWiki, came up with the idea to get #Gosnell trending on social media by asking participants to post details about the Gosnell trial to their Twitter and Facebook accounts, and contact the media to ask them why they're not covering the case. FULL STORY
2. Obama Pledges Full Support to Planned Parenthood; Blasts Abortion Restrictions [Article Date: April 27]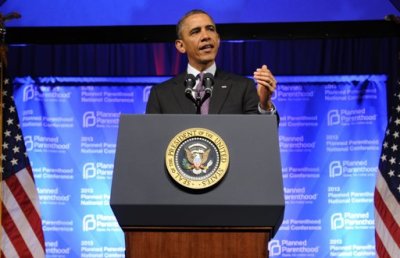 SUMMARY: President Barack Obama spoke Friday morning at the Planned Parenthood conference in Washington, D.C., and apologized to the audience for missing their wild party at Thursday night's gala and fundraiser. Obama is the first sitting president to speak to the organization that, as of Jan. 1, requires all of its affiliate clinics to provide abortion services.
In his speech, the president chastised members of Congress who want to end federal funding for Planned Parenthood and expressed his disapproval of state legislatures that have voted to place restrictions on abortion.
"After decades of progress, there's still politicians who want to roll back the clock," said Obama, who later joked that states' actions that place restrictions on abortion makes "you want to check your calendar to make sure you're living in 2013." FULL STORY HERE and HERE
1. Gosnell Found Guilty of 3 First-Degree Murder Charges, Involuntary Manslaughter of Patient Who Died in Abortion Clinic [Article Date: May 13]
SUMMARY: Abortionist Kermit Gosnell has been found guilty of involuntary manslaughter in the death of patient Karnamaya Mongar who died at his late-term abortion clinic, and three counts of first-degree murder in the deaths of four babies allegedly born alive inside the Women's Medical Society abortion clinic in West Philadelphia, Pa., that he operated for 40 years.
Mongar, 41, a Nepalese refugee who lived in Virginia with her family, died in 2009 after Gosnell's untrained and unlicensed staff administered a lethal dose of Demerol, an opioid pain reliever, and then failed to provide emergency care when she stopped breathing during her abortion. FULL STORY