CPAC Crowd Boos Notion Mexicans Have More In Common With Conservatives Than Democrats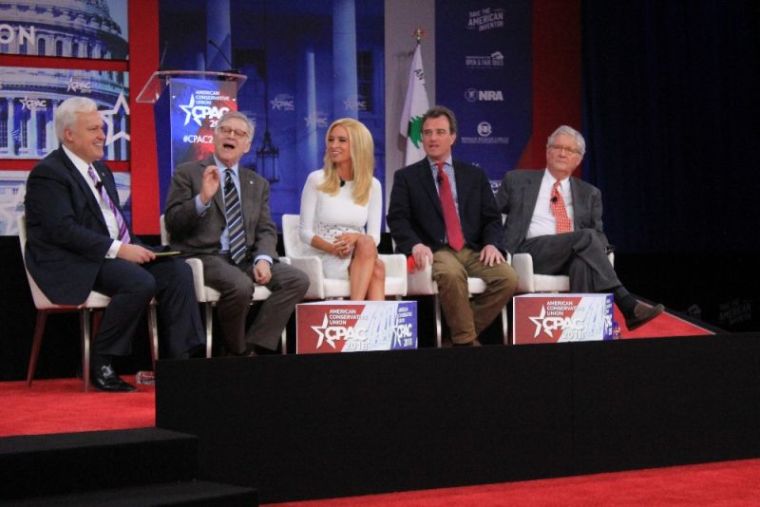 OXON HILL, Maryland — The Conservative Political Action Conference crowd balked at the idea that Mexicans and other illegal immigrants coming across the southern border have more in common with conservatives than Democrats.
In a Friday discussion that touched on Dreamers, the border wall and illegal immigration, liberal SiriusXM radio host Rick Ungar was the odd man out during a CPAC panel session titled "The Trump Effect" at the Gaylord National Resort and Convention Center.
While discussing who is to blame for the failed deal between President Donald Trump and Democrat Senate leaders on Dreamers, Ungar responded to a comment about how Democrats willingly want to give amnesty to illegal immigrants.
Ungar chimed in by suggesting that the conservative argument that Democrats only want to grant amnesty because they want "millions of new voters" isn't necessarily true.
"Everybody always says Democrats want to do that because we see millions of new voters coming to the Democratic Party," Ugar said, followed by one panelist saying, "I think you hit on something."
"And I've got to tell you something," Ungar continued, "as somebody who lived in Mexico for seven years of my life, Mexicans who are coming across this border have so much more in common with conservatives that it's not even a close call. They do. They do."
The comment can be seen at about the 3:54:00 mark of the YouTube video below. Several people in the conservative crowd reacted to Ungar's comment with boos and one person even shouted his own argument.
"Let me tell you something. A couple years ago, I was in the federal courthouse and I dropped in on a swearing-in ceremony — people becoming Americans. I wanted to see it. Outside that swearing-in ceremony there was a table set up by the Democratic Party. Where was the Republican table? It wasn't there."
Ungar seemingly lectured the crowd by stating with his finger wagging that "if Republicans open their arms to these people, the Democrats are not going to do so well."
Ungar's remark was followed by a few more boos.
"It's interesting to hear your reaction, why are you rejecting voters?" Ungar asked.
Fellow panelist Republican National Committee spokesperson Kayleigh McEnany responded by saying that Ungar is misunderstanding conservatives.
"We're not opposed to immigration. I love the Mexican-American community. They are hard-working people," McEnany stated. "I sat across from a mother and profiled her for my book. She lost her son to an illegal immigrant who crossed the border illegally twice. That American citizen was deserving of life."
McEnany also argued that the Democratic Party is prioritizing illegal immigrants over American citizens by threatening a government shutdown in an attempt to advance a deal to protect hundreds of thousands of immigrants brought to the United States as minors.
A day later, the CPAC audience booed when conservative author Mona Charen criticized conservatives for being "hypocrites" when it comes to sexual misconduct allegations against President Donald Trump and Alabama's Roy Moore. She also was booed for criticizing CPAC's invitation to French nationalist Marion Le Pen. 
Ungar participated in a panel discussion at CPAC 2017 and created an audience reaction when he said that he thought Democrat Congressman Keith Ellison, a Muslim from Minnesota, would win last year's election for the Democratic National Committee chair.
Ungar's remark led to a number of conservatives in the crowd to start cheering.