D-backs pitcher Brandon Pfaadt on viral dugout image before NLCS Game 7: 'It wasn't a Bible'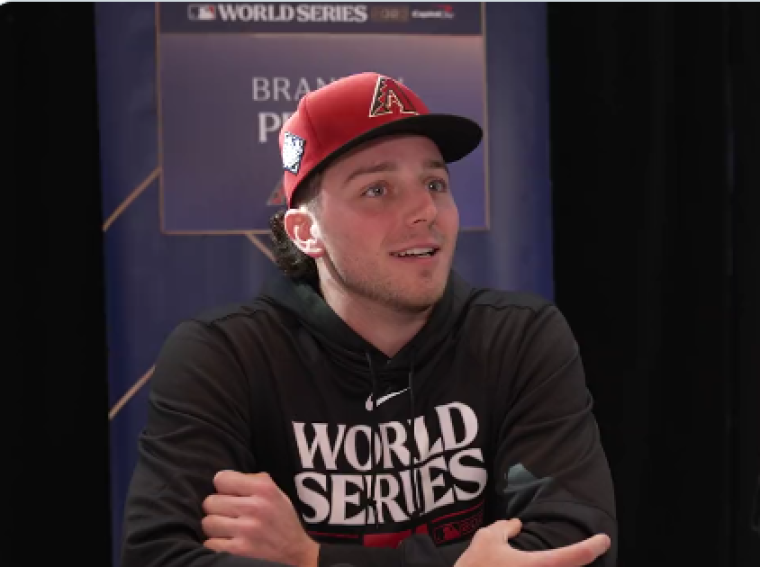 Arizona Diamondbacks pitcher Brandon Pfaadt has offered clarification about a viral image of him holding a book that many thought was a Bible in the dugout before Game 7 of the National League Championship Series against the Philadelphia Phillies. 
As a rookie, Pfaadt has played a vital role in propelling his team to the World Series with a clutch performance in the decisive Game 7 of the NLCS over the Philadelphia Phillies, notching seven strikeouts in four innings.
But what most fans may not have seen was Pfaadt — who joined only a dozen other rookies in MLB history to start a postseason Game 7 —  reading a book, which some speculated was the Bible, before taking the mound.
An image of Pfaadt reading a large leather-bound book in the dugout went viral before NCLS Game 7, garnering a number of reactions on social media.
This is awesome ????????

D-Backs pitcher, Brandon Pfaadt, appears here reading the Bible moments before taking the mound for a winner-take-all Game 7 pic.twitter.com/GkjEZcGu49

— Baseball Lifestyle™ (@BsbLifestyle__) October 25, 2023
I need some help on this….first time in all my years watching baseball…playing…etc…..tonight I'm watching the Diamondbacks and Phillies playing game #7…is that Brandon Pfaadt reading a Bible in between innings in the dugout???. What does everyone think? @MLBONFOX@MLBpic.twitter.com/rHVj2l1wLF

— Dan Young (@danyoungksou) October 25, 2023
Republican Rep. Jim Jordan of Ohio, the House Judiciary Committee chair, applauded Pfaadt for the apparent act of faith, tweeting, "We need more of this in sports!"
Turns out, however, it wasn't quite the moment of prayer and devotion everyone had assumed it was.
After the game, the 25-year-old Pfaadt told CBN reporter Will Dawson the book wasn't the Good Book but a "scouting report."
"No, that was a scouting report," he said. "I am a man of faith, but it wasn't a Bible. ... That's just my little booklet journal I've had all year."
Pfaad did, however, start his journey to th big leagues at Trinity High School, a Catholic all-boys school in Louisville, Kentucky. He later played college ball at Bellarmine University, a private Catholic school also located in Louisville.
He's also never been shy about sharing his faith.
Ahead of the 2020 MLB Draft, where Arizona selected him in the fifth round, Pfaadt told local news outlet WDRB that trusting in God's sovereignty is key to overcoming any nervousness about one of the biggest days of his life.
"There's a lot of anxiety coming up to this moment," said Pfaadt. "But I think you got to just keep working hard no matter what, and then whatever happens, happens." 
"God has a plan, so just keep working hard every single day, and hopefully, your dream will come true."
The rookie joins a distinguished list of MLB players who are outspoken about their faith in Christ, including Phillies pitcher Michael Lorenzen, who gave God glory after he pitched a no-hitter in August.
Lorenzen credited his Christian faith for his strong performance.
"I just had God's grace today, and I definitely got to thank God for today. I got to give Him … all the glory just to be able to keep me calm and trusting in Him," he told NBC Sports Philadelphia immediately after the game. "Whatever happened, I was just going to trust in Him and that's kind of what I've been doing all season in trying to just lean on Him."