US Navy, Major League Baseball drop pride-themed social media photos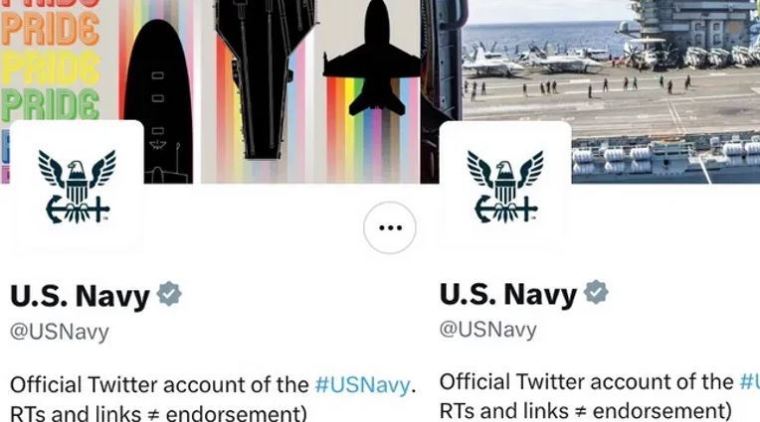 Some of America's biggest brands — including the U.S. Navy — are opting to use their traditional logos rather than pride-themed versions this June.
While many companies declared their support for the LGBT movement in June by temporarily altering their logos and social media pages, the Navy posted and later deleted pride-related content amid backlash from what several mainstream news outlets describe as "right-wing" social media users. 
Just hours into the month of June, the Navy reportedly removed posts marking pride month on its official Instagram and Twitter accounts, according to The Hill. The Navy post depicted a fighter jet with LGBT rainbow colors in its wake. The post was removed by Friday morning.
The Navy also replaced a rainbow-themed Facebook cover photo just hours after posting it on June 1. An official Navy acknowledgment of pride month was posted on June 2 on the department's Facebook page. 
In a statement provided to The Hill, the Navy said it "posted graphics in support of the start of Pride month to honor the service, commitment, and sacrifice of the [LGBT] Service members and personnel who volunteer to defend our country."
"As we do with all Defense Equal Opportunity Management Institute (DEOMI) observance months, we will look for additional opportunities to celebrate the diversity and strength of our Sailors," the statement reads. 
The move came within days of a Fox News report that Navy officials held discussions in 2022 about disabling user comments on a pride post on Instagram, with one official reportedly describing anti-LGBT users as "bigots" and "rude a—."
The Navy's internal struggles with how to deal with the backlash to the pride promotion come as there has been increased focus in recent years by companies and entities to voice their support for the LGBT community in social media messaging. In the lead-up to pride month, companies like Target and Bud Light drew backlash for promoting the transgender movement. 
On June 2, Major League Baseball briefly flipped its Twitter logo to a rainbow-themed version before quickly reverting to the traditional one.
While some conservatives on social media surmised that the change was in light of the recent conservative pushback against companies like Target, other users pointed out that the logo was changed only a few hours before MLB posted a new profile picture honoring Lou Gherig Day. 
MLB told Newsweek that it planned to recognize the beginning of pride month on June 1 and later changed its logo to reflect that last Friday was Lou Gehrig Day. The league assured the profile photo change "was the intended plan all along."
MLB tweeted an image of the pride logo with the caption, "Celebrating community, pride, and love of baseball! #Pride"
Individual team brands like the San Francisco Giants and the Baltimore Orioles still sport rainbow-themed versions of their logos for pride month, while other teams, notably the Los Angeles Dodgers, stuck with their traditional symbols.
Last month, the Dodgers stirred up a national debate after the team canceled and re-invited a blasphemous drag troupe to be honored at the team's pride event after initially removing them from the event over backlash from conservative and Catholic groups.
While some companies may have dropped their pride plans, other major corporations like Citi, Pfizer, HP and Bank of America continued with their practice of changing their logos.
NASCAR also faced a backlash after tweeting its support for pride month, with many followers reminding the brand of how Target and Bud Light suffered the threat of continued boycotts after going viral for their pride campaigns.
The stock for Bud Light's parent company Anheuser-Busch has reportedly lost billions of dollars in market value after putting trans-identified TikTok personality Dylan Mulvaney at the heart of a social media campaign, one which spurred boycotts from country music stars.