'Daily Show' Pokes Fun at Atheist Group's Fight Against Restaurant's 15 Percent Prayer Discount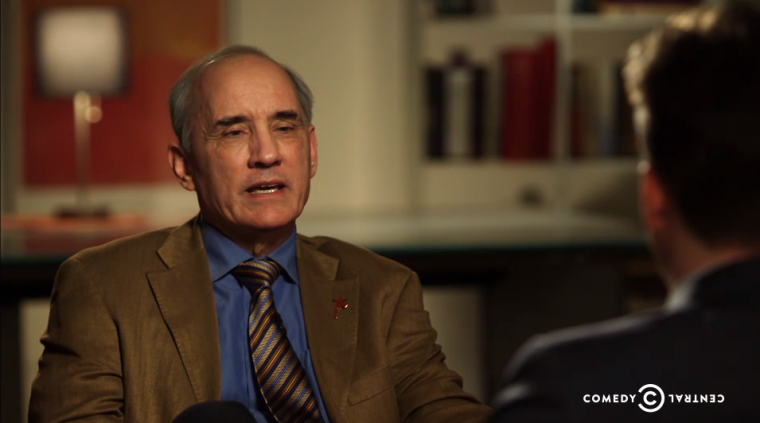 Comedy Central's long-running news satire program "The Daily Show" broadcast a segment Tuesday night poking fun at an atheist group's legal action against a North Carolina diner that offered a discount for praying in public.
A segment featuring "Daily Show" correspondent Jordan Klepper spotlighted the action the Freedom From Religion Foundation took against Mary's Gourmet Diner in Winston-Salem when it argued that a 15 percent discount was discriminatory toward non-theists and threatened to file a lawsuit against the diner.
Klepper framed the sketch by discussing the atheists' complaint as part of a generations-long struggle for civil rights, then looked at how the comparison was invalid.
This included interviewing FFRF co-president Dan Barker, who said he had not been to the diner, as well as two local atheists who said they did not feel discriminated against by the prayer discount.
When Klepper noted that an atheist could always pretend to pray and get the discount, Barker replied that such an act would make a person "a hypocrite atheist."
"What's going to happen if you're a hypocrite atheist?" responded Klepper, "you're going to go to not hell?"
"Look, I'm an atheist, alright? I get it," Klepper continued. "We need somebody fighting the good fight. Is this a good fight?"
Last summer, the FFRF threatened legal action against Mary's Gourmet Diner over the restaurant giving 15 percent off the bill for those who were seen praying.
In August, the owner of the diner announced that the restaurant would no longer provide the praying in public discount, citing the lawsuit threat as the reason why.
"We have done away with the discount and Mary and her daughter, Shama, are very saddened by this, this is a gift that we gave to our customers — this is a gift that has been taken from us," a manager at Mary's Gourmet Diner told The Christian Post in August.
"The gift of giving is just as important as receiving the gift. These individuals are very hurt, but it has made our community stronger. There's always good things that come out of the bad, and unfortunately, we will see it in time, but we are not seeing it yet."
This is not the first time that Barker has been a guest interviewee on the "Daily Show." In March 2010, Barker was interviewed by Jason Jones regarding the FFRF's opposition to a postage stamp honoring Mother Theresa.
"So just to be clear," said Jones to Barker while holding up a picture of a smiling Mother Theresa, "this is the fight you are picking?"
Regarding Tuesday's sketch about Mary's Gourmet Diner, FFRF released a statement denouncing the segment as "not just unsympathetic, but this time, frankly, not very funny."
"It's time for a quick reminder about why FFRF does not consider such illegal promotions as petty, and why, on behalf of complainants around the country, we contact restaurants, recreational facilities and ballparks that illegally reward believers with discounts in violation of the Civil Rights Act," stated the FFRF.