Damar Hamlin addresses 'offensive' Jesus jacket at Super Bowl: 'Never my intentions to hurt anyone'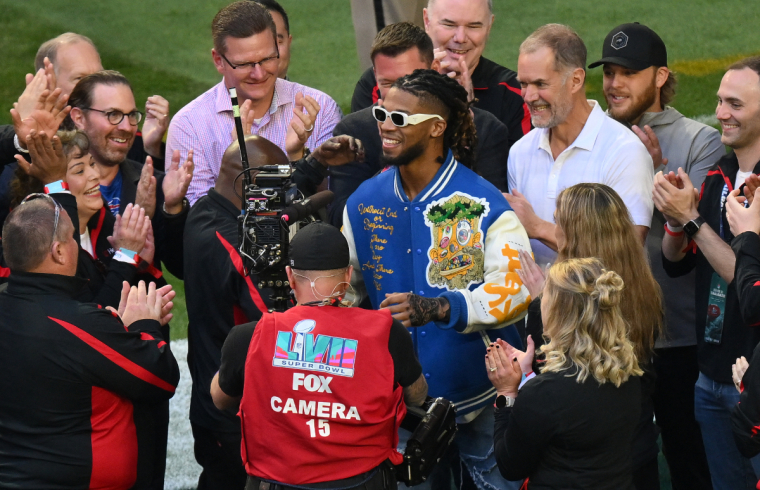 After speaking with his parents, Buffalo Bills safety Damar Hamlin says he regrets hurting people by wearing a controversial Jesus jacket to Super Bowl LVII.
Hamlin took to Twitter on Wednesday to clarify his intention after being heavily criticized this week for wearing a varsity jacket with the word "ETERNAL" stitched above what appeared to be a zombified Jesus on the cross while being honored on the field Sunday. 
"After talking with my parents I understand how my coat could have offended some people," the 24-year-old, who is still recovering from a cardiac arrest that caused him to collapse during a Jan. 2 game against the Cincinnati Bengals, tweeted.
"It was never my intentions to hurt or disrespect anyone, the coat is abstract art to me. It says Eternal which I am Eternally thankful to my Savior!"
The Eternal Saint embroidered unisex bomber varsity jacket was criticized by many Christians online, including retired NFL star running back Adrian Peterson, who labeled the piece of clothing blasphemous and "disrespectful."
"My beliefs and Relationship with God is not tied to symbolic images," Hamlin continued in a follow-up Twitter post. "I will learn from this and continue to walk in Love as I ALWAYS have."
The controversy over the jacket comes about a month after the country united in prayer for Hamlin's recovery following his collapse on the field. The game was canceled as he needed to be resuscitated. He was hospitalized and put in an induced coma for about two days before he regained consciousness. 
The young star recovered, gave glory to God and even suggested that his collapse was God's way to use him as a "vessel." His charity has raised over $9 million to provide toys for children in need. But his outfit choice for the Super Bowl left many confused. 
Hamlin's Twitter response also referenced Jesus' words from Matthew 7:1-5, which instructed his followers not to judge others.
"Do not judge, or you too will be judged," the Scripture said, in part. "For in the same way you judge others, you will be judged, and with the measure you use, it will be measured to you."
The varsity jacket was designed by secular rapper Travis Scott and fine arts designer Takashi Murakami. It was released by the brand Saint Michael. The front of the jacket featured a Christ-like zombie figure wearing a crown of thorns. The front right chest of the jacket reads: "Without end or beginning, there is no day and there is no night." 
The back has a cutout crucifix with clothing options to dress the grotesque-looking Jesus who hung on a cross. Murakami, who is known for bright colors and abstract figures, has also worked with Kanye West in the past. 
An eBay listing is asking $6,500 for the jacket. 
Many felt Hamlin's jacket disrespected Christ. Peterson, who has since talked to Hamlin and shared his concerns, did not hold back publicly. 
"You should be thanking God son!" the former Minnesota Vikings running back initially shared in an Instagram post. "This is Blasphemy!! We all fall short but cmon man! I find this disrespectful!!"
After speaking with Hamlin, Peterson updated his caption.
"We were able to discuss our thoughts as men. I want to be clear, I'm the last person to judge anyone, and that was never my intention," he explained. "However, I do feel as if the jacket was disrespectful and it was something that I needed to share. I do realize everyone makes mistakes and falls short at times, so again, my intention was never to judge, just to share my opinion."
"I feel like there are a lot people, young and old, looking up to [Hamlin] and with power and influence comes great responsibility. I apologize for offending you, I just felt offended in that moment as a man who loves and respects our Lord and Savior, Yeshua."
Peterson said his conversation with Hamlin helped him understand that he wasn't coming "from a place of ill intent." 
Hamlin and medical personnel from the Cincinnati Bengals and the University of Cincinnati Medical Center attended Super Bowl LVII and were recognized in a special ceremony just before kickoff.