Damar Hamlin criticized for wearing jacket some say mocks Jesus at Super Bowl: 'This is blasphemy'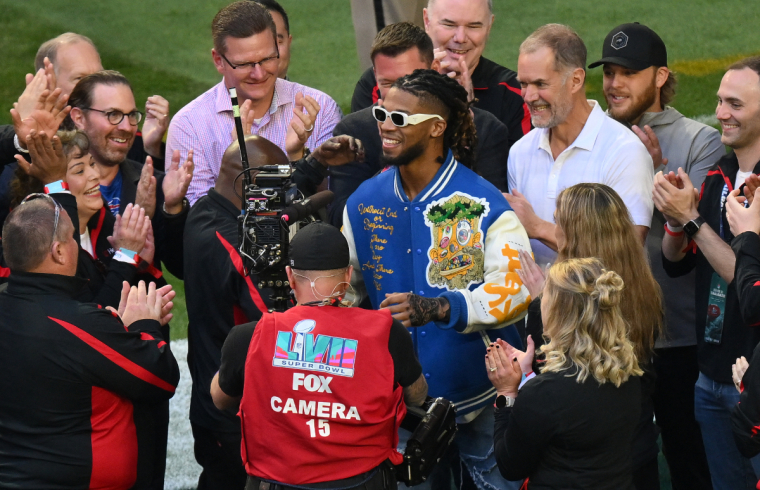 Correction Appended
Did Damar Hamlin wear a jacket mocking the death of Jesus Christ during America's biggest sporting event?
The Buffalo Bills safety was on hand Sunday evening at State Farm Stadium in Arizona to watch the Kansas City Chiefs win their second title in four years against the Philadelphia Eagles in Super Bowl LVII. 
Hamlin, who is still recovering from a cardiac arrest that caused him to collapse during a game against the Cincinnati Bengals on Jan. 2, was introduced as part of the game's ceremony wearing a varsity jacket that soon had social media buzzing. 
The Eternal Saint embroidered unisex bomber varsity jacket was created through a collaboration between rapper Travis Scott and artist Takashi Murakami by the brand Saint Michael. 
The jacket has the word "ETERNAL" stitched above what appear to be reproductions of flannel Velcro characters commonly used in Sunday School lessons. The central character was a crucifix of Jesus with a bizarre, almost grotesque, cartoonish rendition of His face and blood dripping from His hands and feet. 
Also featured on the jacket were flannel-style articles of clothing, including sandals, a tattered blue sash and a red robe.
The front of Hamlin's jacket has a larger image of the grotesque face along with the words, "Without end or beginning / There is no Day and there is no Night" stitched in cursive, an apparent reference to Hebrews 7:3 and Revelation 22:5, respectively.
Hamlin, 24, tweeted a photo of himself wearing the jacket while on the sidelines at the Super Bowl with the caption, "Ain't It A Blessing!?"
Reaction to the jacket was mixed on social media, with many sharing heart emojis and giving thanks for Hamlin's recovery, while others questioned the wisdom of wearing what they believed to be a blasphemous image of Jesus Christ.
In response to an image Hamlin shared of him with Los Angeles Lakers star LeBron James, retired NFL star Adrian Peterson wrote: "You should be thanking God son! This is Blasphemy!! We all fall short but cmon man! I find this disrespectful!!" 
Peterson added: "But this was different! I know young people don't think at times, older as well! But with everything surrounding his situation!! This isn't one of those moments where it's a young guy not thinking!"
The former Minnesota Vikings running back later revealed he'd spoken with Hamlin about the jacket.
"Damar, I have respect and love for you and I wish you nothing but the best, but I just can't rock with that jacket. I feel like there are a lot people, young and old, looking up to you and with power and influence comes great responsibility. I apologize for offending you, I just felt offended in that moment as a man who loves and respects our Lord and Savior, Yeshua. After speaking with Damar, I have an understanding that it didn't come from a place of ill intent!"
Hamlin and medical personnel from the Cincinnati Bengals and the University of Cincinnati Medical Center were recognized in a special ceremony just before kickoff.
The former sixth-round pick out of the University of Pittsburgh in 2021 was also reunited with childhood pal and Eagles running back Miles Sanders on the sidelines Sunday.
Hamlin appears to be making a full recovery after the dramatic on-field scare that saw him receive CPR after collapsing during the Jan. 2 game. After he was rushed to a local hospital, Hamlin remained on a ventilator for two days as medical staff worked to stabilize his condition.
He was discharged from the hospital on Jan. 11 and has made a few public appearances since then, including an emotional return earlier this month when he was seen watching the Bills face off against the Cincinnati Bengals during the NFL divisional playoffs less than three weeks after suffering cardiac arrest.
After delivering what many said was a heart gesture as fans cheered him on, Hamlin also stirred a bit of controversy when, at one point, he flashed a hand gesture of what some viewers believed to be a "666" sign in reference to the biblical mark of the Beast in Revelation.
Others argued the symbol was merely a reference to his jersey No. 3. 
Amid the outpouring of prayers for Hamlin's recovery, fans have also opened their wallets to support a GoFundMe campaign that has topped $9 million after Hamlin started the effort in December 2020 to raise money for a community toy drive. 
Correction: Thursday, Feb. 16, 2023:
A previous version of this article stated that Hamlin's jacket was designed by rapper Kanye West. The jacket was created through a collaboration between rapper Travis Scott and artist Takashi Murakami by the brand Saint Michael. Murakami previously designed cover art for West.