David Platt: Casual, Cultural Christianity Is Leading People to Hell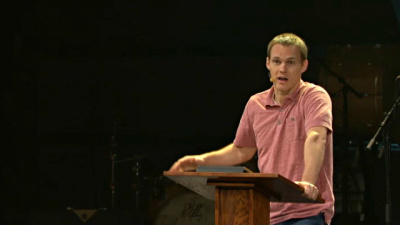 David Platt spoke on the issue of discipleship at this year's Verge Conference, asking what it means to know Christ biblically and to be an actual disciple of Jesus Christ. "How we answer the question will affect in every way how we make disciples," Platt told thousands of attendees Friday at the The Moody Theater in Austin, Texas.
"We're living in a day when it means almost nothing to be a Christian," said Platt, sharing recent statistics that show many self-professed believers in the U.S. are "marginally committed to Jesus," which he said shows that many are "deceived" about their relationship with Christ.
"There are a whole lot of people in our country who think that they are Christians but they are not," he added, noting that there are many Americans who "culturally identify themselves as Christians and biblically are not followers of Christ." He cited Jesus as saying in Matthew 7:21 of the Bible that "not everyone who says to me, 'Lord, Lord,' will enter the kingdom of heaven."
The focus of the 2013 Verge Conference is disciple making, with various speakers focused on "getting to the core of the content, context, culture and process of making and multiplying Gospel-centered, reproducing disciples."
While focusing on Matthew 4's account of Jesus calling Peter to be his disciple, or to follow him, Platt also painted a picture of Jesus as savior, messiah and the "center of all history."
Knowing that God in the flesh Himself is saying "follow me," should impress hearers with the weight of that call, he insisted.
"We need to feel the weight and the wonder of the one who's speaking here," he said, adding, "It's either turn and run, or bow and worship."
"This Jesus is more worthy than nominal adherence and casual association," the minister added while admonishing self-professed Christians "who confess Jesus" but whose lives "don't look any different" than the lives of nonbelievers.
The evangelical Christian minister emphasized, "When you know this Christ, everything begins to change in your life."
Platt, who leads The Church at Brook Hills in Birmingham, Ala., insisted that churches need to "stop selling" the sinner's prayer as the benchmark for a genuine commitment to Christ, which implies that no real life change is necessary.
"You become a follower of Jesus and you lose your life as you know it," he said, rattling off a list that includes status, material pleasure and relationships as things that are often lost and sacrificed for the sake of God's eternal kingdom.
"That may sound extreme to some, but don't forget who the 'me' is here," Platt added. "It doesn't make sense until you realize who Jesus is" and it is "stunning" to consider the reality of the Gospel being all about Jesus "running after us" although people are the one who need him.
Following Jesus calls for "radical abandonment" of one's life for his glory and living with an urgent obedience to the Great Commission to "go and make disciples of all nations" (Matthew 28:16-20) – because following Jesus "inevitably leads to making disciples for Jesus," concluded Platt.
The Christian Church needs to shake off the "spectator mentality" that allows people to sit by while others are on a path to hell, he added.
"We waste … our lives away like that and the cost will be great for us and the Church [because] we are content with not making disciples for all the nations," Platt said, adding that the consequences of "casual, cultural Christianity [are] eternally tragic."
Platt, author of Follow Me: A Call to Die. A Call to Live, was among dozens of speakers scheduled to speak at the 2013 Verge Conference running from Feb. 28-March 2. Other speakers include Francis Chan, with whom Platt leads the disciple-making initiative known as the "Multiply Movement," as well as Dr. John Perkins, Matt Carter, Jo Saxton and Jeff Vanderstelt, among several others.
Verge is an annual conference that brings together church leaders, students, entrepreneurs, urban innovators and others to help better equip them in implementing the Gospel in their ministries, communities and organizations.