Deadly Clashes Break Planned Three-Day Gaza Cease-Fire; White House Urges Israel to Do More to Limit Civilian Casualties
Deadly Clashes Break Planned Three-Day Gaza Cease-Fire; White House Urges Israel to Do More to Limit Civilian Casualties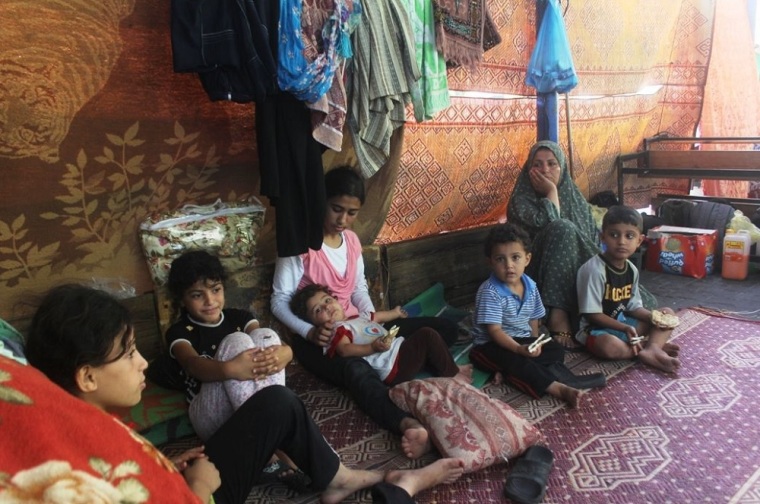 Deadly clashes between the Israeli army and Hamas militants have reportedly broken a newly agreed three-day cease-fire over the Gaza strip. The White House has meanwhile urged Israel to do more to try and limit civilian casualties.
CNN reported on Friday morning that both sides are accusing each other of violating the truce. Gaza Health Ministry spokesman Ashraf al-Qudra claimed that an Israeli attack in southern Gaza killed 27 people and wounded more than 100 others, while Israeli spokesman Mark Regev shared that Israeli soldiers were attacked in a "brutal incident" that required them to defend themselves.
"As you know, we first and foremost believe in Israel's government – in the Israeli government's right to and obligation to defend their citizens. They've chosen to take military action to provide for that protection. But as you also note, we've been very clear that Israel needs to do more to live up to its own standards to limit the civilian casualties," Deputy Press Secretary Eric Schultz said, responding to questions about an earlier White House statement condemning the shelling on U.N. schools and shelters.
White House spokesman Josh Earnest had previously said that "the shelling of a UN facility that is housing innocent civilians who are fleeing violence is totally unacceptable and totally indefensible, and it is clear that we need our allies in Israel to do more to live up to high standards that they have set for themselves."
The 72-hour humanitarian cease-fire was set to begin Friday between Israel and Hamas in Gaza, CNN reported, after more than three weeks of fighting and over 1,500 deaths. The news was presented by U.N. Secretary-General Ban Ki-moon and U.S. Secretary of State John Kerry, who will also be seeking a lasting solution to the conflict.
"During this time, the forces on the ground will remain in place," a joint statement by the U.N. and U.S. explained.
The cease-fire is aimed at allowing humanitarian aid to reach civilians in Gaza who have been caught in the violence. U.N. statistics note that close to half a million people have been displaced in the conflict.
Israel has said that it is targeting terror tunnels in Gaza which are being used by Hamas militants to attack Israeli citizens. Despite the current cease-fire, it has said that its military operations will continue until all such tunnels are destroyed.
"We have neutralized dozens of terror tunnels and we are committed to complete this mission, with or without a cease-fire," Prime Minister Benjamin Netanyahu has said. "Therefore I will not agree to any offer that does not allow the military to complete this important mission for the security of the people of Israel."
Hamas, on the other hand, has insisted that it wants an economic blockade to be lifted from Gaza, which it says has made life very difficult in the disputed territory and escalated tensions in the region.
Saeb Erakat, a senior official in the Palestine Liberation Organization, has said that peace talks will include "all Palestinian factions."
"It's a difficult road. It's a bumpy road," said Erakat. "I am hoping against hope that we can do every possible effort with the help of everyone out there in order to ensure that we can reach a permanent cease-fire."
U.S. President Barack Obama has echoed the backing for Israel's right to defend itself in a phone conversion with Netanyahu in July, but also expressed concern over the civilian death toll.
"The President underscored the United States' strong condemnation of Hamas' rocket and tunnel attacks against Israel and reaffirmed Israel's right to defend itself. The President also reiterated the United States' serious and growing concern about the rising number of Palestinian civilian deaths and the loss of Israeli lives, as well as the worsening humanitarian situation in Gaza," a readout from the phone conversation noted.
Humanitarian workers face mounting problems to help as many people as they can, with clean water reportedly inaccessible to most people in Gaza – while close to 3,600 have lost their homes.
"We cannot supply electricity" for hospitals, sewage treatment or domestic use, said Fathi al-Sheikh Khalil, deputy chairman of the Palestinian Energy Natural Resources Authority in Gaza. "This is a disaster."