Deaf NFL Seattle Seahawks Player Derrick Coleman Inspires Millions in Viral Duracell Ad - 'I Always Say God Blessed Me' (VIDEO)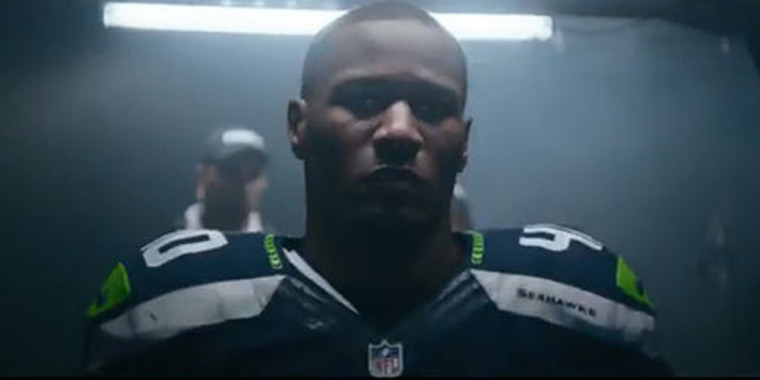 The NFL is down to its final four as this weekend's games determine who will face off in the Super Bowl. After hearing the story of Seahawks' fullback Derrick Coleman, you may just root for the Seahawks, football fan or not.
Legally deaf since the age of 3, Coleman learned to play football using hearing aids and lip reading as a kid in California. After a stellar high school career, he played college ball at powerhouse UCLA. The stage was much larger, and he shone even brighter. Although, there were times when he relinquished his hearing aids altogether.
"My freshman year at Oregon, it got so loud that I literally turned off my hearing aids," Coleman told ESPN in 2011. "I didn't move until the ball was snapped, and then I just read our quarterback Kevin Craft's lips. The only thing I didn't hear was the whistle. But I guess that that makes you work even harder because you don't stop."
His coach at UCLA, Rick Neuheisel, told ESPN that it was easy to forget there was even an issue with Coleman's hearing.
"Derrick has overcome his disability in such a way that no one even notices it's a disability," Neuheisel said. "He comes and grabs you on the shoulder to make sure you look at him. He'll tell you what you said when you're on the sideline 35 yards away because he can read lips."
Coleman graduated with a degree in political science and decided he would enter the police academy if the NFL didn't work out, and it didn't look promising. In the 2012 NFL Draft, 253 players were selected, and he wasn't one of them. However, he didn't give up on his dream.
He landed on the Minnesota Vikings' practice squad that season but didn't make the final cut. Later in 2012, the Seahawks invited him to their practice squad, and Coleman made the team, becoming the first legally deaf offensive player in NFL history. He's played in 12 games this season, and his brightest moment came last month against the New Orleans Saints when he caught a tipped pass from Russell Wilson at the goal line and dove in for his first NFL touchdown.
Despite his physical gifts and unflappable drive to succeed, Coleman's success first stems from a hopeful view on life.
"That's just the way I approach my life," Coleman told FOX Sports. "Every day I wake up and I get a chance. I always say that God blessed me this morning and I can do what I do. Our time in this world is very limited. It can be gone now or it can be gone later so I take advantage of every opportunity I have whether it's playing football, working or whatever. I'm just a happy guy."
Watch this inspiring Duracell ad about Derrick Coleman that's gone viral, and SHARE his story!