Death Threats Force Removal of Calif. Police Officers Who Shot Dog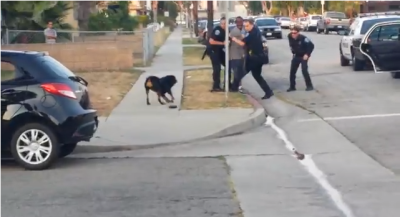 Three police officers involved in the fatal shooting of a Rottweiler called Max in Southern California on Sunday, have been removed from street duty due to death threats against them and their families.
A cellphone video of the horrific shooting which occurred in Hawthorne, Calif., and was posted to YouTube on Sunday has since been viewed more than four million times and has evoked mass and vitriolic outrage from the public.
Spokesman for the Hawthorne Police, Lt. Scott Swain told the Daily Breeze that the department received an inundation of threats via telephone, email and social media that forced them to reassign the officers to desk duty.
"I understand that people have been affected by this video. Anyone would be," Swain told the Daily Breeze. "The police officers involved are affected by this incident and having to kill a dog. I don't understand how it translates into an eye for an eye. 'We are going to kill you and your family because of this incident.' Like in my case. I wasn't even working that night."
The Rottweiler was shot at 137th Street and Jefferson Avenue in Hawthorne after it came to the defense of his master Leon Rosby, 52, after officers handcuffed him for allegedly causing a disturbance.
The video shows a horrified Rosby swaying helplessly in cuffs as he watched his dog writhing in pain from the four bullets that were pumped inside it by one of the police officers as onlookers scream "no!"
Reactions to the video have been mixed but an overwhelming number of critics of the incident feel the dog should not have been killed.
As of Friday evening online petitions at change.org, causes.com and whitehouse.gov had collected nearly 200,000 signatures from people calling for the officer who killed Max to be fired.
In a video posted to YouTube on Wednesday, infamous hacking group, Anonymous, warned the Hawthorne police that they were now targets for killing Max.
"Greetings fellow citizens of the earth, we are anonymous. Recently you watched a well-known video involving a police officer from Hawthorne that shot a dog dead because the dog want to help its owner. That is unacceptable," said a masked character in the video.
"Police of Hawthorne, you must know that you are our primary target. This matter will not remain unresolved. We are anonymous. We are legion, we do not forgive, we do not forget. Expect us," the character ended.
According to a Daily Breeze report, computer forensics officers and city information technology specialists in Hawthorne responded on July 4 to the threats from Anonymous and confirmed a cyber-attack that has crippled the city's website since Monday.
"We are not sure who is responsible, but there was a DDOS, or distributed denial of service, attack," a police source said on the condition of anonymity. "The city website has been down since Monday. The city is working with the Web host to get the site back up."
Even people claiming to be police officers have criticized the cold-blooded shooting of the dog.
"I'm a cop, I wouldn't have shot the dog. Taser," wrote one commenter under the username Sam in a story about the incident in law enforcement magazine, Police Patrol.
"Citizens are fully allowed torecord the police in public, I understand wanting to keep innocent bystanders away from a crime scene, but this a**h*** didn't have the right to arrest a citizen for doing something that's completely legal," wrote Cesar Carrillo in his comments on the YouTube video of the incident.
According to the LA Times, Rosby filed a lawsuit against the city of Hawthorne and several officers in the Police Department in March, alleging he was assaulted and brutalized in a July 2012 incident. Rosby, who was released from custody with no charges filed against him according to his attorney, also noted that he has filed numerous complaints against individual officers.
One of the officers named in the lawsuit was reportedly at the crime scene Sunday night, according to police, but was not involved in Rosby's arrest or the shooting of his dog.