'Death to America' Not a Violent Chant, Iranian Ayatollah Claims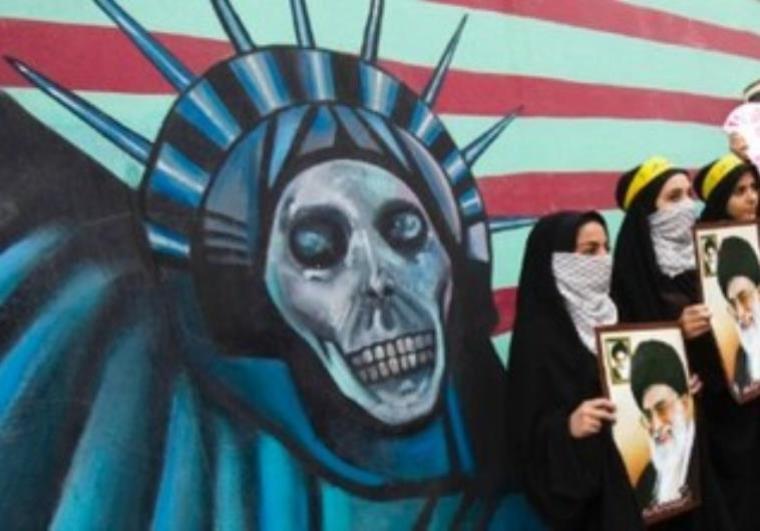 Iran's Supreme Leader Ayatollah Khamenei continues to claim that the infamous "Death to America" chant is not actually against the American people.
Khamenei told students in Tehran earlier this week that the slogan, often chanted at anti-American rallies, is aimed at U.S. foreign policy, and not at actual Americans.
"Your 'Death to America' slogan, and the cries by the Iranian nation, have strong logical support behind them," he said, according to The Associated Press. "Obviously by 'Death to America,' we don't mean death to the American people. The American nation is just like the rest of the nations. It ... means death to U.S. policies and its arrogance."
The American Center for Law and Justice has been critical of the recent nuclear deal between Iran and the U.S. that lifts economic sanctions from the Islamic Republic, and said that Khamenei's statement is "one of the most atrociously ridiculous things you will ever see."
The conservative law group reminded readers that the Ayatollah has called the U.S. "aggressive and criminal," and has made a number of other incendiary comments in the past.
The group also blasted the Iranian legal system, which continues to hold in prison Pastor Saeed Abedini and other Americans who've been wrongly convicted.
"Each American has been falsely charged with vague national security related charges," the ACLJ added.
"When Iran's Supreme Leader and thousands of radical Islamists chant 'Death to America,' they mean exactly what they are saying," the statement continued. "Each of these falsely imprisoned Americans is experiencing first hand the vehemence with which Iran's Supreme Leader views the American people."
Iranian journalist Nazila Fathi, who left the country in 2009, said in an opinion piece for CNN that as someone who grew up hearing the "Death to America" slogan, she found Khamenei's explanation of it a "strange thing to hear."
"When I was 11 years old, I had to stand in a line every morning for half an hour, wave my fist in the air along with other girls at my elementary school in Tehran and chant: 'Death to Iraq, death to Israel, death to Britain, death to Russia, death to France, death to Germany, death to America,'" Fathi wrote.
"Those words meant nothing to me, especially because my family resented everything that the Islamic regime, which had come to power two years earlier, stood for," she added, noting that over the years a number of those slogans were dropped, but the two that remained were "Death to America" and "Death to Israel."
President Barack Obama has backed the nuclear deal with Iran as progressive in terms of mending relations between the two countries.
Iranian President Hassan Rouhani has also backed the deal, but has been highly critical of Republican members of Congress who have spoken out against it.
"Sometimes when I would have time — some of it was broadcast live and I would watch it — some of it was quite laughable. It was very strange, the things that they spoke of," Rouhani said in an interview in September, talking about American conservative criticism of the deal.
"So what they spoke of was quite far away from the truth. So the people of Iran were looking at it as a form of entertainment, if you will, and found it laughable," Rouhani added.