Deitrick Haddon Seeks to Restore Kevin Terry After Gay Sex Tape Scandal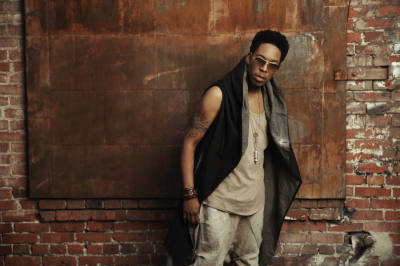 Deitrick Haddon, a minister and gospel musician, is attempting to help rising gospel singer Kevin Terry one year after a video went viral of him allegedly performing an explicit homosexual act.
On the latest episode of Haddon's hit Oxygen reality television series "Preacher's of L.A.," the veteran gospel singer decided to seek out Terry in an attempt to help him through the scandal that seemed to ruin his opportunity in the gospel music industry.
"Yes, he made a mistake, yes, it was wrong, but why not find a way to restore him or encourage him to get on track?" Haddon questioned on the show. "He's on the brink of suicide and we're sitting here talking about the issue and not seeing how we can help the brother."
After speaking with fellow singer Michelle Williams, Haddon decided to visit Terry and his Predestined choir in Washington D.C. There, Terry told Haddon that he lost his record deal with Kingdom Records and nobody has wanted to endorse him since because of negative publicity.
While Terry still leads Predestined choir in their ministry, he admitted that their productivity was crippled and he was focused on getting his income from a property management job. He admitted to also having to face negative comments from the general public on social media and beyond.
"I (was) getting messages saying your days are numbered," Terry told Haddon on "Preachers of L.A."
Although Terry said he "repented for my offense to God," the singer told Haddon he had yet to forgive himself. Haddon took the opportunity to lay hands on Terry and pray for him alongside the singer's Predestined choir who he told to support their lead singer and their ministry.
Last year, Haddon learned about Terry's ordeal on Twitter after one fan questioned him about the sexually explicit tape making its rounds on the Internet.
"Comments on Kevin Terry," one person asked Haddon on Twitter last year.
Haddon responded, "Don't know who that is ... never heard of him!!"
After the most recent episode of his show, Haddon took to Twitter to make new comments about Terry.
"I want all the real followers of Jesus Christ to show our brother ‪#KevinTerry‬ love & forgiveness! Let him know God is not thru with him," Haddon tweeted. "All I have to say is I've traveled the globe & I've heard many choirs but ‪#KevinTerry‬ & Predestined has a special anointing ‪#PreachersOfLA‬."