Demi Lovato's album poster banned by regulator for being offensive to Christians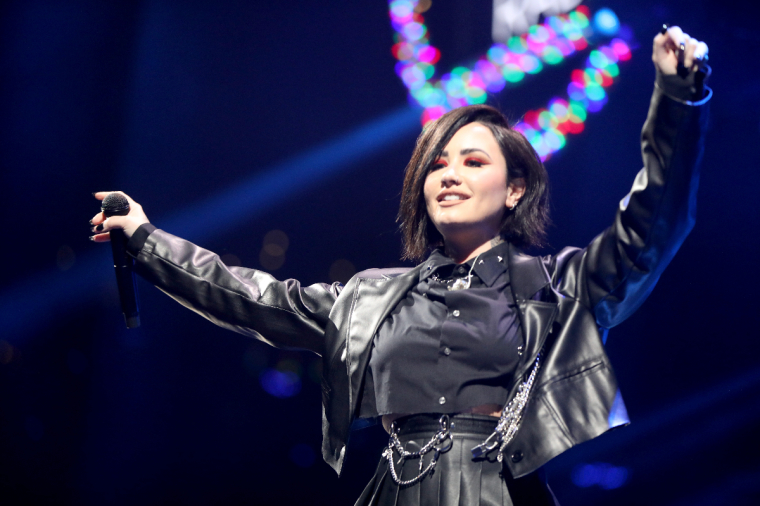 A regulator in the United Kingdom has banned a poster of singer, songwriter and actress Demi Lovato after several complaints that the banner's display of a graphic image of the star adorned in a bondage-style outfit lying on a large, cushioned crucifix-shaped bed was offensive. 
To promote her new album, Lovato's poster displayed her record's cover with a headline that stated "DEMI LOVATO" and "HOLY FV**," which is the album's title. 
The Advertising Standards Authority, a self-regulatory watchdog agency that regulates advertising in the U.K., announced that it received four complaints relating to the advertising from Universal Music Operations. 
For four days, the banner was displayed at six different sites in London in August 2022. After four days, the banner displays were banned and removed on Aug. 23, 2022.
The watchdog stated that the title of the musician's album alludes to a swear word. Having those words put together with the image of Lovato in a bondage-style outfit could be seen as trying to combine sexuality with a holy symbol. 
After an investigation, the authority concluded that the ad breached the code because "ads must be prepared with a sense of responsibility and must not contain anything that was likely to cause serious or widespread offense."
"We considered that the image of Lovato bound up in a bondage-style outfit whilst lying on a mattress shaped like a crucifix, in a position with her legs bound to one side … was reminiscent of Christ on the cross, together with the reference to 'Holy Fv**,'" wrote the ASA, which also monitors ads online.
"In that context, [the poster] was likely to be viewed as linking sexuality to the sacred symbol of the crucifix and the crucifixion, [and] was likely to cause serious offense to Christians." 
The ASA ruled the language used in the ad was likely to offend adults with children because it alluded to the expression "holy f—." Some complainants questioned whether the posters had been placed irresponsibly at the London sites where children could see the ads.
"We considered the ad was likely to be seen as referring to a swear word that many would find offensive and had appeared in an untargeted medium and public place where children were also likely to see it," the ASA stated.
"We considered the ad likely to result in serious and widespread offense and had been targeted irresponsibly." 
Lovato, most currently recognized for her work as a musician, began her public career as a young actress on the children's television series "Barney & Friends." She rose to fame playing Mitchie Torres in the Disney musical film "Camp Rock" and its sequel "Camp Rock 2: The Final Jam." 
The musician has released several studio albums. In August 2022, her latest album HOLY FV** was chosen as No. 1 on Billboard's top rock and alternative albums. The record also placed top-10 on the Billboard 200 chart and top-5 album on the sales chart. 
Following the album's success, the star took to Instagram in August to express gratitude towards her supporters.  
"Thank you doesn't cut it," Lovato wrote in an Aug. 29, 2022, Instagram post. "I'm blown away and so beyond grateful. I love you all so much."
In another Instagram post on July 14, 2022, Lovato shared what the album means to her. 
"HOLY FV** takes me back to my roots. It's a body of work that's unapologetically me and I can't wait to perform it on tour for you," she wrote. 
Polydor Records, a division of Universal Music Operations Ltd, expressed support for the album cover and poster, stating that "the poster primarily included the artwork from Lovato's newly released LP and was designed to promote the album." Polydor Records "did not believe the poster would cause serious or widespread offense."  
Before publication, Polydor Records reportedly checked with the agency that the poster was appropriate for the proposed sites. And the agency responded with assurance that it was, and Polydor moved forward with the ads on that basis.
However, ASA ruled that "the ad must not appear again in the form complained of unless it was suitably targeted." ASA "told Universal Music Operations Ltd to ensure their ads did not cause serious or widespread offense in the future."
Lovato declared herself "pansexual" in a March 2021 episode of Joe Rogan's podcast, saying she is attracted to "anything, really." She claimed to have hidden this identity for many years because of her Christian upbringing.