Democrats 'basically godless,' 'God will not bless America' due to abortion: Former SBC president
Former SBC President Warns 'God Will Not Bless America' Unless Sacredness of Unborn Life is Protected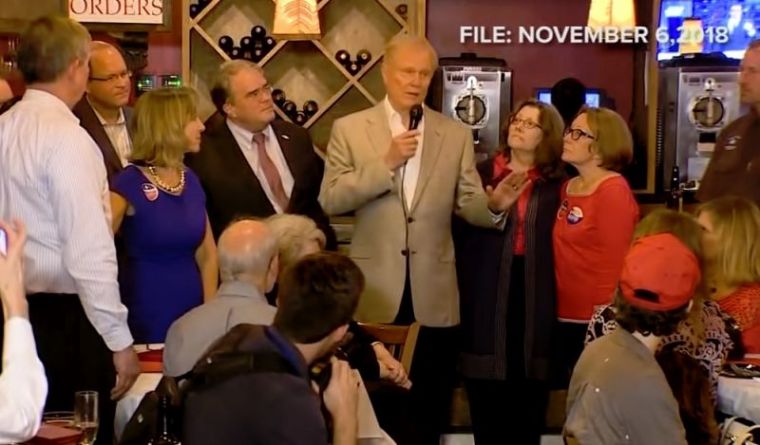 The Democratic Party is not a political party but rather a "basically godless" religion, Houston megachurch pastor and former Southern Baptist Convention President Ed Young said on election night.
The 82-year-old senior pastor of Houston's Second Baptist Church, one of the largest Baptist churches in the United States, is receiving backlash for comments he made while attending a watch party last Tuesday for outgoing Republican Rep. John Culberson.
As the 9-term incumbent was defeated by the Planned Parenthood-endorsed Democrat Lizzie Pannill Fletcher for Texas' 7th congressional district, Young issued remarks over the microphone following a concession speech from Culberson.
Young told the Republican crowd about "what we're up against."
"It's no longer a [political] party," Young can be seen saying about the Democratic Party in a video of the remarks broadcasted by KHOU. "It's some kind of religion that is basically Godless."
Young continued by stating that "as long as America — and this is represented by every Democrat I know — does not believe in the sacredness of the life in the mother's womb, God will not bless America or make us a great nation."
The Christian Post contacted Second Baptist Church of Houston and asked for Young to elaborate on his comments. The request for comment was declined through a church representative.
Although Young is known for his social conservative political views, his remarks drew the ire of other religious leaders in the Houston community and beyond.
Joel Goza, a former pastor who serves as the visiting Scholar of Race, Religion and Politics at the University of St. Thomas, told KHOU that arguments such as Young's are symbolic of "one-dimensional thinking in a three-dimensional world."
"We have very problematic political realities facing our nation," Goza said.
On Twitter, former faith adviser and staffer for President Barack Obama, Michael Wear, told Young that he "would be happy to introduce you to faithful Christians who are Democrats."
"Your remarks here are wrong and irresponsible...especially in this moment," Wear asserted.
Some Christians prefer Democrats because they feel inspired by their faith to call for social justice and social action that they feel is best carried out through the agenda of the Democratic Party.
Additionally, left-leaning Christians leaders have argued that Jesus' call to help the poor, orphaned, downtrodden, refugees and other marginalized individuals in society should inspire voters to vote against Republicans and President Donald Trump's agenda.
Many conservative Christians, however, can't look past the Democratic Party's staunch support for abortion and Planned Parenthood as well over 300,000 unborn lives are terminated every year. Additionally, some conservative Christians can't overlook the Democratic Party's stance on LGBT issues because they see it is an embrace of sin.
Young's comments came on the same day that a church polling place in Florida received backlash over a pastor's sign suggesting that there is a level of hypocrisy if Christians vote for Democrats.
The sign outside of the Grace of God Church in New Port Richey on election day read: "Don't vote for Democrats on Tuesday and sing, 'Oh, how I love Jesus' on Sunday."
The sign was erected by Pastor Pastor Al Carlisle, who took issue with the Democratic Party's stance on issues like abortion, same-sex marriage and immigration.
"It's directed at those who profess to be Christians," Carlisle told Bay9News. "There is a line drawn in the sand by Jesus that we ought not cross."
A Pasco County official has assured that Grace of God Church will no longer be used as a polling place in the future.
Young is no stranger to speaking out about politics.
In 2015, Young was heavily involved in a church-led campaign to overturn a transgender bathroom ordinance passed by the city of Houston. The ordinance was overturned by the city's voters during a 2015 voter referendum.
"The bottom line is if we open up our facilities when someone can choose their sexual orientation, those who believe that men should use men's facilities, and women should use women's facilities, we will be discriminated against," Young said in a sermon at the time, according to Houston's pro-LGBT magazine OutSmart. "It is totally deceptive and it is deadly, and I trust that you will vote no, no, no, because it will carry our city further and further and further down the road of being totally, in my opinion, secular and Godless."
In 2010, Young produced a sermon series called "Healing Broken America," which "addresses the need to heal our broken worldview and the need to heal our broken Washington."
Young is the father of another popular megachurch pastor named Ed Young.