Did God Protect Israel With a Storm Cloud?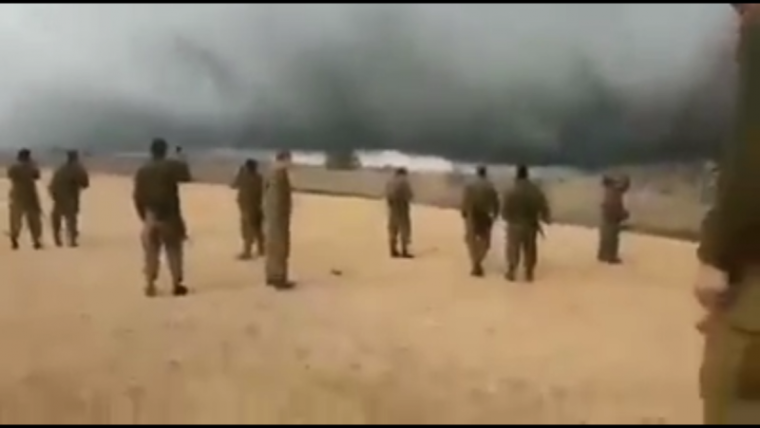 A massive storm captured on video hovering over Syria's border with Israel where Islamic State militants had attacked Israeli Defense Forces four days earlier is being hailed as a miracle by many, but some Christian scholars suggest it's best not to read too much into the weather phenomenon. 
Israel News Online posted the video on its Facebook page Thursday showing footage of a storm cloud billowing over Israel's border with Syria that never crossed into Israeli territory.
"This strange storm of what appears to be dust, cloud and rain did NOT cross the border fence into Israel. It sat like a barrier between ISIS and Israel," the Facebook post read.
The video has already been viewed nearly 7 million times and shared 200,000 times, with many hailing it as evidence that God was protecting Israel.
"God is in control of all things, and so of that storm too," said Gerald McDermott, Anglican
chair of divinity at Samford University's Beeson Divinity School in Birmingham, Alabama, in an interview with The Christian Post on Tuesday. 
"Certainly it was prevented from damaging Israel, and for that we have God to thank," he said, when asked if he thought it was possible that God was behind the storm.
"But ISIS is not deterred, and will not be deterred. We need to pray that God gives Israel, the United States, and their allies prudence to destroy ISIS, which is an evil force of murder and hatred."
According to a 2013 Pew survey, a majority of white American evangelicals support the state of Israel, with many believing the land of Israel belongs to the Jewish people because God gave it to them. Many of those same Christians also think that when governments, including the United States, act unfavorably toward the Jewish people God's judgment is inevitable in light of what He told Abraham in Genesis 12:3.
McDermott, who is also the editor of the book, The New Christian Zionism: Fresh Perspectives On Israel and The Land, cautioned against reading too much into remarkable happenings like this storm.
"God says that He is in control of the weather (Amos 4.7), and that He will 'curse' those who 'dishonor' Abraham's progeny (Gen 12.3 ESV)," McDermott told CP. "He continues to be a God of judgment. But we are very fallible and sinful people — even Christians — and we often make mistakes in our reading of providence."
Mark Tooley, president of the Washington-based Institute on Religion & Democracy, told CP in a phone interview that he suspects this kind of weather event is not unusual in the Middle East, but added, "much of Christianity has always believed that God has providential purposes for the Jewish people and the nation of Israel."
"But I would be reluctant to attach a lot of significance to a particular contemporary weather event and immediately proclaim that it must be a divine intervention," he said.
McDermott added that theologian N.T. Wright often stressed the importance of one critical word used in the book of Philemon that is relevant when considering current events related to Israel's affairs or anything else.
That word is "perhaps." Philemon 15 reads: "Perhaps this is why Onesimus was parted from me for a while, so that you could have him back not just as a slave but as a brother."
"It is not wrong for us to claim meaning in a storm or other event, but our claims need to be made with a 'perhaps,'" McDermott said, "a proper humility that acknowledges we could be wrong."
"Scripture also tells us, and we should learn from history, that we are inordinately inclined to self-deception. We are less prone to misjudgment when we claim that God is judging us rather than congratulating us or judging others, such as when some evangelicals blame terrorist attacks on gays and liberals."