Drug Boss-Turned-Pastor Chronicles Surreal Journey From Being a 'Street God' to Becoming God's Servant
Dimas Salaberrios Shares His 'Explosive True Story' of Leaving His Drug Empire to Minister in the Streets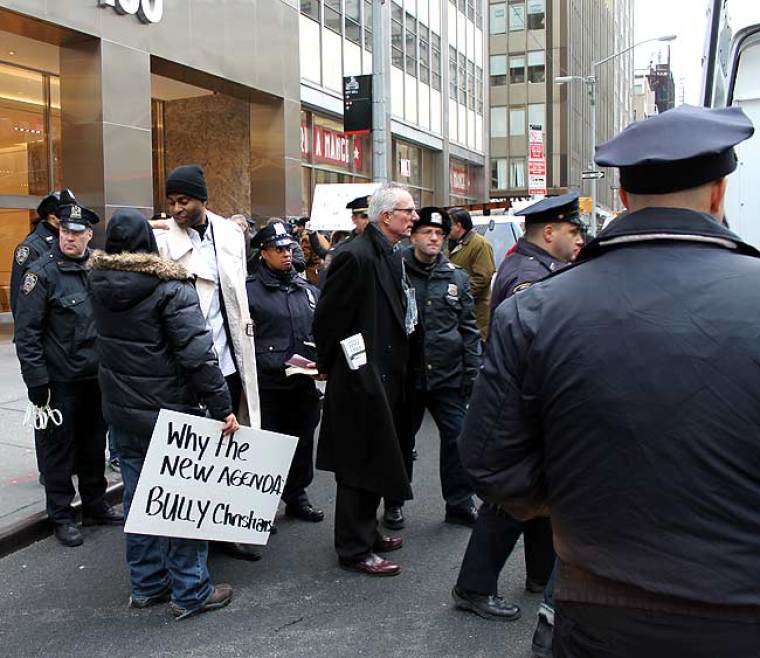 The transcript has been edited for clarity and length.
CP: Tell me about your parents? You mention in the book that your father was an avowed atheist. Is that still the case?
Salaberrios: He's coming along, which is really nice. He was the captain of corrections [officers at Riker's Island prison] as well as an Air Force guy. So now he posts or messages to me, "This is good, God is with you." You know, that's a huge leap from where he was when it was just like, "There's no God …" And he's still involved in our lives, which is beautiful. He's just very proud. He always said to me, "Write books, just don't read them, make sure you write them."
CP: Your mother also, I think you credit her with planting some of those Jesus seeds in your life. Although that didn't stop you from doing what you wanted to do.
Salaberrios: My mother was a CEO type of Christian where Christmas, Easter and once in [a] while. The days were very slim in between them all, so she would take me. She always had her faith. She always kept a Bible under her pillow, which I still don't understand today. I mean that Bible was shredded, from, I guess, [her] rolling and tossing and turning throughout the years. I didn't see her read it a lot. She taught me the Lord's Prayer, but she'd always say ... she'd speak it, you know, "God is real. God has your back. God's gonna help us," and those kinds of things. I wish we had went to church more. Maybe I wouldn't have such a story.
CP: But it's your story and that's why you're sitting here today.
Salaberrios: That's why I'm here today. God allowed me to live through it and I'm grateful, but it was tough.
The other thing about my mother, she was a principal, a loving woman, and it was hard breaking her heart over and over again. One of the [reasons] why we wrote this, is [I know] it will encourage a lot mothers to not give up on their kids and really empower them on the mindset of a young man and how to reach them.
CP: Let's get to the streets. You're 14 years old, mesmerized maybe by the flash. But what actually compelled you to start dealing drugs on the streets?
Salaberrios: One of the big things was media, going out and seeing the movie "Scarface." I was pretty smart, so when it came out I said — I just analyzed the movie, at age 10 [although] I should have never been allowed in the theaters. But I analyzed it and said, "If he would've stopped at that point when he had that big bag of money and the money machine and just got the house, he probably would've been able to live further." And that was my young mind.
Then, not too long after that, "Miami Vice" came on the scene, and they did this episode of a young man who they couldn't really give him jail time because he was 15 or younger. So I'm thinking, "Oh my gosh, I'm 11. They can't hardly touch me."
So I went in full-heart with all my heart, all my mind, all my soul. Sounds like the Bible verse [but] I was just gonna go in and do it with that 50 Cent mentality you know, that I was gonna hustle till the day I die. I used to say that often and used to fuel myself with that. Even when violence happened in my life, I'd be like, "You know what, I'm gonna do this to the day that I die. I'm not gonna give up. I'm not gonna quit." Being a street god was just that big dream that was there to really pull it off.
CP: How do you think God saw you when you were running around doing what you wanted and living for yourself?
Salaberrios: I think He saw me as a weapon of Satan that needed His grace, needed His message badly. It was clear I was totally committed to the wrong side. I would go and I would find a Christian business person, or anybody in that kind of field, and I would try to team up with them and pull them out of their jobs to help build the infrastructure for the drug market that I was operating. So I was a user of people. I pulled people out of light into dark. And a lot of death surrounded me, unfortunately. I know God looked down and said, "This guy needs me."
One of the greatest things, my mother, I know she was instrumental. She just cried out to God and said, "Could you be his father? I want to give him to You because I can't raise him."
CP: Your story is being used for good, but do you ever encounter people who are skeptical or find it hard to forgive the kinds of things you did when you were running the streets dealing dope?
Salaberrios: Not too often. And I think part of that was the amount of surrender I did to the Lord. … I think with me, I made a complete 180. Like, I said, "I want to change my vocabulary, I don't want to curse, I don't want to do these things."
I started listening to vocabulary tapes to better my English. I changed my dress. I wasn't really a suit guy, but I wanted to make sure I wore ... button-down shirts and slacks and shoes to give a different appearance. So I worked really hard at becoming someone who was completely opposite of the drug boss. I hung up hoodies, you know. The only time I wear a hoodie is maybe if I'm jogging in the rain or something. … Other than that, I'm done with that. So I worked really hard at killing. … Even one person wanted this book to be called The Death of Daylight, of how did you kill the old you to be who you are today.