Dinesh D'Souza Blasts Obama's 'My Brother's Keeper' Initiative After President Fails to Help Kenyan Brother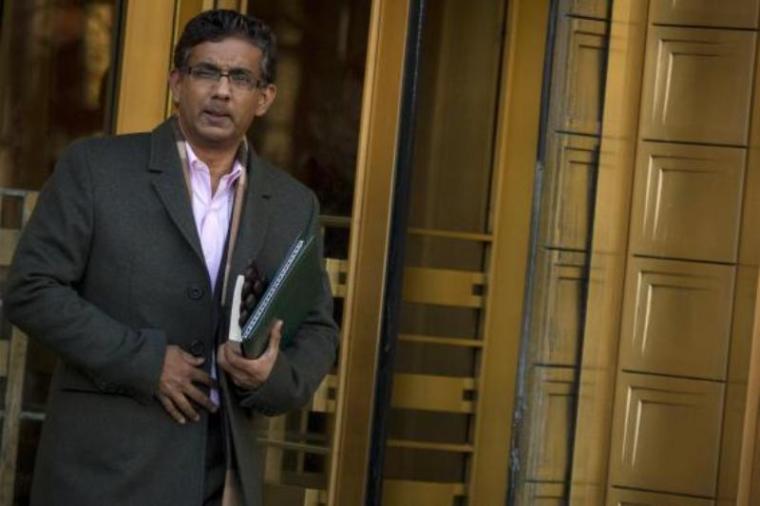 Conservative author and filmmaker Dinesh D'Souza continues his criticism of President Obama, who before launching the "My Brother's Keeper" initiative, allegedly failed to help his half-brother who needed money for emergency medical care.
Speaking to Mike Huckabee on his Fox News show Saturday night, D'Souza recounted a story he's frequently shared since he interviewed George Obama, the president's half-brother who lives in Kenya, for his film "2016: Obama's America" that was released prior to the 2012 presidential election.
D'Souza commented that after he interviewed George for the film, he received a call from him asking for $1,000 to pay for his illegitimate son's medical care.
"He asked if I could provide $1,000 to help him," D'Souza told Huckabee. "And I'm like, 'You're the president's half-brother. Isn't there somebody else you can call?' And he said, 'no.'"
"I ended up sending $1,000 to George Obama, while President Obama apparently now announces this new initiative called 'My Brother's Keeper,'" D'Souza said. "Well, evidently, he hasn't been much of his brother's keeper."
He continued, "I've been pointing this kind of stuff out — and I think it's put me out there as an outspoken critic of the president."
The "My Brother's Keeper" initiative that Obama launched at the White House last month aims to close the achievement gap for black and Hispanic youth by ensuring they receive education and job opportunities so that they can reach their full potential in life.
In an interview with Breitbart News at the Conservative Political Action Conference earlier this month, D'Souza talked about the phone call he received from George and called the situation "bizarre" — that the president's own brother called someone else for help.
Distinguishing his ideology from Obama's, D'Souza commented, "I am a third world guy who has embraced America, and, as I see it, he (Obama) is an American-born guy who has adopted a third world ideology."
Recently charged for allegedly violating campaign finance laws, D'Souza, a former King's College president and policy adviser to the-late President Ronald Reagan, unveiled a trailer for his upcoming film "America" at CPAC.
Set for release on July 4, "America" takes an imaginary look at how world history would have unfolded had the United States lost the Revolutionary War and so therefore never existed.
The "America" trailer shows a battle scene where Gen. George Washington is hit by a bullet. As Washington dies, U.S. landmarks such as the Statue of Liberty and Mount Rushmore begin to disintegrate.
In January, D'Souza pleaded not guilty to federal charges that he used straw donors to exceed campaign contributions to then-U.S. Senate candidate and friend Wendy Long in 2012. The charges against him are being seen by conservatives as evidence that the White House is targeting its critics. D'Souza's trial is scheduled to begin May 19 in New York.
After pleading innocent, D'Souza was released on $500,000 bond. The court asked him to surrender his passport and submit to certain travel restrictions. D'Souza's attorney, Benjamin Brafman, said D'Souza "did not act with any corrupt or criminal intent."