Disabled 13-Y-O Singer Rion Page Blows Away Judges With Inspiring Optimism and Voice on 'X-Factor USA'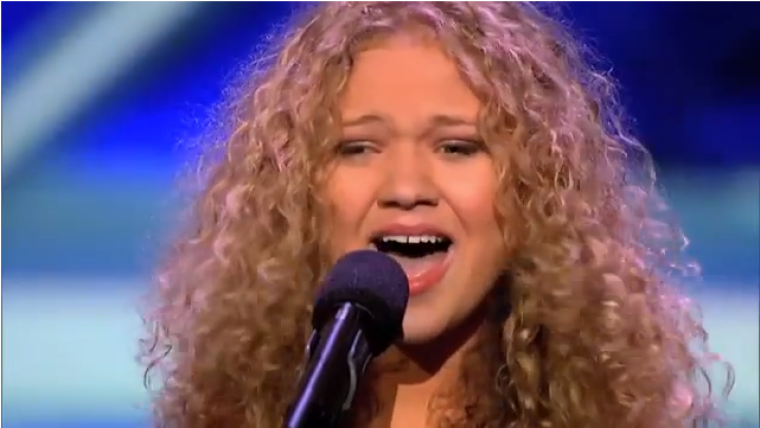 A 13-year-old Florida girl who is blind in one eye with glaucoma and has a congenital condition called arthrogryposis multiplex congenita that left her with permanently damaged arms, blew away judges of "X-Factor USA" with her relentless optimism and a powerful rendition of Carrie Underwood's "Blown Away."
"Sometimes, I just get really frustrated whenever I can't accomplish something that I think I could," explained the girl, Rion Page in her audition video to the show's judges Demi Lovato, Paulina Rubio, Kelly Rowland and Simon Cowell. "So music helps me to be able to explain my feelings."
She then let the lyrics of Underwood's "Blown Away" soar in explosive fashion last Wednesday, eliciting a standing ovation from the judges.
"Rion, I'm just so impressed with you right now and I cannot believe the struggles you have had and how positive you are," said Lovato after the 13-year-old's inspiring performance. "I think everybody in this room can learn something from you today.
Simon Cowell, agreed. "I think you're literally extraordinary," he told page. "I really do."
A video of page's performance, which was posted on Sept. 11, has nearly 4 million hits on YouTube and fans have praised her performance.
"She is GORGEOUS! Beautiful voice, beautiful face and what a performance that was! I can't see a disability for any reason…JUST GORGEOUS! Go girl!" wrote Babis Lagkadinos, in the comments section of the YouTube video.
"I must admit I Googled the condition as I hadn't heard about it before, especially after comments about diagnosing problems while pregnant... I think her mother has done a wonderful job with affirming her and encouraging her," wrote Ellen Wheels.
Other commenters argued that her singing wasn't that great and she would be getting the pity vote, which she specifically said she didn't need, and one commenter dismissed the detraction from the teen's inspiring performance in his comment.
"Maybe the fact that she has a disability AND courage AND a great personality AND the confidence to get up and do what she did is admirable, not necessarily her singing ability," wrote Matt Newman. "Of course there are much better singers, but how many people with her condition have you seen get up in front of that many people and in front of the world and sing?"