Do Atheists 'Hate' God? No, Says 'Friendly Atheist;' Religious People Are 'Delusional'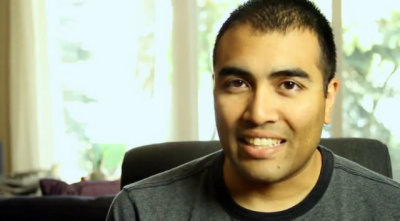 Hemant Mehta, a Chicago high school math teacher known for his "Friendly Atheist" Patheos blog, explained in a recent installment of his "The Atheist Voice" video series that it is impossible for him to "hate God," whom he compares to Santa Claus and the Flying Spaghetti Monster.
"Believe it or not, I don't hate God. I just don't think God exists," explains Mehta, addressing the question "Why do atheists hate God?" in his YouTube video. The public school teacher was raised a Jainist, but his doubts at the age of 14 led him on an investigative journey that eventually resulted in his rejection of religion.
Mehta, 30, suggested that some people of faith, Christians included, assume that "we must have some deep-seeded hatred against God, or God must have done something nasty to us and now we want payback."
Criticizing, critiquing or questioning the beliefs of theists, Mehta commented, also leads to the assumption that atheists are against people of faith or hate them.
"That's not the case. I love the truth more than I disagree with your God. It's my goal to try to prove that things are mostly natural, and there really isn't anything out there that's supernatural," adds Mehta. "That's criticism."
"I might be upset at the way people go about handling their religious belief, but I don't hate God. I just don't believe God exists, just like I don't hate Santa Claus and I don't hate the Flying Spaghetti Monster."
"Just because I don't believe in your God it doesn't mean I hate your God," he adds. "There's just no evidence."
Watch Hemant Mehta discuss the question "Why do atheists hate God?" on YouTube, or below:
One of Mehta's readers who commented on a blog post of the video pointed to a related 2011 study published in the Journal of Personality and Social Psychology that found that some atheists, agnostics and religiously unaffiliated people harbor some anger toward God — "particularly on measures emphasizing past experiences and images of a hypothetical God," according to the study. While theists, Protestants included, were also found to have harbored anger toward God, lead researcher Julie Exline said people who were more religious "don't get as angry."
"They may be more likely to think God caused the troubling event, but they're also more likely to put good intentions on the event, saying things like, 'God is trying to strengthen me,'" said Exline.
The Ohio's Case Western Reserve University professor and her colleagues concluded: "anger toward God is an important dimension of religious and spiritual experience, one that is measurable, widespread, and related to adjustment across various contexts and populations."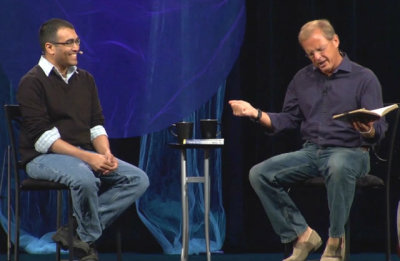 Mehta, who has authored The Young Atheist's Survival Guide: Helping Secular Students Thrive and I Sold My Soul on eBay: Viewing Faith through an Atheist's Eyes, visited a San Antonio megachurch last month at the invitation of Pastor Randy Frazee.
Frazee and Mehta developed a friendship several years ago after the latter auctioned off his soul on eBay for $504 to a Christian minister, who requested that Mehta visit 10 churches and write about his experiences. Frazee and Mehta eventually became friends after the math teacher criticized one of his sermons online.
Frazee invited Mehta in July to share with the four Texas campuses of Oak Hills Church his viewpoints on what Christians are doing right and wrong.
The San Antonio pastor told local press that some Oak Hills Church members, out of the 8,000 who showed up that Sunday, left to avoid listening to his conversation with Mehta.
Frazee insisted that churches have to become safe places for people to air their doubts and question their faith, or risk having people abandon church completely.
"One of the reasons why a lot of our young people are walking away from our families and walking away from the church, is because we did not provide a safe and loving environment whereby they could doubt," Frazee told the congregation after his conversation with Mehta.
"They start asking questions," Frazee reportedly said of skeptical youth. "And if your home, or this church, is a place where we don't allow that to happen, we're going to lose our kids."