First Openly Gay Congressman Barney Frank Describes Himself as 'Pot Smoking Atheist' (VIDEO)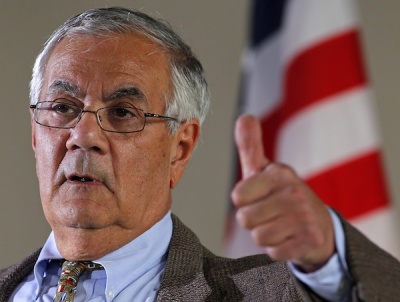 Former Massachusetts Congressman Barney Frank, the nation's first openly gay member of Congress and liberal darling, implied in a recent interview that he is also a "pot-smoking atheist."
Frank, a Democrat who served as a member of the U.S. House of Representatives from Massachusetts from 1981 to 2013, made his comments last Friday while serving as a guest on a talk show hosted by Bill Maher, a stand-up comedian known for his atheist, liberal-slanted comedy routine.
Maher and Frank were discussing Frank's term as congressman on the Friday airing of HBO's "Real Time With Bill Maher" when Maher asked Frank if he feels more "liberated" since he retired from Congress after his term ended in January 2013.
"I don't have to worry that when the phone rings it's somebody whose screwed something up and it's my responsibility to un-screw it," Frank told Maher in response to his question.
Maher then went on to say that Frank was lucky to have worked in a "safe district" which didn't receive the kind of media attention that other congressional districts may have. Frank represented Massachusetts's fourth congressional district, which is comprised of mostly southern Massachusetts.
"You were not one of those Congress-people who have to worry about every little thing," the comedian said. "You could come on this show, and sit next to a pot smoking atheist, and it wouldn't bother you."
Frank then responded: "Which pot-smoking atheist were you talking about?" pointing to himself and implying that both he and Maher are "pot smoking atheists." Frank's response received applause and laughter from the audience, and the former congressman went on to speak about his opinion regarding using the bible for oaths when swearing into a government office.
"I had asked my governor to appoint me to a vacant Senate seat and he decided not to - and I was looking forward to having my husband Jim hold the constitution, not the Bible, and affirm, not swear, that I was going to be a wonderful senator," Frank said.
Although Frank retired from Congress at the end of his term in January 2013, he did express interest for filling a U.S. Senate seat, although he was ultimately not chosen for the position. The former congressman has been considered by many to be one of the most prominent openly gay politicians in the U.S.
Frank became the nation's first openly gay congressman in 1987, and also became the first congress member to marry someone of the same sex while in office when he married his partner James Ready in 2012. The congressman also made a name for himself while in office for championing sweeping financial reforms through his 2010 Dodd-Frank Act.